With over 800 obstacle courses to run and conquer, there should be no obstacle too difficult for you in Roblox Mega Easy Obby. With designs that stretch the imagination, you are in for a visual treat as you explore and try to outwit the design of the obstacle courses. With so many choices, you will have hours of fun ensuring you don't fall into the lava!
Our Roblox Mega Easy Obby Codes has the most up-to-date list of OP codes you can redeem for free skips. Free skips will help you get through a level that may be too hard for you to complete. Free skips come in useful when the obstacle courses become more challenging.
Obstacle courses are a really popular format on Roblox. Use these codes for your favorite obstacle games for a boost or to get a head start against other players. Try these codes for Roblox Mega Fun Obby Codes, No Stop Obby Codes, Roblox Extreme Fun Obby Codes, Roblox Cartoon Obby Codes, and Roblox Obby Maker Codes.
All Roblox Mega Easy Obby Codes List
Updated September 13, 2022

Added one new code.
Roblox Mega Easy Obby Codes (Working)
Here's a look at all the working Roblox Mega Easy Obby codes.
whoohoofreeskip—Redeem for a free skip (New)
freeskip—Redeem for a free skip!
Roblox Mega Easy Obby Codes (Expired)
These Roblox Mega Easy Obby codes are no longer valid.
Roblox Mega Easy Obby Frequently asked questions
Here's everything you need to know regarding Roblox Mega Easy Obby codes.
How to Redeem Mega Easy Obby Codes
It's easy to redeem codes for free rewards in Mega Easy Obby. To do so, follow the instructions below.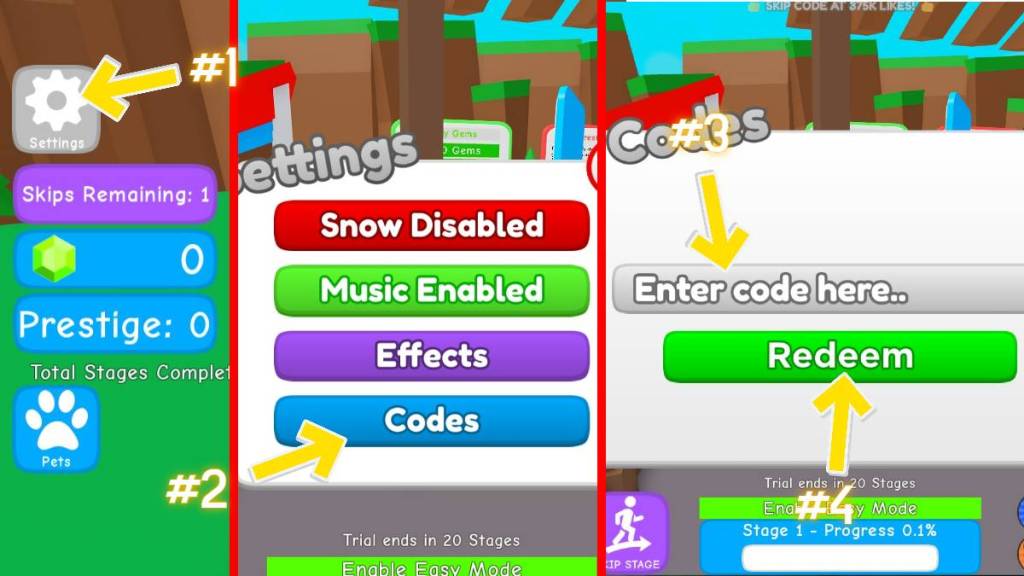 In the game, press the Settings button on the left side of the screen.
Press the Codes button in the Settings window.
In the text box, enter the code exactly as it appears in the list above.
Press the Redeem button to claim your reward!
How can you get more Roblox Mega Easy Obby codes?
To get the latest codes from the developer TalkingBackUp, join their Authentic Creations Roblox Group and follow them on Twitter @TalkingBackUp. Here at Pro Game Guides, we have you covered with all the latest drops for freebies, so bookmark this page and visit us soon for rewards to claim.
Why aren't my Roblox Mega Easy Obby codes working?
The codes for Roblox Mega Easy Obby may not work for several reasons. These codes may be expired, and most Roblox codes are time sensitive, so be sure to claim the codes as they are released to avoid missing out on any free rewards. These codes could be misspelled or mistyped into the text box, copy and paste the codes from our list to avoid spelling or punctuation mistakes before clicking on the redeem button.
What does Easy Mode do in Roblox Mega Easy Obby?
To enable the easy mode in Roblox Mega Easy Obby, press the green Enable Easy Mode at the bottom of your screen. When the easy mode is enabled, you can run through lava and fall in lava without taking damage and dying. Enabling the easy mode will make all of the obstacle courses easy.
What is Roblox Mega Easy Obby?
Roblox Mega Easy Obby is a game filled with over 800 unique courses you can try and complete. These courses are designed to challenge the player, and you can leave your personal best time on each course. To get your name on the top of the leaderboards, you must complete as many courses as possible in the fastest time possible.
If you're looking for codes for other games, we have a ton of them in our Roblox Game Codes post! You can also get a bunch of free stuff via our Roblox Promo Codes page.