In this addictive Roblox game that draws heavy influence from the massively popular game Minecraft, players set out on a blocky adventure where they must craft and fight their way to survive. Collect resources by hand or with tools and use them to build a nice home in your own little corner of the world.
Unlike Minecraft, however, the developers of Minerblocks (Minerblocks Studios) occasionally drop codes players can use in the game to claim helpful resources that can keep them alive in a pinch. Most of the codes they provide are good for players that recently started, but even veteran players can use them!
While you're using our codes list for Minerblocks, be sure to check out our other codes lists for similar survival simulator games! We have all the most helpful codes for popular Roblox games like Mining Simulator, Stone Miner Simulator, Mine It, Fishing Simulator, and Epic Mine Simulator.
All Minerblocks Codes List
Updated May 18, 2022

Added new code
Minerblocks Codes (Working)
25KLIKES—Redeem for basic resources (New)
;kit group—Redeem for a starter kit (New) [Must be a part of the Minerblocks Studios Group, Code must be entered in the chat!]
Minerblocks Codes (Expired)
15KLIKES—Redeem for basic resources
How to Redeem Minerblocks Codes
Redeeming codes for free rewards in Minerblocks is easy.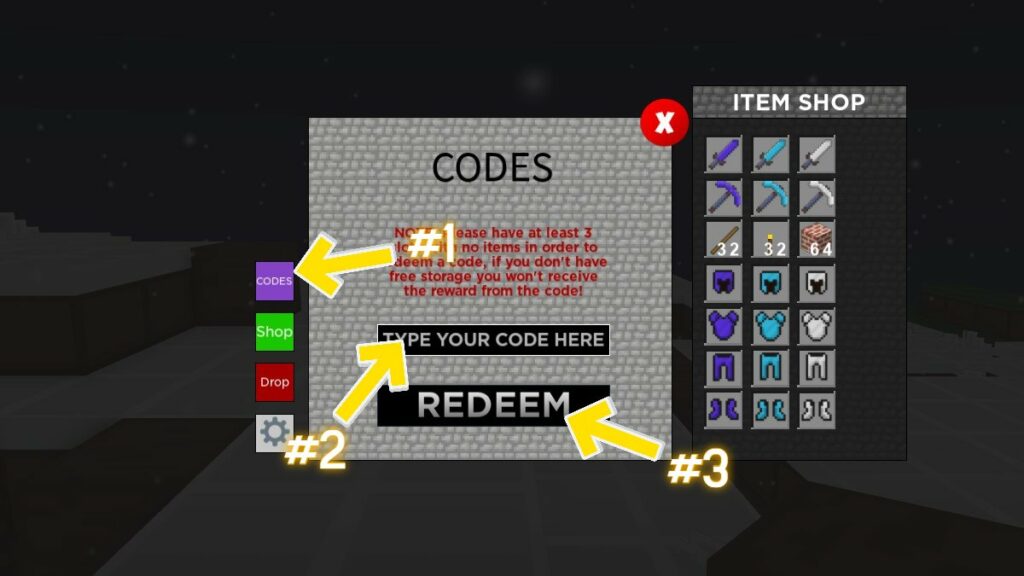 While in the game, press the 'E' button on your keyboard to open the game menu.
Select the Codes tab on the left of the game menu.
In the text box, enter the code exactly as it appears in the list above.
Press the Redeem button to claim your reward!
How can I get more Minerblocks codes?
Minerblocks codes are extremely rare compared to most other games. Ultimately, it's not worth it for players to go hunting for them on their own. The best way to get the latest codes is to bookmark this page and periodically check back for updates. However, you can also visit the official Discord channel for the game to communicate with other players and monitor for updates or codes.
Why aren't my Minerblocks codes working?
The most common causes for invalid codes in Minerblocks is that the user either entered the code incorrectly or did not complete all the prerequisites to claim it. For some codes in Minerblocks, you must join the official Minerblocks Studios group.
If you're certain you entered the code correctly and you are a part of the group, then it's possible the code expired or you have already used it. The game will inform you if either of these are the case.
What is Minerblocks?
Minerblocks is a popular Roblox game that players will notice has a lot of similarities to Minecraft. You start in a world with no tools except your fists and you must use them to collect stronger resources that get you better tools and resources you need to survive in a harsh and unforgiving virtual world.
If you're looking for codes for other games, we have a ton of them in our Roblox Game Codes post! You can also get a bunch of free stuff via our Roblox Promo Codes page.