Updated December 1, 2023

Searched for new codes!
Be ready to box in Roblox Punch Simulator, as you'll need to train hard to take on the bosses! Luckily, you can hatch some cute pets to help you in the ring, as well as wolf down some boosters to increase your stats, luck, and gem collecting. Then you can buy and equip some new items before taking on even tougher bosses!
Luckily, I've found there are plenty of Punch Simulator codes to give you a nice headstart on your boxing career! These codes usually give you Gems, which you can spend on stat boosts and pets, but also cool, rare items you can equip for even more bonuses! If you love Ronlox auto-clicker battle experiences, you should also take a look at Punch Wall Simulator Codes.
All Punch Simulator Codes List
Punch Simulator Codes (Working)
50KLIKES—Redeem for a Lucky Gem (New)
SPOOKY—Redeem for a Lucky Gem (New)
WELCOME—Redeem for 50 Gems and a Short Sword
100LIKES—Redeem for 10 Gems and a Short Sword
1KLIKES—Redeem for 40 Gems and a Rare Clover
150K—Redeem for 30 Gems and a Rare Lucky Gem
4KLIKES—Redeem for 30 Gems and a Rare Lucky Gem
6KLIKES—Redeem for 40 Gems and a Rare Clover
10KLIKES—Redeem for 50 Gems and a Rare Lucky Gem
Punch Simulator Codes (Expired)
There are no expired codes for Punch Simulator
Related: Fireball Punching Simulator Codes
How to redeem codes in Punch Simulator
Follow the instructions below to redeem codes in Punch Simulator.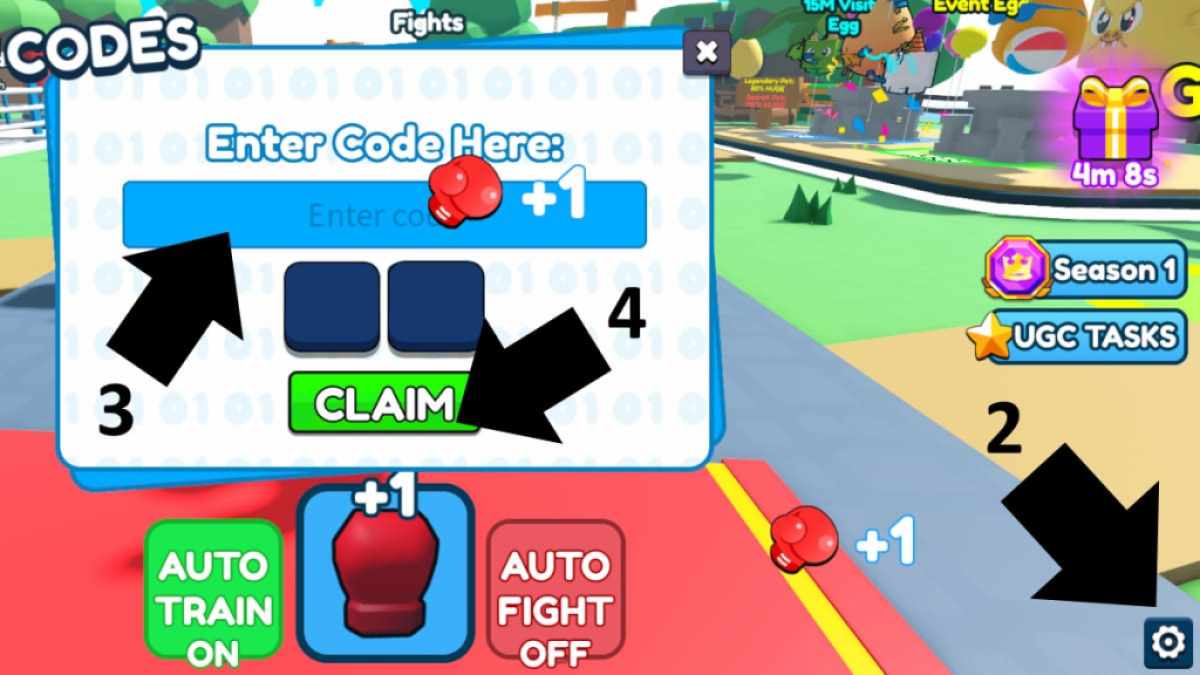 Launch Punch Simulator on Roblox.
Press the Settings cog in the bottom right of the screen.
In the pop-up text box saying Enter Code, do so exactly as it appears above.
Press the green CLAIM button to claim your reward!
How can you get more Punch Simulator codes?
To find more Punch Simulator codes and information, be sure to become part of the Habit Games! Roblox Group. You can also get up-to-date information outside of Roblox via the Habit Games Roblox Discord Channel, where you can check out everything from giveaways and polls to game news and individual chat sections for each of their games, including Punch Simulator.
Why are my Punch Simulator codes not working?
You have to punch your codes in exactly as we print them if you want our Punch Simulator codes to work! To make sure you have the right, cut and paste the codes directly into Roblox from Pro Game Guides. If a code still won't work or it says it has expired, we can't help, as it has been removed from the experience. Let us know, then check back in with us soon, as we'll be off on a new code hunt soon.
Other ways to get free rewards in Punch Simulator
To get the highest amount of freebies possible in Punch Simulator, be sure to log in every day to get your daily reward, which starts out as 20 free Gems but builds up over seven days to include several Robux Eggs, boosters, and more than 1k Gems! Once logged in, keep an eye on the blue parcel in the top left of the screen for 12 more free gifts over six hours if you can stay online that long! Finally, look out for quests in the top right of the screen to claim even more rewards.
What is Punch Simulator?
Punch Simulator is an auto-clicker-style Roblox experience in which you train up your punching skills and then take on a series of increasingly tough opponents in the ring. As you claim wins and gems against opponents, you can spend them on hatching pets, gacha style, and buying equipment and boosters to help you progress. Beat all the bosses in an area to move on to the next, opening up new features.
If you're looking for codes for other games, we have a ton of them in our Roblox Game Codes post! You can also get a bunch of free stuff via our Roblox Promo Codes page. And in the meantime, take a look at the latest news to stay up-to-date on all things entertainment.