Someone has a bomb, and they are trying to load it off on you, so you better start running fast in Roblox Untitled Tag Game. Use every obstacle and trick you can to evade the players currently tagged. If they tag you, you will have a limited time to tag someone before you die. Put your childhood skills to the test in this game and reclaim your crown as tag champion!
These codes will give you the in-game currency of Coins. Coins in Roblox Untitled Tag Game can only be used to purchase cosmetic items such as particles, trails, and emotes. Claim these codes to give your character life as you play.
There are so many amazing FPS games on Roblox. Experience the best of these games and the codes to give you the coolest gear and skins. Claim these codes to boost you at the start of the games like Arsenal Codes, Roblox Pirates vs. Ninjas Codes, Roblox Counter Blox Codes, Bad Business Codes, and Base Battles Codes.
All Roblox Untitled Tag Game Codes List
Updated August 1, 2022

Added new info
Roblox Untitled Tag Game Codes (Working)
frog—Redeem for Coins
karell—Redeem for Coins
SubtoPoliswaggs—Redeem for Coins
Roblox Untitled Tag Game Codes (Expired)
Murm—Redeem for 500 Coins
YOCHAT—Redeem for 1.25k Coins
CodeUpdate!—Redeem for 250 Coins
4122—Redeem for Coins
TipBoard—Redeem for Coins
Roblox Untitled Tag Game Frequently asked questions
Here's everything you need to know regarding Roblox Untitled Tag Game codes.
How to Redeem Roblox Untitled Tag Game Codes
It's easy to redeem codes for free rewards in Roblox Untitled Tag Game. To do so, follow the instructions below.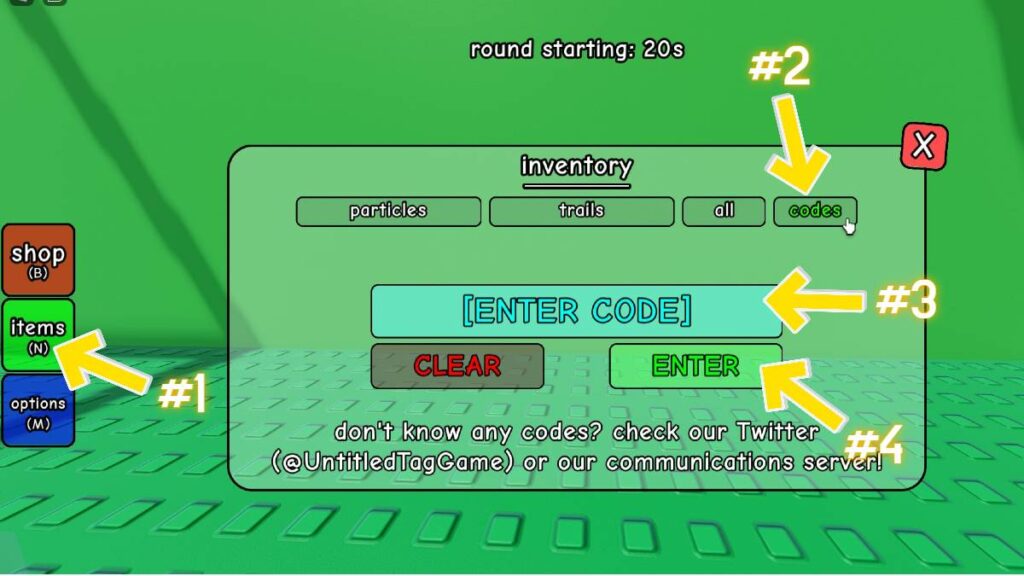 In the game, press 'N' on your keyboard or press the Items button on the left side of the screen.
In the window, navigate to the Codes tab.
In the '[Enter Code]' box, enter the code exactly as it appears in the list above.
Press Enter to claim your reward!
How can you get more Roblox Untitled Tag Game codes
The latest codes from developer _create for Roblox Untitled Tag Game. Follow them on Twitter @UntitledTagGame and their untitled tag game Discord Server. We here at Pro Game Guides have the latest codes for you, so make sure to save this page and visit us often, so you never miss claiming a free reward again!
Why aren't my Roblox Untitled Tag Game codes working?
Several reasons your Roblox Untitled Tag Game codes aren't working. The code you are trying to redeem has been mistyped into the text box. Make sure that your spelling and punctuation are correct when you type out the code to avoid missing out on the free rewards. Your code is already expired. Our list has the most up-to-date list of codes, so if there is an expired code, make sure to let us know in the comments below.
What are the controls for Roblox Untitled Tag Game?
To play Roblox Untitled Tag Game and become the best at tagging and getting away from other players, you will need to know the controls well to dodge and slide your way out of danger. Memorize these controls so that you can start playing at your best.
"Left Click"—Click to tag
"C" Key—Press to slide/Press before landing from height to roll
"Spacebar" Key—Press at the edge of an obstacle to climb up/Press when touching a SwingBar to swing
What is a Roblox Untitled Tag Game game?
A Roblox Untitled Tag Game is an FPS game where you will be chosen as either the player that has to tag people because you have the bomb or the players that have to run away from the person who has the bomb. You will have a time limit and need to tag another player before the bomb explodes in your hands. This game has multiple maps and modes where you can use your speed and skills to remain the tag champion!
If you're looking for codes for other games, we have a ton of them in our Roblox Game Codes post! You can also get a bunch of free stuff via our Roblox Promo Codes page.