Updated: December 1, 2023

We looked for more codes!
BIG Paintball meets Island Royale in the fast-paced, competitive experience Base Battles! Join up with friends or play alone as you take down enemies and, you guessed it, defend your base! Use Coins that you earn in-game to purchase better guns that deal more damage and offer all-around better stats, making you a deadly player on the battle field. But what if you don't have enough Coins to buy that one gun that you want more than anything?! You use codes of course!
Our code list below features tons of codes that you can use to rake in the Coins totally for free! Be sure to claim them while you can—they can expire really fast! If you're looking for even more freebies, be sure to check back with this article regularly—we update this list as soon as new codes come out! If you find a code in the Working Codes section that seems expired, please let us know so we can remove it as soon as possible. Keep in mind, also, that you'll need to enter each code exactly as it's written or the experience won't accept it!
All Base Battle Codes List
Base Battles Codes (Working)
LABORDAY23—Redeem for 15k Tokens (New)
OURBAD—Redeem for 50k Tokens (New)
350K—Redeem for 75k Tokens (New)
FREEMONEY—Redeem for 10k Tokens
325K—Redeem for 75k Tokens
300K—Redeem for 50k Tokens
Rainster—Redeem to support Rainster on Base Battles
Base Battles Codes (Expired)
CINCO—Redeem for 18,620 Tokens
SPRINGBREAK—Redeem for 25k Tokens
WHOOPS—Redeem for 25k Tokens
PREZ—Redeem for 50k Tokens
OVERTHEMOON—Redeem for 15k Tokens
RAINSTERGIVEAWAY—Redeem for 25k Tokens
DESTROYER—Redeem for 25k Tokens
250K—Redeem for Cash
SUMMER—Redeem for 50k Tokens
200K—Redeem for 35k Tokens
150KLIKES—Redeem for 25k Tokens
100KLIKES—Redeem for 15K Tokens

Arctic—Redeem for 4K Tokens
DEVKING—Redeem for 3K Tokens
BETA—Redeem for 1,090 Tokens
If you're looking for more Roblox content to browse while you wait for new codes, check out some of our other related articles including 5 best Roblox games like Call of Duty, Best Roblox Third-Person Shooters, or 7 Best Roblox FPS Games!
How to Redeem Base Battles Codes
Redeeming codes in Base Battles can seem like a bit of extra work, so we're here to help! Simply follow the steps below and you'll be claiming codes in no time!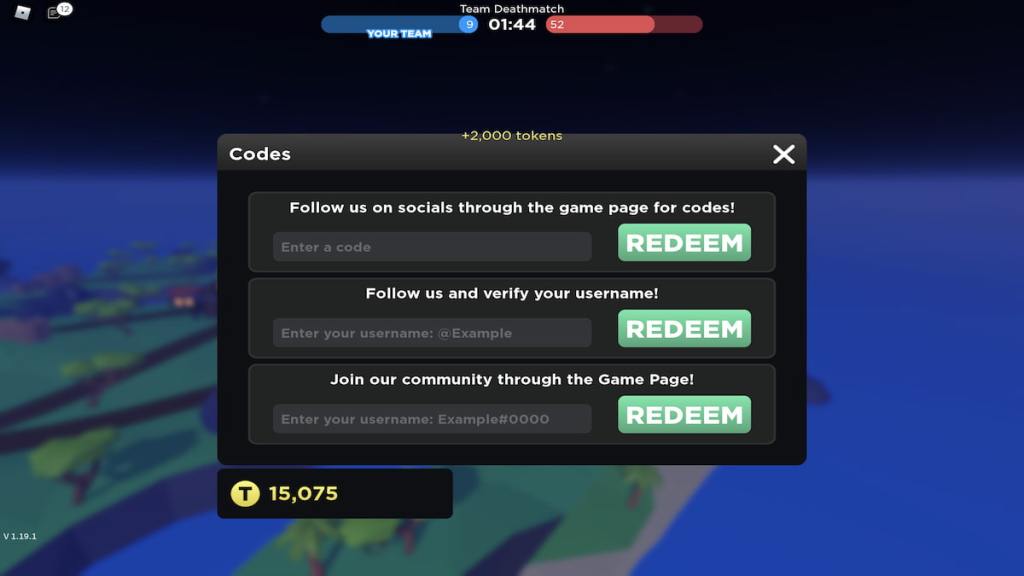 To start, launch the experience
Then, locate and click on the Twitter bird icon in the bottom right-hand corner of the screen
A new window will appear where you can enter your codes

In order to redeem certain Base Battles codes, you need to follow both developers on Twitter and verify that you've done so by entering your username in the second text box and pressing the Redeem button next to it

Most codes can be redeemed without this step!

Once you've done that, you will be able to enter Twitter-exclusive codes into the first text box

After entering a code, press the Redeem button next to it
How do I get more Base Battles codes?
Though Base Battles updates aren't super regulated, they do happen every once in a while! The best ways to stay up-to-date on codes are checking back with this article, following the official Base Battles Twitter account, joining the Base Battles Discord server, and joining the Base Battles Roblox group.
Why aren't my codes working?
Not all Roblox codes are active for the same amount of time, meaning some expire exceptionally quickly and may even become inactive after 24 hours or less! If you attempt to enter a code and it says Code Expired, that code is no longer active and, unfortunately, can no longer be redeemed. There's nothing that you can do to fix this issue, the code is simply unobtainable. If you attempt to type in a code and it says Invalid Code, however, this means that you've likely mistyped the code or neglected to use the correct capitalization. If this happens, try to retype and re-enter the code once more, being sure to copy it exactly as it's written!
What is Base Battles?
Base Battles is a PvP, third-person shooting experience that features various game modes, weapons, maps, and more to create a fun experience for everyone who joins! Whether you prefer to play alone or with friends, Base Battles is an addicting, competitive, and exciting experience to let loose in on Roblox!
If you're looking for codes for other games, we have a ton of them in our Roblox Game Codes post! You can also get a bunch of free stuff via our Roblox Promo Codes page.