Rocket League brings out the best of racing and soccer and puts them in one category. Because, why run when you can chace the ball with your sports car? Although it sounded like a strange idea, turns out, the execution is great! This game has become a modern esport with serious competition and huge rewards. But to reach that level of play you'll need practice and some help.
The best way to improve your play fast and enjoy the game is to redeem Rocket League codes. Don't worry, using them is not cheating! Most of the codes will rewards you with attractive cosmetics. If you want to make lasting improvements to the game, check out best Rocket League mods for PC.
All Rocket League Codes List
Rocket League Codes (Working)
These are working Rocket League codes.
rocketleaguelive—Redeem code for Hustle Brows Topper, Neon Runner Banner, Aero Mage: Hatch Wheels, and an RLCS Them Anthem (New)
popcorn—Redeem code for a Popcorn Rocket Boost.
Rocket League Codes (Expired)
These codes for Rocket League have expired.
rlnitro—Redeem code for a Nitro Circuit Antenna and Breakout Nitro Circus Decal.
wrestlemania—Redeem code for 2 WWE banners, antennas, and wheels
wwedads—Redeem code for 2 WWE banners, antennas, and wheels
WWE18—Redeem code for 2 WWE banners, antennas, and wheels
rlbirthday—Redeem code for 2 WWE banners, antennas, and wheels
shazam—Redeem code for an Octane: Shazam Limited Decal and Shazam Limited Wheels
Truffleshuffle—Redeem code for an Octane: The Goonies Limited Decal
Bekind—Redeem code for a VCR Limited Topper
couchpotato—Redeem code for a-Couch Potato Limited Player Title
SARPBC—Redeem code for a SARPBC logo, song, car, and Moai Antenna
Related: All Rocket League Car Hitboxes
How to redeem Rocket League Codes
Follow the instructions below to redeem codes in Rocket League.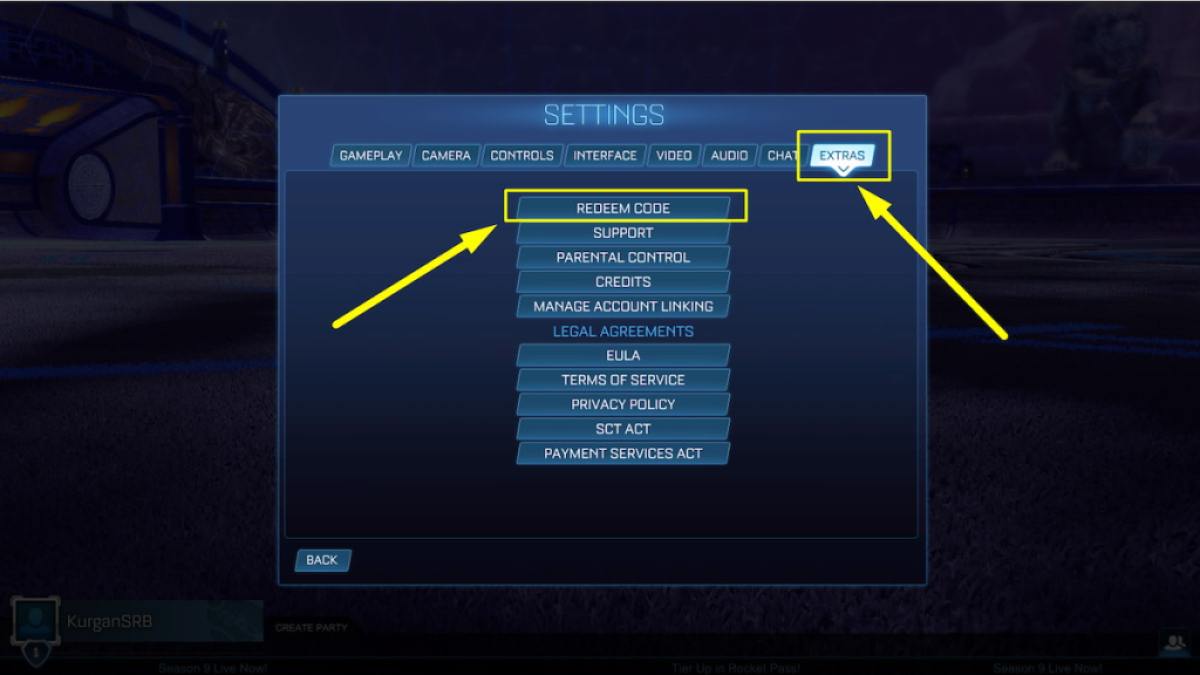 Launch the Rocket League.
Press the Setting tab from the main menu.
Press the Extras tab on the right side of the menu screen.
Press the Redeem Code button on the top of the screen.
Enter the code you want to redeem.
Press the OK button to redeem the code and collect the prize-
How to get more Rocket League codes
The best way to get more Rocket League codes is to visit this page often. Bookmark it and we'll update you with additional freebies once they are released. You can also follow official Rocket League Twitter account @RocketLeague or join Rocket League Discord Server for more information.
Why are my Rocket League codes not working?
You should ensure to redeem these as soon as possible because you'll never know when they could expire. If you find one expired, please let us know the exact code in the comments below so we can remove it. Make sure to enter the code exactly as it is listed, or it might not work correctly.
Other ways to get free rewards in Rocket League
Besides using codes you get additional free rewards in Rocket League by participating in official community contests. You'll usually need to present your preset design and if it's great, you'll get in-game rewards. Each contest has a theme, like "Streetwear." To partake in competition you must submit screenshot from the game on social networks with contest-related hashtags.
What is Rocket League?
Rocket league is a free-to-play sports game that combines soccer and race cars. Matches are played in arena where up to eight players are dividend into two teams. Your goal is to score more goals than opponent, just like in real soccer/football. You can play the game in single player or multiplayer, with possibility of cross-platform play.
If you're looking for codes for other games, we have a ton of them in our Roblox Game Codes post! You can also get a bunch of free stuff via our Roblox Promo Codes page. And in the meantime, take a look at the latest news to stay up-to-date on all things entertainment.