While the last couple of events in Sea of Stars were satisfying enough, surely there were a lot of things during your travels that felt… unanswered. This is because you haven't seen everything! There is one, true ending you can unlock after you've beaten the game at least once. Here's how to get it.
Note: If you haven't finished Sea of Stars, consider this your stop line! Anything beyond this is spoiler territory. I would come back once you've finished the game, as that's a requirement anyway.
How to open the Moorlands portal in Sea of Stars and unlock the real ending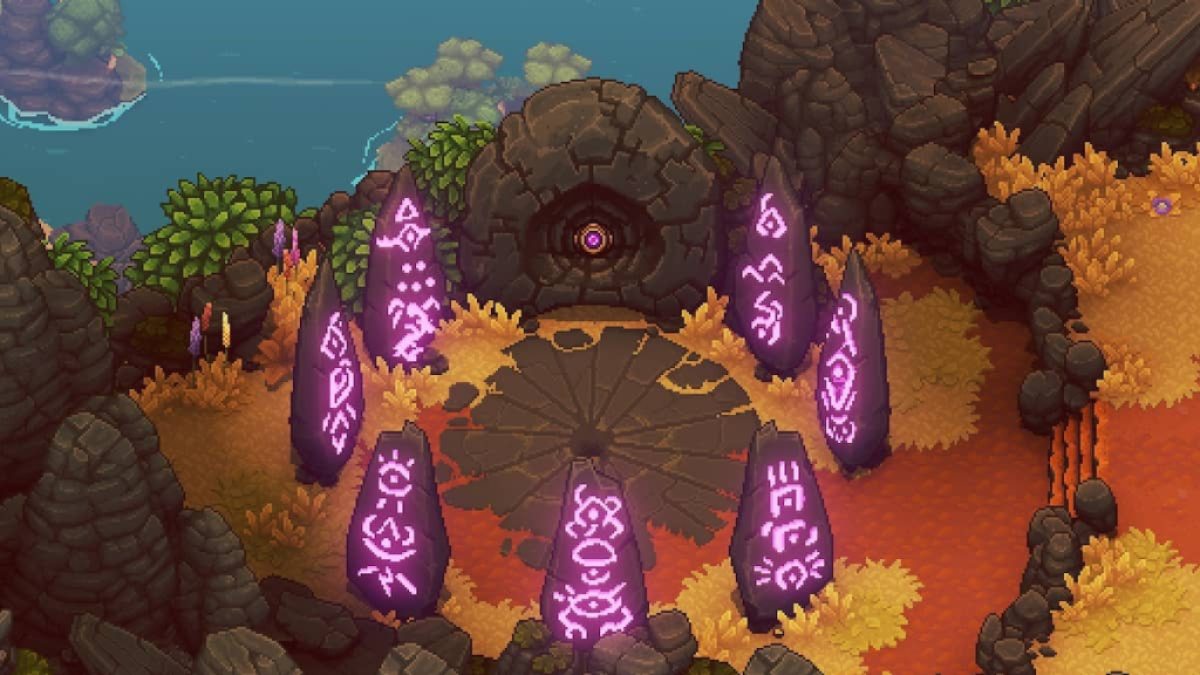 Sea of Stars hints at the true ending after you've beaten the game. You're going to need for that ruin in the Moorlands to work. See those seven pillars? You want them all to be lit purple. To do this, you need to accomplish seven out-of-main-story deeds. We've also linked out all our relevant guides to help you with most of them.
These seven deeds are:
Help Duke Aventry move on.
Open the Sealed Docarri Ruins and defeat a clone of an old foe.
Help Serai defeat The Queen That Was.
Placate B'st's warrior spirit by entering the Dweller's Fall Arena in the Port Town of Brisk. You'll find it east of the fountain.
Complete all five Solstice Shrines and defeat the Elder Mist one last time.
Collect all 60 Rainbow Conches and turn them over to Mirna in Docarri Village.
Complete all buildings in Mirth and invite all the townsfolk who want to live a new life.
After you've done all your good deeds, travel to the Moorlands (the bottom-right entrance is the fastest way to get to it) using your completed saved file and interact with the Ruin.
Related: Sea of Stars Flimsy Hammer – What is it for, All locations & more!
For the Rainbow Conch hunt, you're going to want to use the Falcon-eyed Parrot you get from Mirna, the Rainbow Conch girl.
How to use the Falcon-eyed Parrot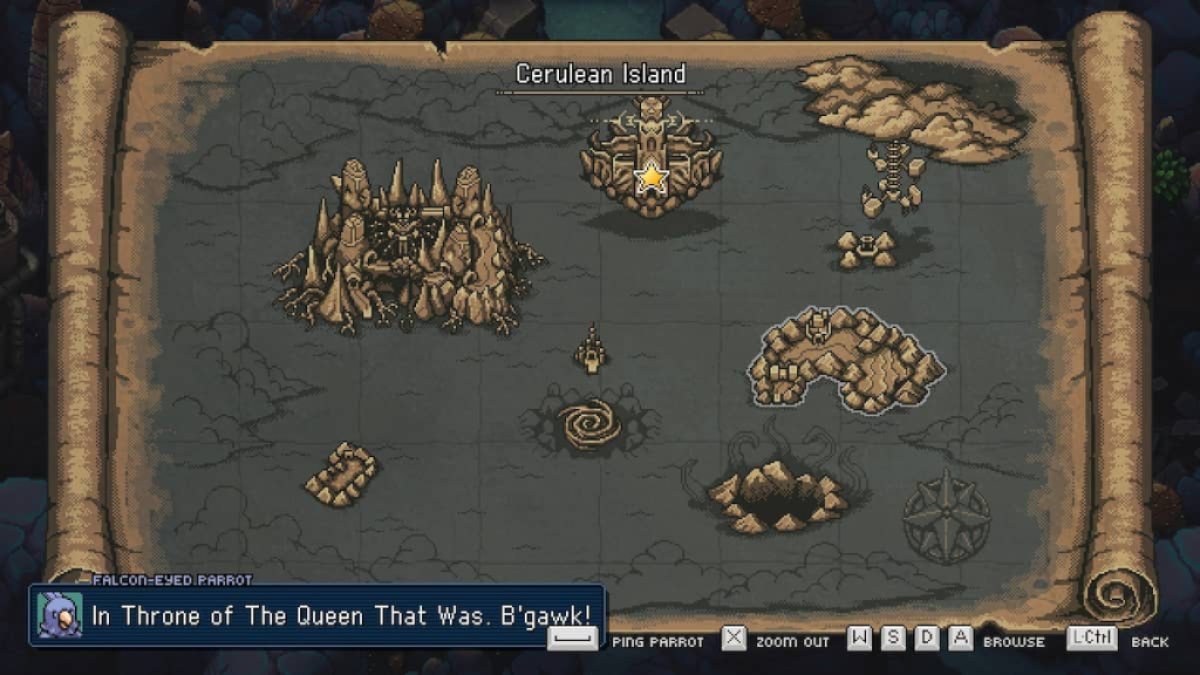 To use the Falcon-eyed Parrot, first toggle it On in your Relic menu. Then, simply open your map (whether it's through a shortcut key like Alt or the Map option on the menu) and hover your selector on the island of your choosing. Press Enter to check if you're missing any item on it.
Related: How are Sea of Stars and The Messenger Connected? References, DLCs, & more!
The Falcon-eyed Parrot will usually say "Rainbow Conch on X Area!" if there is one there. Backtrack to find it. Take note that this is different from "Treasure! Treasure!" where the bird will notify you of an unopened treasure chest (not counting the light blue ones that contain Rainbow Conches). Once you've discovered everything that needs to be discovered in a place, the Falcon-eyed Parrot will yell, "All clear!"
You will also need to backtrack in locations that you've already thoroughly explored, like Elder Mist Trials. There will be passages you can now access with the items you have.
Where to find the memento of a happy memory?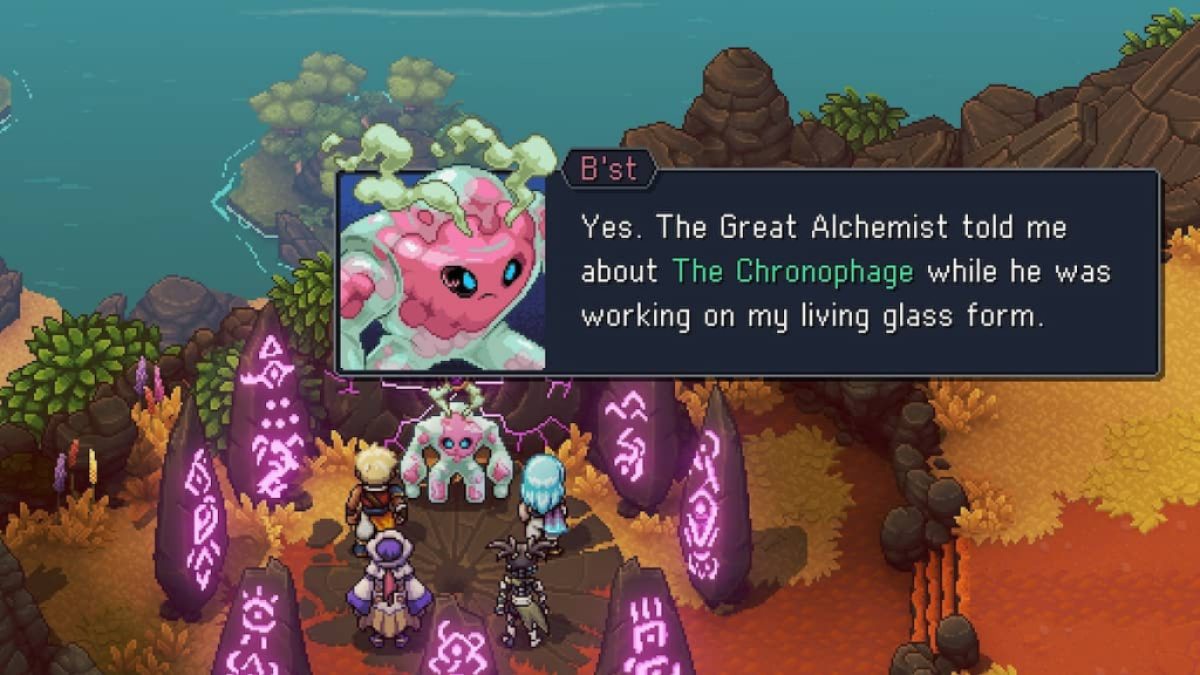 After examining the ruins, B'st will let you know that it needs one more thing before it can be opened. Don't go back to Mooncradle, because you already have the item with you. Examine the orb again and offer your Cookie Jar. Chrono Trigger and Kingdom Hearts fans, you already know what happens next. March back to the Fleshmancer's Lair and enjoy the real end of your journey!
For more help with Sea of Stars, take a look at All Relics & Unique Accessories in Sea of Stars – All locations & effects and All Food Items & Recipe Locations in Sea of Stars here at Pro Game Guides.