Having a specific character build in Starfield can be a daunting task, especially because the game pressures you to choose a lot of options immediately upon starting a new game. That's why it's good to do a bit of planning and figure out how you should proceed.
If you want to make a great melee build in Starfield and are wondering if it's viable, the answer is yes! Keep reading for our Starfield melee build guide.
Best background & skills for a melee build - Starfield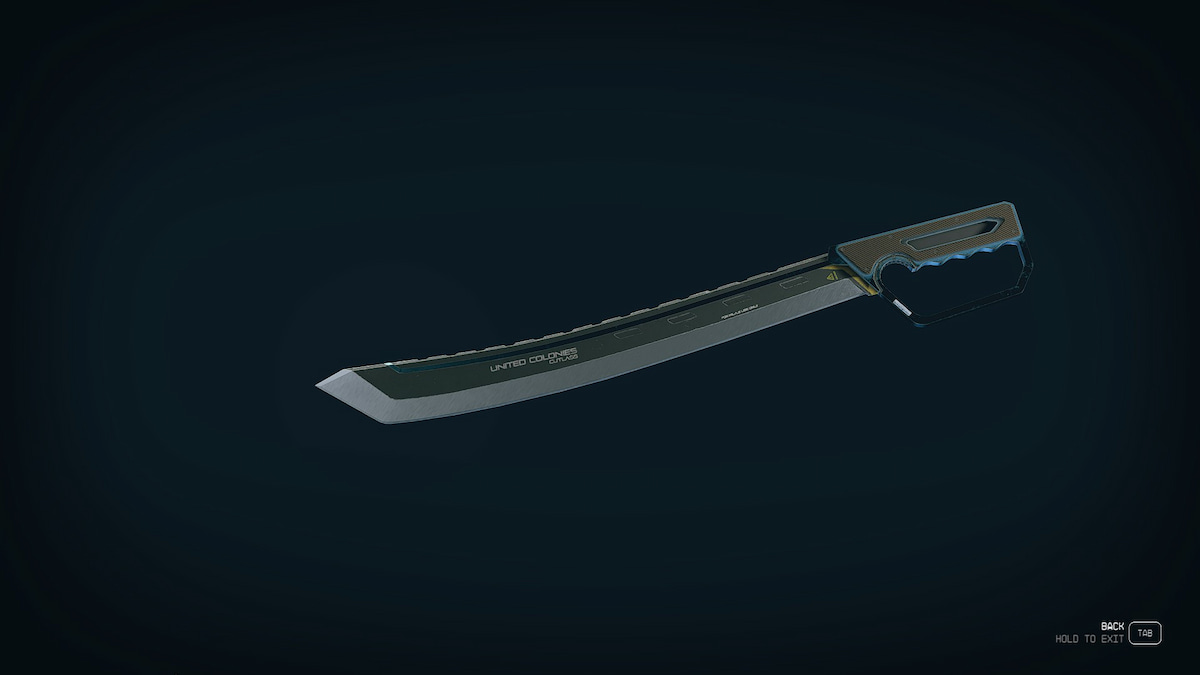 If you are wondering what background works best for a melee character build in Starfield, we've got you covered. First, it must be stated that backgrounds are not super important in Starfield. If you already decided a background, it won't majorly affect future decisions.
Still, you may want the ideal starting point for melee in Starfield. If so, make sure to choose the Ronin background. With it, you'll get these starting skills:
Dueling
Stealth
Scavenging
These three skills will get you on the path to becoming powerful with melee, while also giving you an extra perk in scavenging. Dueling immediately improves your melee damage in battle; the Stealth skill makes you harder to spot, which will be crucial in giving you a head-start on enemies while adjusting to melee combat in Starfield. Meanwhile, a boost for scavenging will make gathering loot from the beginning a lot easier, and hopefully get you a great melee weapon early on.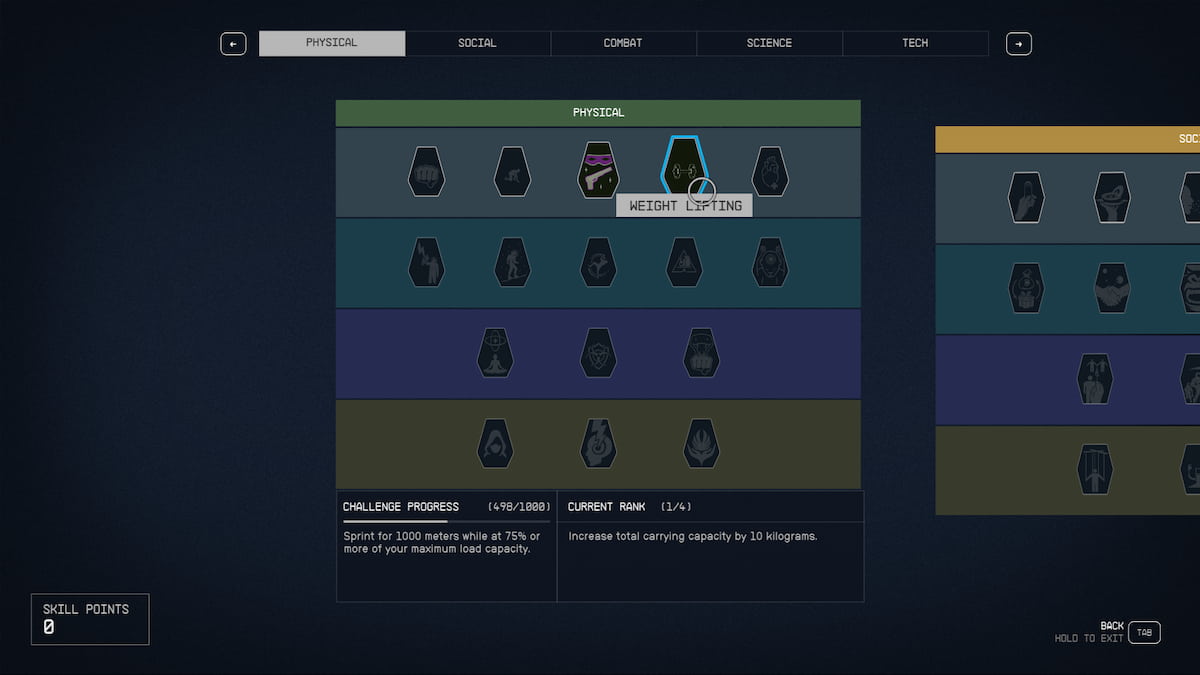 We have a very detailed table below to recommend the best skills to prioritize investing in for melee builds. But another question arises: when do you choose certain skills? While there isn't a precise order to this, you should prioritize Dueling above all else. From there, we recommend leveling evenly, spreading your points out to each category gradually over time, ensuring a balanced skill gain throughout your playthrough as a melee fighter.
| Skill | Effect |
| --- | --- |
| Dueling | Melee combat improved |
| Stealth | Improves abilities when sneaking |
| Scavenging | Gives better loot drops |
| Wellness | Max health boost |
| Martial Arts | Melee and fist attacks improved |
| Weightlifting | Max weight increased |
| Medicine | Make better medicinal concoctions and heal better |
| Spacesuit Design | Improve suits and armor capabilities |
| Concealment | Enemies have a harder time seeing you |
| Crippling | Down enemies more often |
| Fitness | More oxygen available |
| Gymnastics | Mobility, like combat slide and jumping, improved |
| Pain Tolerance | Amount of damage taken reduced |
Best traits for a melee build - Starfield
There are really not many traits that will greatly advantage you in a melee build for Starfield, but I can recommend the Terra Firma trait. It gives you an advantage to health and oxygen while on land, which could boost your melee battles. It isn't necessary though, so feel free to keep your starting traits centered around the roleplay aspect of gameplay, if you wish.
Best melee weapons in Starfield
Va'ruun Pain Blade - This is the heaviest base hitter of all melee weapons in Starfield. It's very tough to find, but keep your eyes peeled. The most reliable place is at The Key in Kryx.
Tanto - The Tanto is a high damage melee weapon, but much more attainable and easy to find than the Va'ruun Pain Blade. You can find it in random drops or random inventories at vendors.
Wakizashi - The second best base damage level for melee, after the Va'ruun Pain Blade. It's not too hard to shop for or locate the Wakizashi, but it will take some time and patience for most players.
UC Naval Cutlass - A melee weapon with a respectable amount of base damage. Fairly easy to find, even in earlier levels of playing. You can purchase it from a shop, but there's a good chance you'll find this weapon as a drop at some point.
If you have trouble finding these at the beginning of your playthrough, don't worry. You're more likely to find a Combat Knife, Ripshank or Rescue Axe early on. These will have to tide you over until you can find one of the above.
Related: How to move objects in Starfield without picking them up or equipping them
Best Armor for a Melee build in Starfield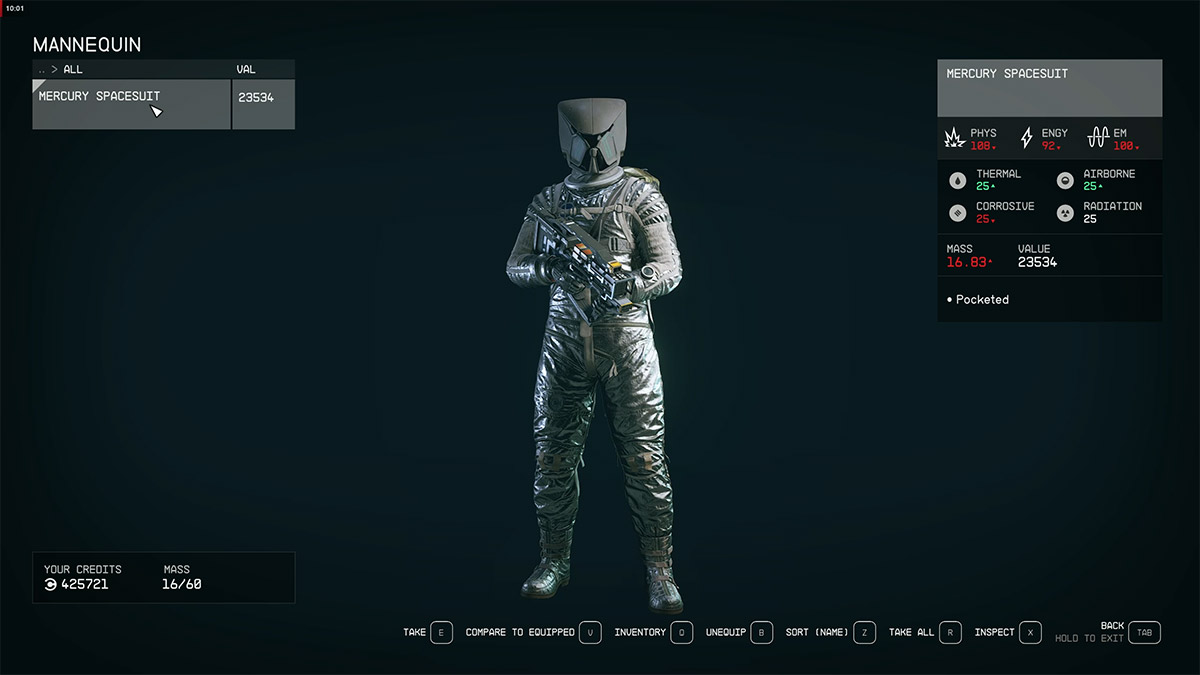 The specific type of armor you use might not be as important for a melee build (and it also varies heavily on your luck with drops), but key aspects of spacesuits will help you immensely with melee battle in Starfield. Most importantly, you want to find armor that hurts enemies in some way. Stunning, disarming, igniting (fire), or poisoning are great features on your armor.
You'll also want to mod your spacesuit on the workbench to optimize the amount of damage your suit can handle. The same can be said for your boost-pack and helmet. Try to have a high defense level on all of your armor, as you'll inevitably take some nasty hits while up close to enemies.
If you're hoping to find armor that is ready to go without modding, your chances will be lower and based on the luck of loot drops. Still, keep an eye out for the Mantis armor that you can find on Denebola I-B.
Best Items for a Melee build in Starfield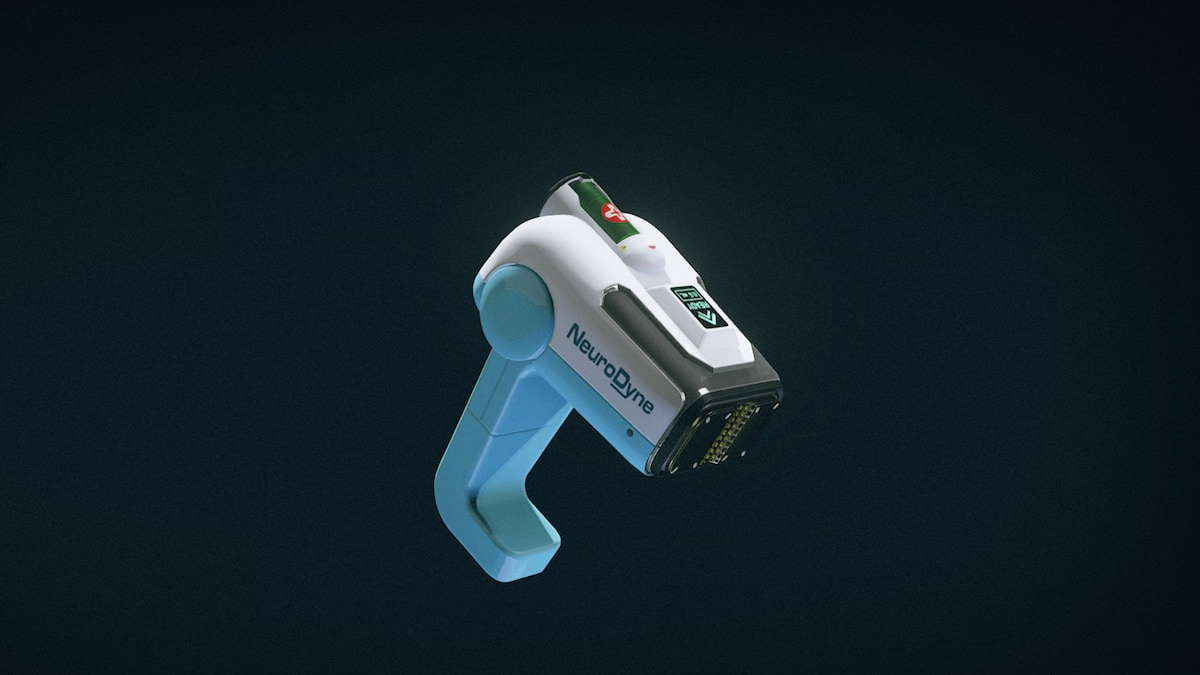 Battle enhancers are great for melee, as they often have some combination of increasing speed, health, damage resistance, and/or detection. These include Frostwolf, Reconstim, Boudicca, and more. Keep some Junk Flush around in case you develop a crippling addiction.
Keep some throwables (specifically grenades) handy, as this can help if you suddenly need some ranged assistance.
Like all builds in Starfield, you should always keep Med Packs/Trauma Packs/Emergency Kits handy to quickly regain health when in a pinch.
Even if you're committed to melee combat, still keep a gun you are comfortable using in your inventory. This can be helpful if things get too overwhelming during a fight.
Want to read more about Starfield? If so, check out How to find Va'ruun enemies and ships in Starfield on Pro Game Guides.