While Temtem requires its players to pick up a lot of information quickly upon starting their game (despite having fairly minimal tutorials), Pokémon veterans will find its gameplay and setting easy to adjust to based on what they already know. Despite this there are quite a few differences from more familiar Pokémon-style RPGs that can take some time to learn, even for players familiar with these systems. To help you get started, we've covered a few of Temtem's tweaks to the creature-collecting formula.
MMORPG Gameplay
Unlike any main-series Pokémon game so far, Temtem is an MMO – so you'll be connected to the net the whole time when playing, and right from the game's first few minutes you'll notice other players running around on the world map. Players have their names above their heads and are generally accompanied by a partner Temtem – other characters are NPCs who may battle you, give you items, or pass on information. Players with a crossed spears icon above their heads are currently engaged in battle – this is worth paying attention to as it can let you know ahead of time if a particular NPC will challenge passers-by to battle. Multiplayer features such as trading, competitive battling, and a co-operative mode can all be accessed from the game's menu.
Temtem Types
Like Pokémon, Temtem come in a number of elemental types – 12 in this case. These are Neutral Type, Fire Type, Nature Type, Water Type, Electric Type, Mental Type, Earth Type, Wind Type, Crystal Type, Digital Type, Melee Type and Toxic Type, each of which have advantages and disadvantages against certain other types. As in Pokémon, these type matchups aren't always obvious, so it's worth keeping an eye on the type effectiveness chart (check out our guide here). Temtem may also have a combination of two types at once, but your first Temtem will be a pure Crystal, Melee or Mental type depending on which starter you choose.
The Temporium
Temporiums (facilities located along routes and in towns) heal your Temtem for free and let you adjust which of your captured Temtem you carry around in your party. They'll also give you access to the item shop where you can buy healing items and Temcards, as well as scents that repel wild Temtem. A wider range of items will become available as you progress. In the early stages of the game you can head home to restore health even before reaching your first Temporium (and you'll probably need to do so – there are plenty of rival Tamers and wild Temtem on the game's first route, and the overall game is quite a bit more challenging than Pokémon).`You'll be earning money pretty quickly throughout your adventure, so don't be afraid to spend some once you do reach the Temporium.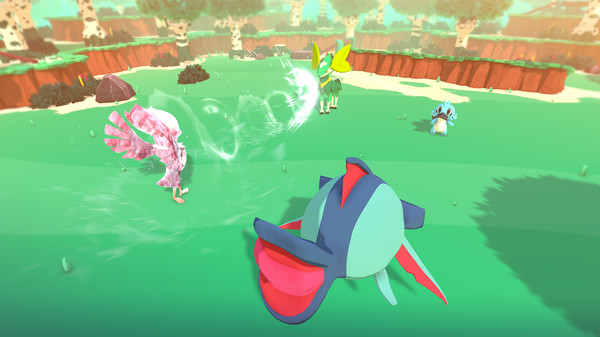 2-on-2 Battles
You'll be using two Temtem (if you have them) in most battles, even if your opponent is going solo – but many rival Tamers and some wild Temtem will take you on in pairs. This means techniques that hit all opponents (like Tuwai's Shrill Voice) are especially useful.
Stamina and Techniques
As well as the six stats used in Pokémon (HP, Attack, Defense, Special Attack, Special Defense, and Speed), Temtem introduces a Stamina stat that determines how often each technique can be used. Temtem have different levels of stamina, and each attack will cost a certain amount of it. If a Temtem's stamina runs out, it'll use up some of its HP while attacking, and won't be able to attack again until it's recovered some stamina. Stamina recharges slightly each turn, but can be recharged faster by commanding a Temtem to wait for a turn, and is also restored at the end of battle.
Some techniques also have a "Hold Value", separate from their stamina cost – this makes them unavailable until a certain number of turns have passed in battle. You can check the countdown to the left of the technique's name. More powerful techniques usually can't be used on the first turn of battle.
Certain types of moves can be used for "Synergy" – when combined with allies of the right type, they'll activate extra effects that can give you an edge in battle. Opportunities to use Synergy are worth keeping an eye out for, as the system is easy to learn but difficult to master.
Fertility and Breeding
Temtem features an in-depth breeding system, with inheritable stats and techniques similar to those of Pokémon – but the stats of a hatched Temtem are less random than those of a hatched Pokémon (see our Breeding guide and Competitive Breeding guide for more details). There's also the Fertility mechanic, which means a Temtem can only be bred a certain number of times. This is usually quite low (8 is considered a high Fertility value), and will be even lower in Temtem with high stats. This makes it more difficult to repeatedly breed powerful Temtem to get more powerful offspring, as well as making it harder to get Luma Temtem through breeding. Fertility also decreases with each generation – a newly hatched Temtem will be born with the lower Fertility stat of its two parents after breeding. This means that breeding a Temtem with 6 Fertility and a Temtem with 3 Fertility will give offspring with a Fertility of 2 (as the parent's Fertility decreases by 1 while breeding).