Revenant Prime is the primed variant of Revenant, a warframe harnessing the powers of Eidolon. Revenant can enthrall enemy subjects to turn on their allies, control a horde of Thralls, and leech their health and shields to restore his own. The primed variant of this terrorizing warframe comes with boosted energy, shields, sprint speed stats, and added polarities to enhance your build further. This guide will tell you which mods to choose to make the best Revenant Prime build in Warframe.
How to build Revenant Prime in Warframe
Revenant Prime is an extremely tanky warframe, capable of negating massive amounts of damage while simultaneously leeching shields and health from enemies. Utilizing the synergy from his first three abilities is key to mastering Revenant's gameplay. Therefore, players should primarily focus on building high ability strength, ability duration, ability efficiency, and ability range.
The following is a high-ability strength build, ensuring Revenant maintains many Mesmer stacks to negate incoming damage. Furthermore, a high ability efficiency allows you to spam Enthrall and Mesmer Skin repeatedly. Here are all the Mods and Arcanes for the best Revenant Prime build in Warframe:
Related: Best support frame in Warframe
Mods
Forma: 3
Enemy Radar (Aura): Enemies appear on Minimap
Power Drift (Exilus): +15% Ability Strength, +30% chance to resist knockdown
Umbral Intensify: +44% Ability Strength, +11% Tau Resistance
Stretch: +45% Ability Range
Primed Flow: +275% Energy Max
Fleeting Expertise: +60% Ability Efficiency, -60% Ability Duration
Blind Rage: +99% Ability Strength, -55% Ability Efficiency
Transient Fortitude: +55% Ability Strength, -27.5% Ability Duration
Narrow Minded: +99% Ability Duration, -66% Ability Range
Augur Secrets: +24% Ability Strength, 40% Energy spent on abilities is converted to Shields
Arcanes
Arcane Energize: Gain a 60% chance to replenish 150 Energy for yourself and allies within 15 meters when you pick up an Energy Orb.
Molt Augmented: Gain bonus ability strength on kills. Stacks up to 250 times.
Focus School
Power Transfer (Madurai): Gain up to 100% bonus critical damage when you switch to your Operator. Gain up to 40% bonus ability cast speed when you switch to your Warframe.
How to play Revenant Prime in Warframe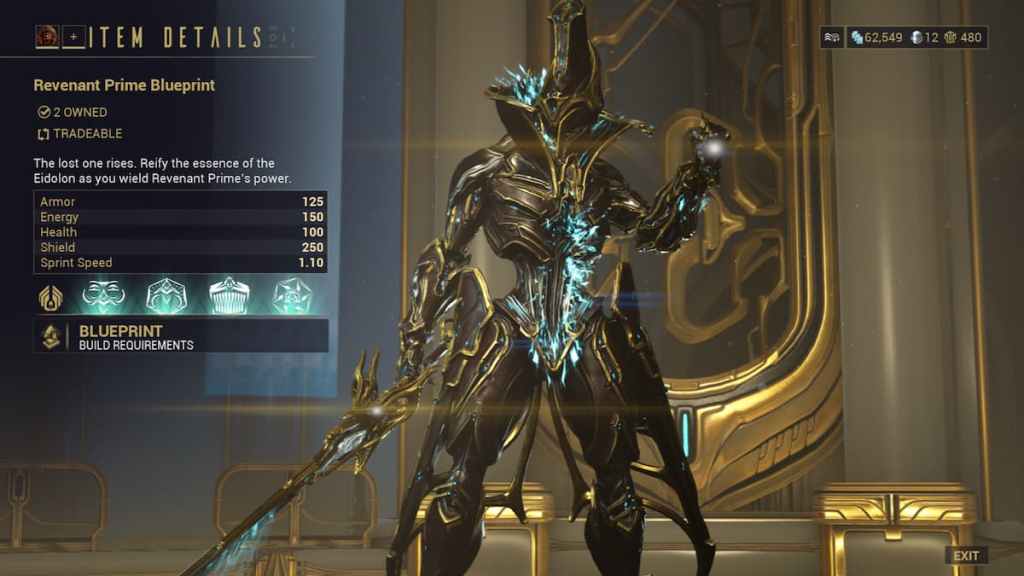 Revenant is one of the most tanky warframes because of his ability to negate all damage as long as he can maintain his Mesmer Stacks. As mentioned, using the first three of his abilities in tandem is the most efficient way to cut down enemies easily. The following are all of Revenant Prime's abilities in Warframe:
Enthrall - By utilizing his first ability, Enthrall, Revenant converts a target into a zealous thrall. Thralls will turn on their allies and convert them into Thralls through damage. Revenant can enthrall up to seven enemies at once. Upon death, Thralls will disintegrate into a damaging pillar of energy. The Thrall horde will remain under Revenant's control until the ability runs out.
Mesmer Skin - Activating this ability covers Revenant in Sentient energy, allowing him to gain Mesmer stacks, which scale directly with his ability strength. While Mesmer Skin is active, Revenant consumes Mesmer stacks to negate all incoming damage, and stun enemies who attack him. Revenant can use Enthrall on stunned targets for no energy cost.
Reave - Revenant's third ability, Reave, turns him into a wall of Sentient energy. With Reave activated, he can dash through enemies at lightning speed, leeching health and shield from them. Drain and restore effects are enhanced for Thralls.
Danse Macabre - Revenant erupts with many Eidolon energy beams that sweep around him, damaging enemies it hits. The beams with modifying their damage type to target select defenses, and any incoming damage while casting the ability will be redirected into the beams. Holding fire while casting will boost Status Effects and Damage at the cost of higher energy consumption. Furthermore, Thralls killed by Danse Macabre will drop overshield pick-ups.
Looking to increase your warframe's ability strength even further? Check out How to farm the Growing Power mod in Warframe, right here on Pro Game Guides.