While most doors have knobs and obstacles can be pushed, walls made of vines present a greater challenge. These branches are created by rampaging kemono, who transform their habitats to suit their needs. However, these vines can grow in inconvenient locations, blocking off Tsukumo and various treasures. Come join us as we explain how to destroy the vine walls in Wild Hearts.
How do you destroy the vines in Wild Hearts?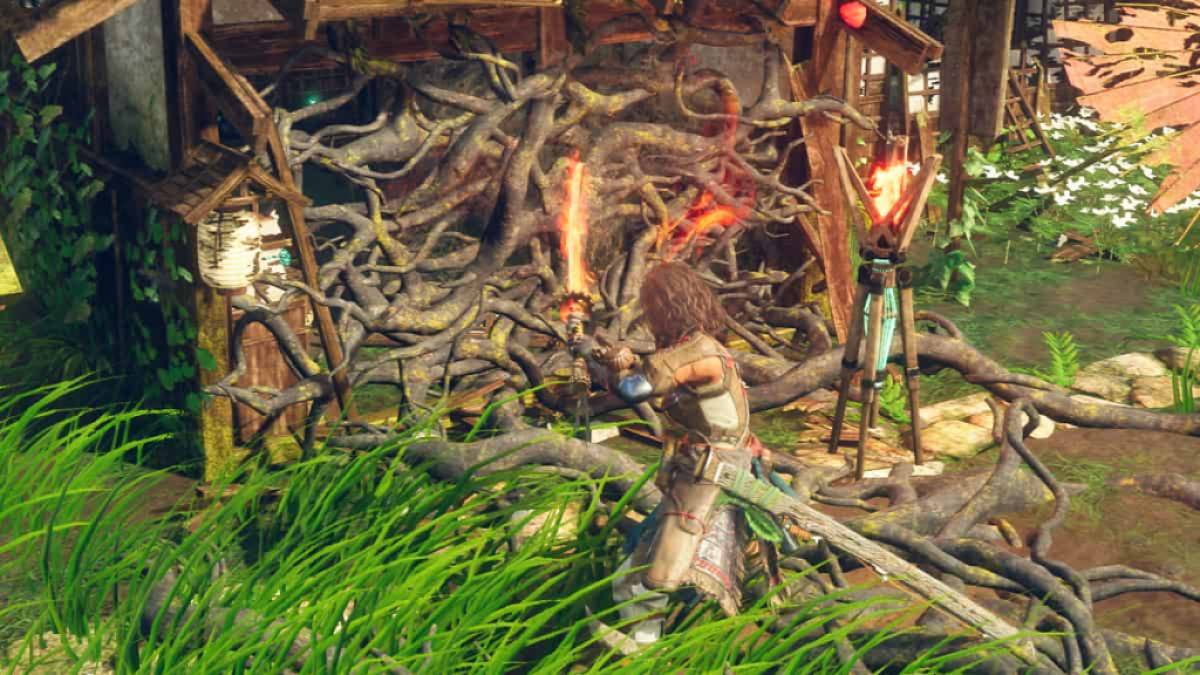 In order to destroy these vines, you must have completed the Kingtusk battle and obtained the torch Karakuri. If you have finished these requirements, then place the torch Karakuri directly next to the wall of branches. Your goal here is to burn down the wall with a strike from your flaming sword. To ignite your sword, simply swing it near the torch. If you attack in the direction of the torch, you will be sent into a flaming lunge attack that can also burn down the wall.
Related: How to play online co-op with friends in Wild Hearts
You cannot burn every vine in Wild Hearts, but you can destroy the branches that block off entryways. One such doorway can be found in the Abandoned Inn Town, where a wall of branches prevents you from collecting a Tsukumo on the other side. Another one of these obstacles can be found near the Rocky Shrine Approach, preventing passage with a cluster of vines. To destroy these, simply deploy your handy torch, swing your blade, and watch the magic happen.
For more Wild Hearts guides, come check out How to unlock Bulwark in Wild Hearts here on Pro Game Guides.