World Wrestling Entertainment is a famous show with scripted fights with storylines similar to TV series and movies. WWE 2K22 is a fighting game and wrestling simulation that lets you relive famous tournaments and live a life celebrity wrestler. The game has several modes, such as MyRISE, MyFaction, Showcase, Universe Mode, and MyGM.
If you want to become a successful wrestler you'll need some help, and like a great wrestling partner, we have your back. With WWE 2K22 locker codes you'll never be forced to tap out! Well, almost never, because losing is also part of the show, right? After all, in this game, there are no staged fights.
If you're into fighting games, we have some great guides for you! Check out Anime Fighters Simulator Codes, All Mortal Kombat games ranked, All Modes in Street Fighter 6, and Anime Brawl: All Out Codes on Pro Game Guides.
All WWE 2K22 Locker Codes List
Updated June 30, 2022

We wrestled with the best of them to get you these codes!
Active WWE 2K22 Locker Codes
Here's a look at all the working WWE 2K22 locker codes.
WWWHIAC2022—Get the Signature Series pack
NOFLYZONE—Get the 65 Drew Gulak Emerald card
HELLINACELL—Get the one Silver Fighting Spirit Sideplate and two Superstar Series packs
YOUCOMPLETEDGM—Get the Triple H Emerald Managers card
WWESUPERCARDS8—Get the Sasha Banks Emerald card, Drew McIntyre Emerald card, and Randy Orton Gold card
Expired WWE 2K22 Locker Codes
These locker codes for WWE 2K22 no longer work.
There are no expired WWE 2K22 codes.
WWE 2K22 Frequently asked questions, Answered
Here's everything you need to know regarding WWE 2K22 codes.
How to redeem WWE 2K22 Locker Codes
Redeeming WWE 2K22 locker codes is easy.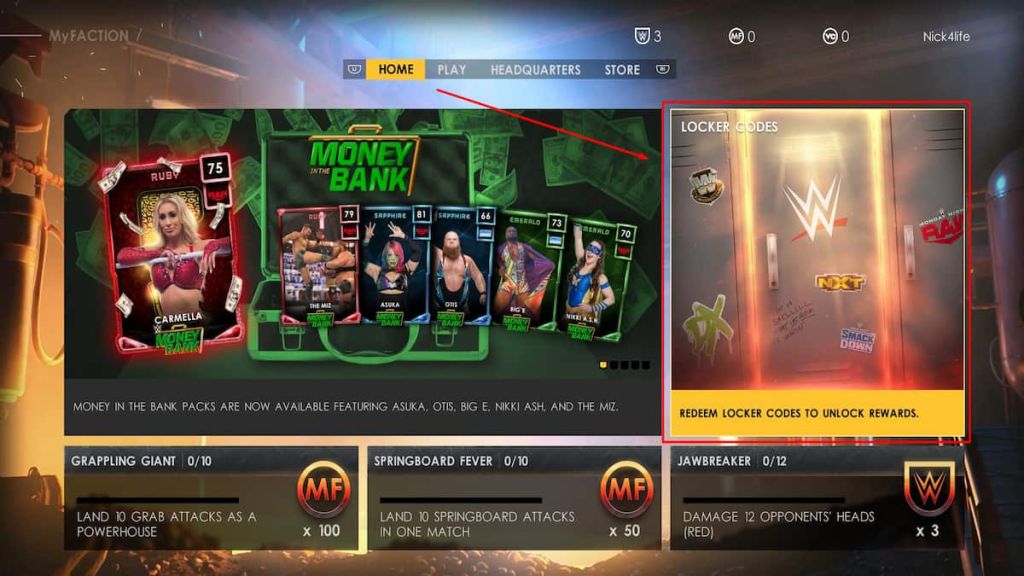 In the game, go to the myFACTION game mode.
Select the Redeem Locker Codes section.
In the text box, enter the code exactly as it appears in the list above.
Confirm selection and enjoy your awards!
How to get more WWE 2K22 Locker Codes
The best way to get more WWE 2K22 Locker codes is to check out this page frequently. We'll keep you updated with additional codes once they are released. If you notice any of our working codes have expired, please leave a comment so we can verify and update the page accordingly. You can also check the official Facebook and Twitter pages for more information.
Why don't my WWE 2K22 Locker Codes work?
The most common reason why your codes might not work can be a simple typo. To avoid that, copy and paste codes from the active codes section above into the redeem text box. There is also a chance that some WWE 2K22 locker codes have expired.
What is WWE 2K22?
WWE 2K22 is a professional wrestling simulation where you can go create your own wrestler and have a successful career. One of the more popular modes is MyFaction where you can collect famous wrestlers and play with other players online. Use WWE 2K22 locker codes to gain wrestling cards that represent wrestlers you can use in fights.
For more information on sports simulations, check out NBA 2k Mobile Codes, NBA 2K21 Locker Codes for MyTeam, and All NBA 2K22 Locker Codes on Pro Game Guides.