Among Us has quickly become one of the most popular online games on all platforms, including Among Us in virtual reality, allowing players to sus out their competition and stab their friends in the back at every corner. Despite being a pretty standard game with the same basic rules, players have found ways to get creative and switch up the gameplay with their own special game modes, such as hide and seek. You can host your own hide-and-seek server by using these settings and rules.
Rules for hide and seek in Among Us
There is no magic button to turn the server into hide-and-seek, but you can set up some basic rules for players to follow. To make it work, all players must agree not to report any murders and let the seeker/imposter go about their business. You can control this by setting the max emergency meetings to one, as well as making sure you only have one Imposter.
Related: What are the Maximum and Minimum Players needed in Among Us?
The Imposter will be the seeker and must make himself known at the start of the game by calling the one and only emergency meeting. Players then all pass the meeting without voting for him. After the meeting ends, all players must spread out and hide while the Imposter counts down and cuts the power.
Now that it's dark and all players have a hiding spot, the Imposter can begin searching around and taking out as many players as he can. The lights must remain off for the entire game duration, making it harder for the Imposter to see and easier for the players to hide. Tasks are not required to be completed in this mode unless you'd like to make things more difficult for the players. The last player left alive is the winner.
What settings should you have for hide and seek in Among Us?
You can use these settings to set up your hide-and-seek server, but it is entirely up to you. You can switch things up for your own unique twist.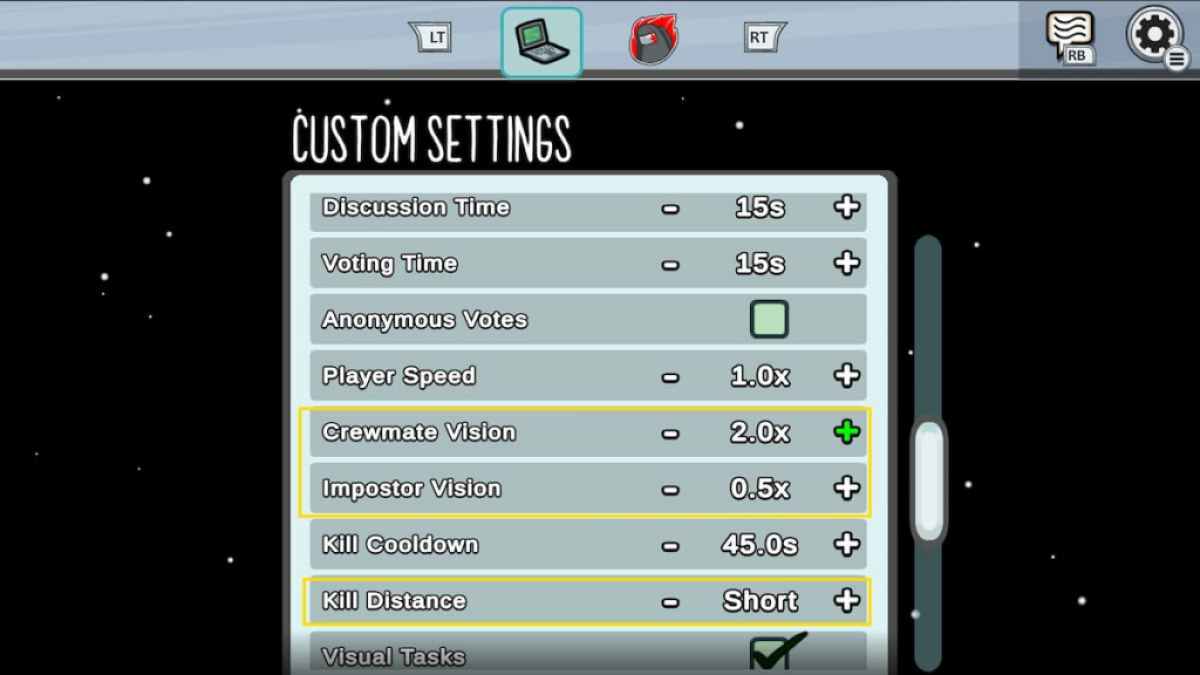 You can choose the custom settings when you press Create Server and open up the menu on the laptop in the server lobby. These are the most important recommended settings:
Imposters: 1
Emergency Meetings: 1
Discussion Time: 15s
Voting Time: 15s
Crewmate Vision: 1.5x or 2.0x
Imposter Vision: 0.5x or 1.0x
Kill Distance: Short
It's crucial to have the Imposter's vision set down lower than the Crewmates so that the game of hide-and-seek is fair and doable for players to hide. You can also choose whether or not to lower the Kill Cooldown, allowing the Imposter to catch two hiding players that happen to be nearby each other. You can also decide whether or not to enable tasks and what types of tasks are a good fit.
Once you have all the settings you'd like set into place, ensure you let all joining players know the rules, and you are ready to begin. Enjoy a new twist and twice the scare when you see that Imposter approaching.
Looking for more Pro Game Guides Among Us content? Check out our guides on How to get the Geoff Keighley Mask in Among Us or Among Us teases Crewmate Collab with Vtubing agency HoloLive!