Our Borderlands 3 Best Amara Builds Guide features a look at some of the top options for the character and class. Amara is more of your tank class and she likes to get into the fray by pummeling her enemies with melee. She can also use her magical fists to grab her enemies and lock them down or send out a projection of herself that will deal damage to anything in its path!
Amara Builds
We're featuring multiple builds that you can choose from which take advantage of the different skill trees.
NEW: Maliwan Mayhem 4 Spiritual Driver Solo Build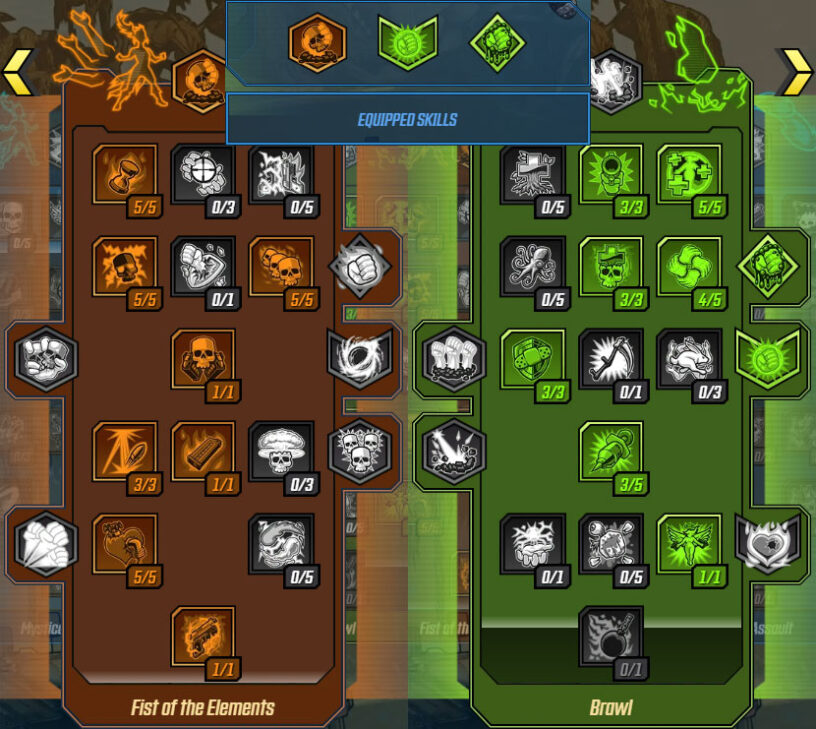 Credit to WiLLisGaming
This is a high damage speed build that will have you running around the map extremely fast to deal tons of damage. You will need to have at least a Cutsman with Incendiary, Shock, or Corrosive elemental damage on it, because that's where a vast majority of your damage output is going to come from. You aren't locked into the Blight Tiger Action Skill Element, and will want to switch between that Soulfire, and Shockra based on what enemies you are fighting (Blight is better against Armor enemies, Soulfire is better against red bar enemies, and Shockra is good for shields).
Key Items
Corrosive, Shock, and Incendiary Cutsman - You will at times be switching back and forth between these to maximize the amount of damage you can do on specific targets. Corrosive is for Armor which is the yellow health bar and is found throughout Maliwan Takedown, Shock is for shields, and Incendiary is for enemies with a red health bar.
Spiritual Driver Class Mod - Major key item to this build! You apply your action skill element to yourself, which boosts your damage because of the build. You also get a boost to Gun Damage while you are moving and it is increased by how quickly you are moving. This build pretty much doesn't work without this item.

This mod can be found by farming mini-bosses on Tanzendeer Ruins at Nekrotafeyo called Sylestro and Atomic. It's a Crew Challenge, so you probably already have it marked on your map. This item only drops in Mayhem 4 difficulty, so you will need a pretty good build to get it!

Elemental Projector Artifact - This increases your damage significantly when you're suffering from an elemental effect. This pairs well with the class mod that inflicts your action skill element onto you.
Brainstormer - Not fully necessary, but it's a great weapon for ripping shields off of multiple enemies.
Rotation
Use Phasegrasp ability without targeting an enemy. You are only using this to gain your stacks of additional damage for when you use this skill. If you accidentally target an enemy, it's not a big deal but you will need to wait for the cooldown to use it again.
Spam your Cutsman until the enemy is toast!
Be sure to check out the video guide to learn more:
NEW: Four Elements Build - Solo Mayhem 4 Build
Credit to Osterberg501
This build is capable of dealing four different elementals worth of damage in one shot if you've got the items to back it up! You'll need a Brainstormer (shock damage) with the Terrified Anointment that deals additional bonus Elemental damage, an item with the new +50% Elemental Damage Anointment, and you will be dealing Incendiary via the Soulfire Action Skill Element.
Key Items
This build requires some pretty specific items to get going optimally.
Brainstormer - You'll want one with the Terrified Anointment that deals 50% additional bonus Elemental damage.
Grenade w/Anointment - On Action Skill End, gain 50% bonus Elemental Damage with Weapons for 10 seconds.

You can have one of these for each of the elements, but having the same element on multiple items doesn't stack!

Shield w/Anointment - On Action Skill End, apply Terror to yourself every 5 seconds for the next 18 seconds. This is what powers up the Anointment on the Brainstormer.
Cutsmans - These are just one of the best overall weapons in the game right now. You'd ideally have them with Shock and Corrosive for dealing with Maliwan bosses and enemies. You are also looking for the Anointment that gives you increased Weapon Damage after using Phaseslam (you'd also switch your Action Skill to Phaseslam when facing a boss) or the one that increases weapon damage after Phasecast.
Phasezerker Class Mod - Gives you a big buff to overall damage. You can look at the ground and cast your Action Skill multiple times to stack your buffs to 99 for max damage.
Nearly 1-Shot Boss Killer Build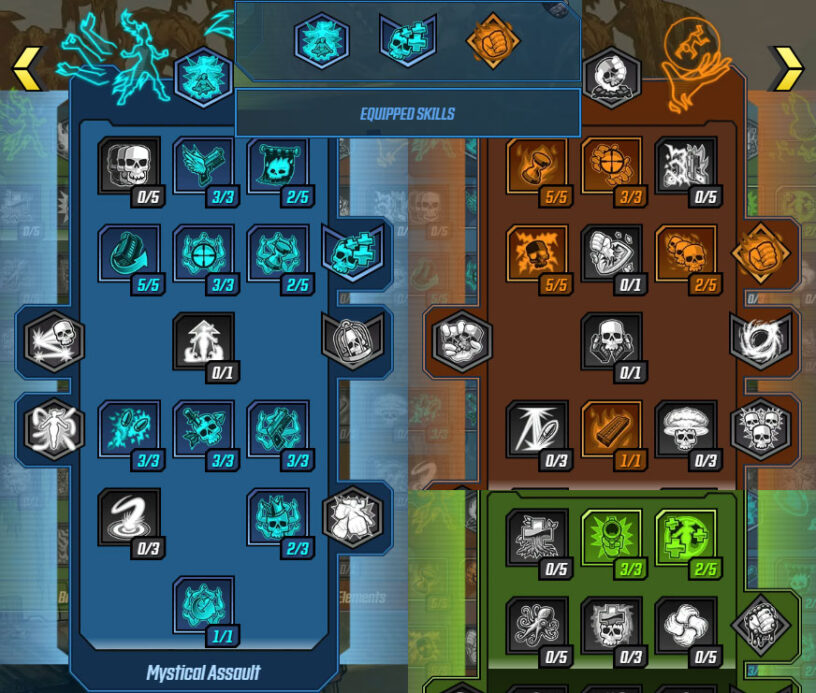 Credit to Moxsy
This is an interesting build because you'll want to harm yourself to increase your damage significantly. Item wise, the Linoge Legendary COV Pistol works well with this build. You will want an artifact with Elemental Damage boost and additional Incendiary Damage. If you are using the Linoge, look for a class mod that gives you + pistol damage. To get the most out of this build, you will want a shield that gives you increased Weapon Damage when it is depleted. The ones to look for are the Band of Sitorak and the Brawler Ward.
So, once you're ready to jump in versus a boss, you will need to have a weapon that depletes your shield. Damage yourself and remove your shield then go into battle. Cast your ability twice for a double stack of the Transcend buff which gives you a huge boost in Critical Hit Damage. You're now ready to shred, so lay waste to the boss with your weaponry! This build is particularly good against Graveward.
Watch the following video for more information!
End Game Immortal Hellcat Build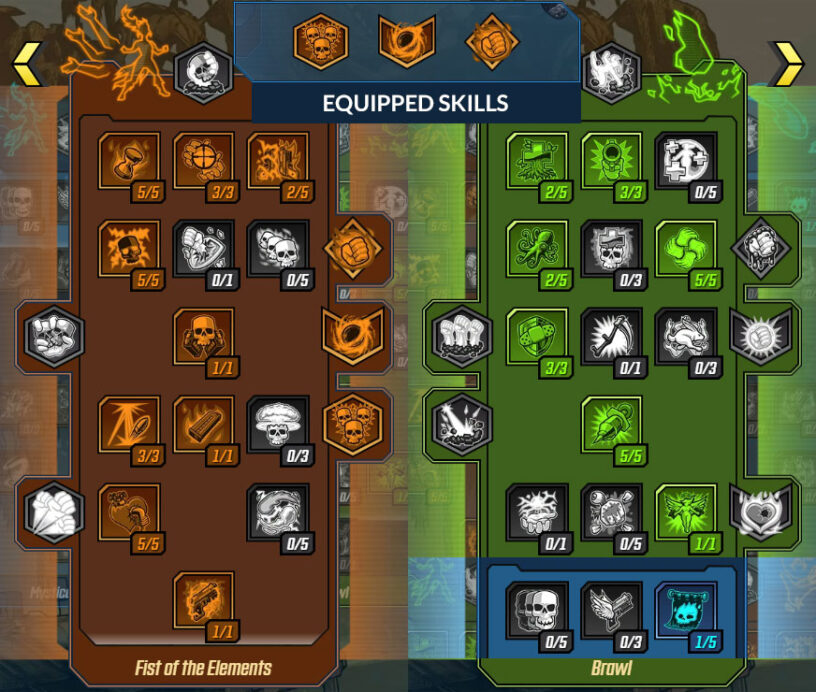 Credit to Sin Tee
This is basically an Elemental Damage build that takes advantage of talents like Tempest and Forceful Expressing which increases that damage significantly. You're also able to take out packs of enemies with the Indiscriminate talent that gives you a higher chance to spread your bullets around to nearby enemies. The build also runs a significant amount of Damage Reduction and Lifesteal which will help keep you alive against the higher leveled enemies you'll be facing in the end game.
This build works best when combined with the Phasezerker Class Mod. It gives you the following bonus, "On Action Skill used, Amara gains her Max Rush Stack count, but they decay over time. Amara gains 3% Weapon Damage and 10% Action Skill Cooldown rate based on the number of Rush Stacks."
I highly recommend watching the video to learn more about the build if you plan on trying it out!