In Clash Of Clans, players will have to build various layouts at every Town Hall level to protect materials from raids, and get easy wins in Clan Wars. At Town Hall 9 players will already have two heroes: the Barbarian King, and the Archer Queen. Apart from them, you will also get a couple of X-Bows, and various other defensive buildings like Air Defenses, Mortars, Hidden Teslas, Archer Towers, and Wizard Towers. These buildings can be placed effectively to build a base that withstands any TH9 army composition.
Best Clash of Clans Town Hall 9 War Base Layouts
For bases that perform well in Clan Wars, players will constantly have to change building positions to see which works best against specific clans. For instance, if you have an anti-ground attack layout, then your base becomes extremely vulnerable to aerial attacks. However, players can build the perfect base that withstands both ground and aerial assault with practice. Below are some of the base layouts we have experimented with in-game, and we recommend players use these to get better results in Clan Wars.
Anti-ground attack layout for Town Hall 9 in Clash of Clans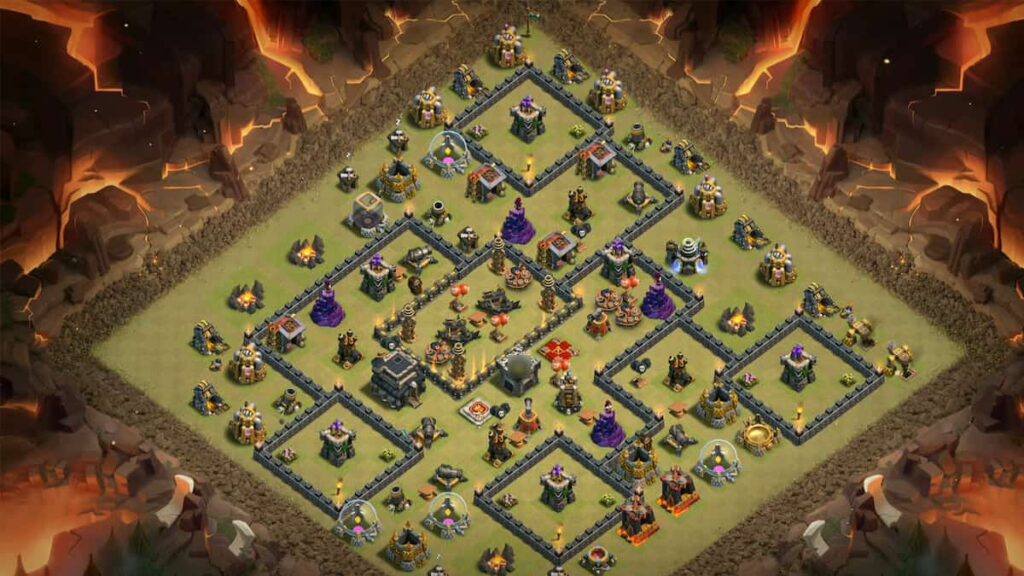 This Town Hall 9 base layout is perfect for withstanding any ground attack from other TH9 opponents. The base has Archer Towers spread out for increased range, while the Hidden Teslas and X-Bows strengthen the center of the base. The Mortars are placed outside walls as it attracts Golems directly, messing up any funneling planned out by opponents.
Anti-air attack layout for Town Hall 9 in Clash of Clans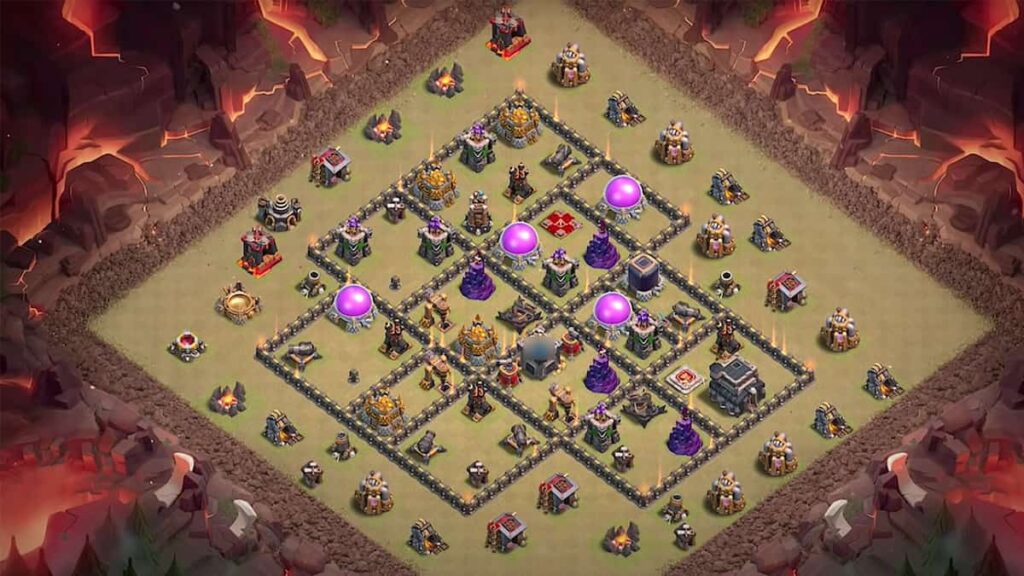 The idea is to place defenses so that even if your Town Hall goes down, the rest of the base will stand tall, denying a complete 3-star wipe from the opponents. This layout is exceedingly efficient against Balloons, Dragons, and other aerial units that other TH9s can use during Clan Wars.
Anti 3-star base layout for Town Hall 9 in Clash of Clans
While it's important to note that a Town Hall 10 opponent can easily wipe out any Town Hall 9 base easily, this anti 3-star layout shown above can withstand most attacks from TH9 armies. The base is spread out with several defense buildings outside the walls which will naturally lure Golems and Hogs towards traps. The Clan Castle is placed deep inside the base, and this is crucial as the CC troops are activated only after opponents clean out the defenses outside the walls.
Best Clash of Clans Town Hall 9 Farming Base Layouts
To protect Gold, Elixir, and Dark Elixir, players need effective base layouts which can withstand any attack. Ideally, you want the heaviest defenses closest to the Gold, Elixir, and Dark Elixir storages.
Dark Elixir protection Layout
This maze-like layout forces enemy troops to go around the base instead of penetrating directly toward the center. While the opponent forces focus on clearing out defenses one by one, the Archer and Wizard Towers at the center are essential for dealing constant damage. This layout is perfect to withstand attacks that are meant to drown your Gold and Elixir resources.
Related: Best Clash of Clans Town Hall 9 Army
Gold and Elixir protection Layout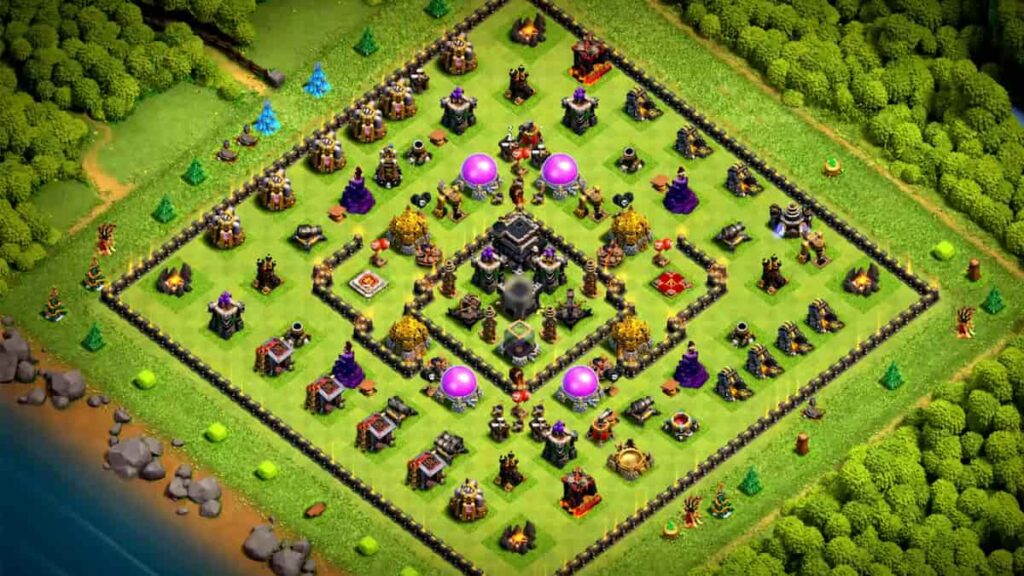 This base is another brilliant example of a maze-like layout that forces opponent Town Hall 9 troops to circle around. Players can effectively place X-Bows and Hidden Teslas closer to the center of the base near both Heroes. This will not only stop enemies in their tracks but also prevent opponents from stealing Dark Elixir easily.
For more on Clash of Clans, check out Best Clash of Clans Town Hall 11 Army or How to transfer Clash of Clans data from Android to iOS/iPhone here on Pro Game Guides!