While Counter Strike: Global Offensive (CSGO) has been free-to-play for some time now, that doesn't mean there aren't some juicy options if you do want to put your hand in your pocket. A common way to try and pick up some of the more desirable items in the game is by purchasing Case Keys. These are cash-only items you can get directly from Steam to open a Case, gacha style. So, with real money at stake, you'll want to know the best CSGO cases to open to give yourself the best chance of a top weapon skin.
Top cases to open in CSGO with case keys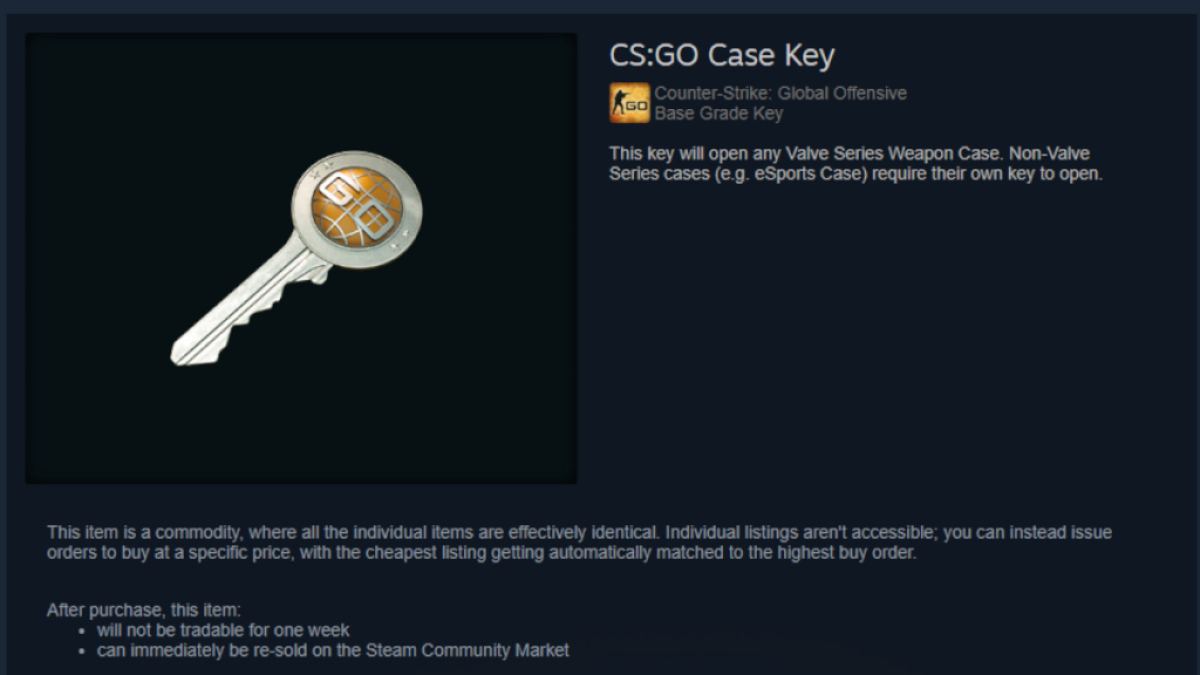 Of course, the true answer here is in the eye of the individual. There is no universally agreed best case to open. Some players purely want the best potential return on their investment, looking for an item to sell for profit so they can get more keys. While others will be looking for a specific type of item, making cases containing more of them (by percentage odds) favorite. Just remember that pulling a knife is super rare, no matter the case.
Here, I've put together a list containing both options, taking both value for money and the quality of potential item rewards into consideration.  All the cases on the list are worth considering. There are more than 30 cases in the game right now, so I consider all of these to be in the top half of those available.
Before starting on the list, I think it is worth pointing out that keys have a set cost of $2.49 if bought as you open any case. Don't buy them from the Steam Marketplace as they always cost more than this, while third-party sites claiming to be selling keys should not be trusted. Only keys already within the Steam environment can be used now.
Related: Best CS:GO Surf Servers List
14. Winter Offensive Weapon Case
This case is becoming rarer, making it far less value for money for what's on offer inside, but if you're looking for a white weapons skin, it was more than its fair share. 
Galil AR Sandstorm
Five-SeveN Kami
M249 Magma
PP-Bizon Cobalt Halftone
FAMAS Pulse
Dual Berettas Marina
MP9 Rose Iron
Nova Rising Skull
M4A1-S Guardian
P250 Mehndi
AWP Redline
M4A4 Asiimov

Sawed-Off The Kraken
Rare Knife skins
13. Huntsman Weapon Case
There's a lot of nostalgia around the Hunsman Weapon Case, which arrived back in 2014 and is full of community-designed skins. You'll still see a lot of these skins being sported in-game by veterans and new players alike.
Tec-9 Isaac
SSG 08 Slashed
Galil AR Kami
CZ75-Auto Twist
P90 Module
P2000 Pulse

AUG Torque
PP-Bizon Antique
XM1014 Heaven Guard
MAC-10 Tatter
M4A1-S Atomic Alloy
SCAR-20 Cyrex
USP-S Caiman
AK-47 Vulcan
M4A4 Desert-Strike
Rare Knives skins
12. Gamma Case
Knife drops are super low in any case, but if you're going to get one, this is one of the best cases to land a knife skin from in terms of cash value. Beyond that, it has a lot of fun gun skins that are colorful but not too much to write home about.
Five-SeveN Violent Daimyo
MAC-10 Carnivore
Nova Exo
P250 Iron Clad
PP-Bizon Harvester
SG 553 Aerial
Tec-9 Ice Cap
AUG Aristocrat
AWP Phobos
P90 Chopper
R8 Revolver Reboot
Sawed-Off Limelight

M4A4 Desolate Space
P2000 Imperial Dragon
SCAR-20 Bloodsport
Glock-18 Wasteland Rebel
M4A1-S Mecha Industries
Rare Knife skins
11. CS20 Case
Introduced to celebrate 20 years of Counterstrike back in 2019, there are a lot of these still around, which has kept the price down. Nostalgia fans will want to pull the Classic Knife (the skin from early CS games), but some of the unique weapon skins here are also popular and reasonably valuable. 
AWP Wildfire
FAMAS Commemoration
AUG Death by Puppy
MP9 Hydra
P90 Nostalgia
P250 Inferno
Five-SeveN Buddy
MP5-SD Agent
UMP-45 Plastique
M249 Aztec
Glock-18 Sacrifice
FAMAS Decommissioned

Dual Berettas Elite 1.6
Tec-9 Flash Out
SCAR-20 Assault
MAC-10 Classic Crate
Mag-7 Popdog
1 of 13 possible Knife skins
Related: Best CSGO Crosshair Codes – Best Crosshair Settings!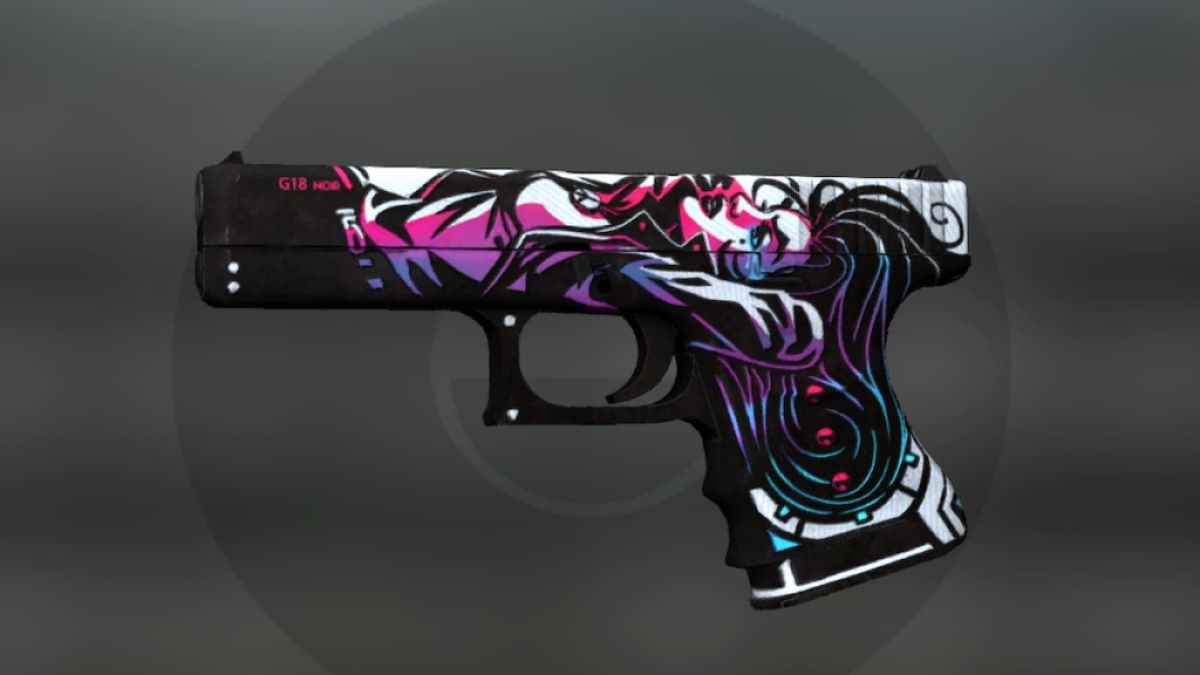 10. Danger Zone Case
It's hard to know where to rank the Danger Zone case, as it has some great skins but a ridiculous number (69, including the 52 knives) to randomly draw from. It just makes the top 10 because while it has a lot of options, enough is good that it's still worth taking a punt on. 
AK-47 Asiimov
AWP Neo-Noir (pictured above)
Desert Eagle Mecha Industries
UMP-45 Momentum
MP5-SD Phosphor
USP-S Flashback
P250 Nevermore
Galil AR Signal
G3SG1 Scavenger
MAC-10 Pipe Down
M4A4 Magnesium
Glock-18 Oxide Blaze

MP9 Modest Threat
Nova Wood Fired
Tec-9 Fubar
SG 553 Danger Close
Sawed-Off Black Sand
52 Knife skins
9. Prisma 2 Case
While not quite on par with the Prisma Case (spoiler later, see below) this follow-up to that colorful classic still has its fair share of daft but desirable eye-bashing skins that should help you stand out from the crowd.
M4A1-S Player Two
Glock-18 Bullet Queen
AK-47 Phantom Disruptor
MAC-10 Disco Tech
MAG-7 Justice
SSG 08 Fever Dream
SG 553 Darkwing
P2000 Acid Etched
Sawed-Off Apocalypto
SCAR-20 Enforcer
AWP Capillary
Desert Eagle Blue Ply

AUG Tom Cat
R8 Revolver Bone Forged
Negev Prototype
MP5-SD Desert Strike
CZ75-Auto Distressed
24 Knife skins
8. Clutch Case
It may now be more than five years since the Welcome to the Clutch update, but the Clutch Case has a lot of skins that are now considered classics, and many players are still after them. It also has a strong selection of gloves rather than knives.
M4A4 Neo-Noir
MP7 Bloodsport
USP-S Cortex
AWP Mortis
AUG Stymphalian
Glock-18 Moonrise
UMP-45 Arctic Wolf
Negev Lionfish
MAG-7 SWAG-7
Nova Wild Six
Five-SeveN Flame Test
SG 553 Aloha

XM1014 Oxide Blaze
P2000 Urban Hazard
MP9 Black Sand
R8 Revolver
PP-Bizon Night Riot
24 Glove skins
7. Prisma Case
For pure value in terms of the likelihood of finding something cool, the Prisma Case is a perennial favorite. It's common enough to still be cheap but has a lot of popular brightly colored skins that should prove tradeable if you don't hit on something you want. 
M4A4 The Emperor
Five-SeveN Angry Mob
AUG Momentum
XM1014 Incinegator
R8 Revolver Skull Crusher
AWP Atheris

Desert Eagle Light Rail
UMP-45 Moonrise
Tec-9 Bamboozle
MP5-SD Gauss
AK-47 Uncharted
FAMAS Crypsis
P90 Off World
Galil AR Akoben
P250 Verdigris
MAC-10 Whitefish
MP7 Mischief
24 Knife skins
6. Dreams & Nightmares Case
As the case name suggests, the Dreams and Nightmares Case is home to a slightly deranged mix of super colorful and super scary skins. This makes it a fun case to choose from, while it also includes some stone-cold (and very popular) classics.
AK-47 Nightwish
MP9 Starlight Protector
Dual Berettas Melondrama
FAMAS Rapid Eye Movement
MP7 Abyssal Apparition
M4A1-S Night Terror

USP-S Ticket to Hell
PP-Bizon Space Cat
XM1014 Zombie Offensive
G3SG1 Dream Glade
Five-SeveN Scrawl
MAC-10 Ensnared
MP5-SD Necro Jr.
SCAR-20 Poultrygeist
MAG-7 Foresight
P2000 Lifted Spirits
Sawed-Off Spirit Board
30 Knife skins
Related: How to Practice Smokes in CS:GO – Smoke Practice Server Guide
5. Weapon Case 2
Unfortunately, Weapon Case 2 is now one of the more expensive you'll see due to its rarity. However, it has the advantage of being home to some of the game's most desirable knife skins as well as some classic guns.
Tec-9 Blue Titanium
M4A1-S Blood Tiger
FAMAS Hexane
P250 Hive
SCAR-20 Crimson Web
Five-SeveN Case Hardened
MP9 Hypnotic
Nova Graphite
Dual Berettas Hemoglobin
P90 Cold Blooded
USP-S Serum
SSG 08 Blood in the Water

Exceedingly Rare Knife skins
4. Glove Case
The beauty of the Glove Case is that it has 24 unique Glove skins on offer, alongside some great classic skins (17 in total) that will likely be tradeable if you don't get some of the gloves you're searching for.
SSG 08 Dragonfire
M4A4 Buzz Kill
FAMAS Mecha Industries
P90 Shallow Grave
Sawed-Off Wasteland Princess
USP-S Cyrex

M4A1-S Flashback
Dual Berettas Royal Consorts
Nova Gila
G3SG1 Stinger
MP7 Cirrus
Glock-18 Ironwork
P2000 Turf
Galil AR Black Sand
CZ75-Auto Polymer
MAG-7 Sonar
MP9 Sand Scale
24 Glove skins
3. Operation Wildfire
This is another rather expensive case nowadays, but once you've seen someone sporting the Kumicho Dragon Desert Eagle skin, it's hard not to take a risk on this bad boy. Go ahead and treat yourself. 
PP-Bizon Photic Zone
Dual Berettas Cartel
MAC-10 Lapis Gator
SSG 08 Necropos
Tec-9 Jambiya
USP-S Lead Conduit

FAMAS Valence
Five-SeveN Triumvirate
Glock-18 Royal Legion
MAG-7 Praetorian
MP7 Impire
AWP Elite Build
Desert Eagle Kumicho Dragon
Nova Hyper Beast
AK-47 Fuel Injector
M4A4 The Battlestar
Rare Knife skins
2. Recoil Case
While the chance of pulling the AWP Chromatic Aberration is probably worth the entrance fee alone, you also have the Marble Fade Specialist and Field Agent gloves on the list of rare gloves.
FAMAS Meow 36
Galil AR Destroyer
M4A4 Poly Mag
MAC-10 Monkeyflage
Negev Drop Me
UMP-45 Roadblock
Glock-18 Winterized
R8 Revolver Crazy 8
M249 Downtown
SG 553 Dragon Tech
P90 Vent Rush
Dual Berettas Flora Carnivora

AK-47 Ice Coaled
P250 Visions
Sawed-Off Kiss Love
USP-S Printstream
AWP Chromatic Aberration
Rare Glove skins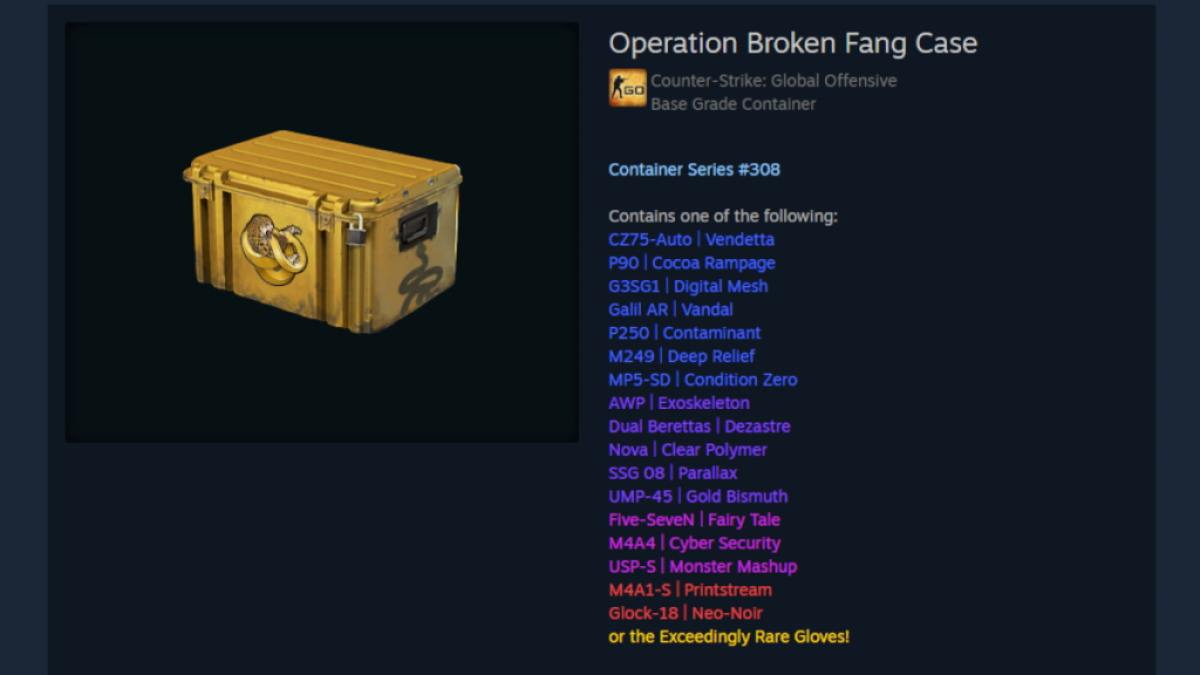 1. Operation Broken Fang Case
A total of 18 weapon skins were included in this case that dropped as part of the Operation Broken Fang update. There are a lot of desirable skins in the case, making it more likely than usual that you'll either get something you want or something tradeable. Plus, it is another case with a good glove (instead of a knife) selection.
M4A1-S Printstream
Glock-18 Neo-Noir
M4A4 Cyber Security
USP-S Monster Mashup
Five-SeveN Fairy Tale
AWP Exoskeleton

SSG 08 Parallax
UMP-45 Gold Bismuth
Nova Clear Polymer
Dual Berettas Dezastre
P250 Contaminant
Galil AR Vandal
MP5-SD Condition Zero
P90 Cocoa Rampage
CZ75-Auto Vendetta
G3SG1 Digital Mesh
M249 Deep Relief
24 Glove skins
For more CS:GO information here at Pro Game Guides check out Best Smoke Spots on Anubis in CS: GO and CSGO – All Dust 2 Map Callouts.