Choose your weapon loadout (unless you're playing eco) and pick a site to defend or attack for another round of Counter-Strike: Global Offensive! In this tactical, action-packed FPS, you can play as a CT or a Terrorist, secure bomb sites or plant bombs, rescue hostages, and much more. An incredibly addictive experience, this ever-popular shooter will test your skills to the maximum!
The Crosshair codes in Counter-Strike: Global Offensive will allow players to change the shape and color of their aiming crosshairs, allowing customization to suit their playstyle and preference. This option will give players an edge while playing, allowing them to tweak the crosshair shape and size they prefer without being too distracting or covering enemies. Check out Best Overwatch 2 custom game codes for aim training if you like this game.
All CSGO Crosshair Codes List
CSGO Crosshair Codes
| Image | Code |
| --- | --- |
| | CSGO-FMUG6-L6HEk-drJoF-u5xhH-pBtdA |
| | CSGO-7ANjy-XxRae-25YoE-7Bfnp-QQSFE |
| | CSGO-8fzkO-nCvOi-FKNjN-qoXpf-3kYbD |
| | CSGO-nZtuj-eHzcb-8fyLe-Cxbwc-NHpEM |
| | CSGO-GEyiX-utAZs-54xZE-pFx9q-kEAMK |
| | CSGO-jvnbx-S3xFK-iEJXD-Y27Nd-AO6FP |
| | CSGO-BFTzN-avOyU-djZEM-FmwKd-v5TCP |
| | CSGO-UwUWf-AScRw-fmW79-woFNe-wLsuL |
| | CSGO-e8dOy-JmLaK-mYxkQ-PLUCG-9zedJ |
| | CSGO-9K2SB-z3Hme-uTXQZ-vRns4-GHDhP |
Related: Best Smoke Spots on Anubis in CS: GO
How to redeem Crosshair codes in CSGO
Follow the instructions below to redeem crosshair codes in CSGO.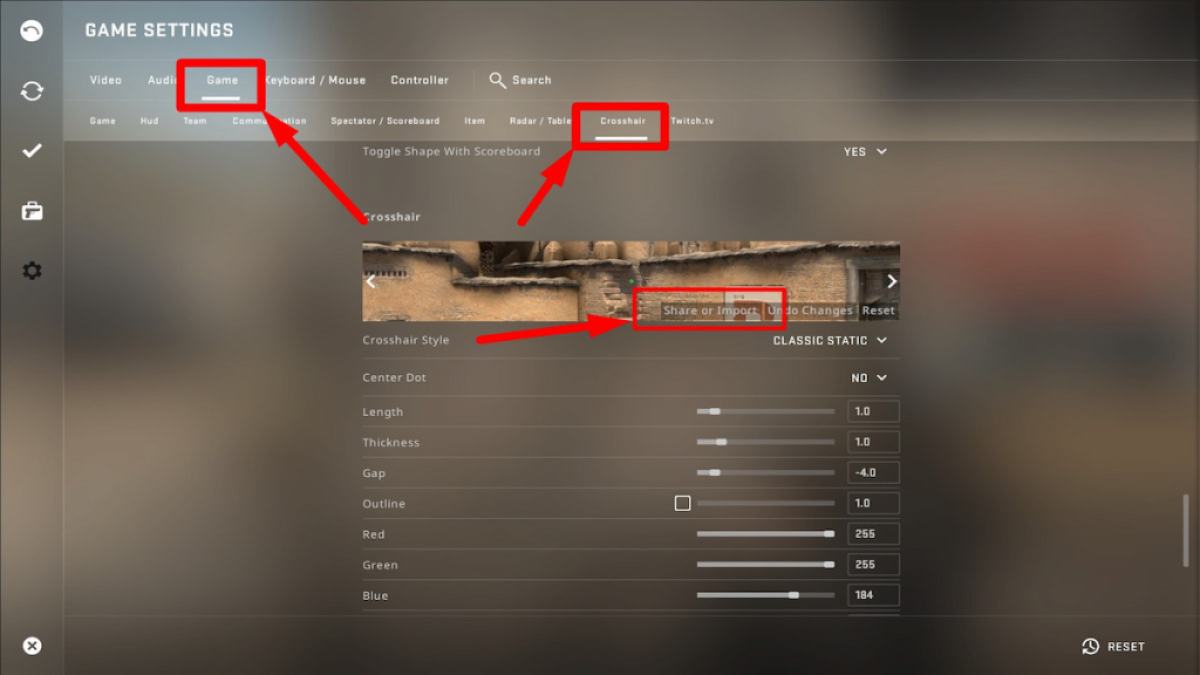 Launch CSGO on your platform.
Click the Cog icon to access the settings in the Main menu.
Click on the Game category from the top selection.
Click Crosshair in the sub-section.
Click the Share or import button in the image displaying your Crosshair visual.
A popup window will appear. Enter the Crosshair code in the text field.
Click the Ok button to confirm.
How can you get more CSGO Crosshair Codes?
There are many different CSGO crosshair codes strewn across the internet. All pro players, like S1mple and NiKo, use their crosshair presets, which you can find on sites like prosettings.net, along with all other configurations and gear they use.
Why are my CSGO Crosshair Codes not working?
There could be a couple of reasons why your CSGO Crosshair codes might not work. The codes could be mistyped. The codes for crosshair settings consist of case-sensitive strings of numbers and letters, which makes it easy to mistype them. The best way to redeem Crosshair codes is to copy them from the website list and paste them directly into the game.
Creating your own Crosshair in CSGO
If you don't like any CSGO Crosshairs we provided, you can create one to your preference. Combining factors like color, size, and center dot, you can customize a crosshair to suit your playstyle fully. To make your custom crosshair, you can use the in-game menu in the same window where you would input crosshair codes. Alternatively, you can use one of the many free online crosshair generators, which offer you to customize your crosshair while testing it out on an in-game image backdrop simultaneously to get the best results. To export the settings, copy them from the website and paste them into your console.
What is CSGO?
Counter-Strike: Global Offensive is a competitive first-person shooter regarded as the king of shooters by many and a prominent e-sports game. It is the fourth installment of Valve's famous staple of the FPS genre, in which the players get to pick a team of terrorists and have to complete a specific objective or counter-terrorists trying to stop them in a series of rounds. Several game modes include bomb defuse, hostage rescue, and more.

If you're looking for codes for other games, we have a ton of them in our Roblox Game Codes post! You can also get a bunch of free stuff via our Roblox Promo Codes page. And in the meantime, take a look at the latest news to stay up-to-date on all things entertainment.