Introduced in Dead by Daylight's newest patch update, Grades will replace the old Ranks and represent a new ranking rewards system for each Season in DBD.
Dead by Daylight Rank Grades, Qualities, and Levels
Grades come in five Qualities and are divided into four Levels. Similar to Ranks, Grades progress backward in their numbering, with each Quality ranging from Level IV, to Level I. Ash IV being the lowest Grade and Iridescent I being the highest. Listed below are Dead by Daylight's new Grade Qualities and Levels, next to its Rank numbers.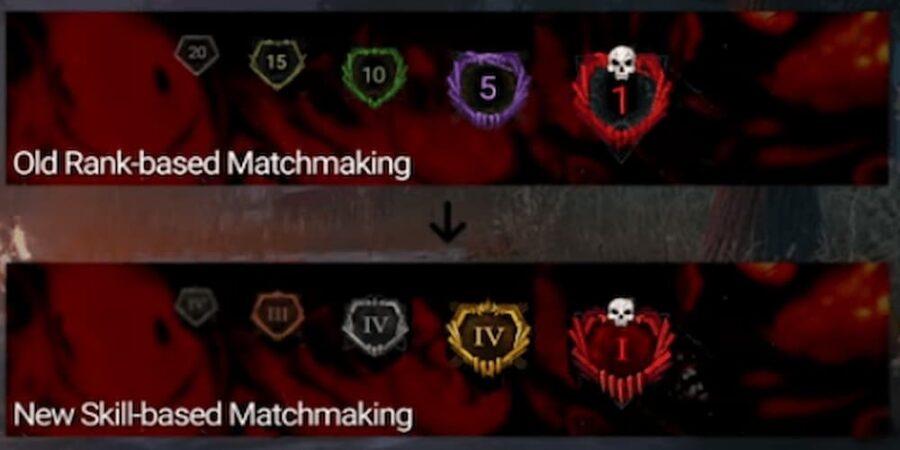 Grade Qualities and Levels
Ash IV - Rank 20
Ash III - Rank 19
Ash II - Rank 18
Ash I - Rank 17
Bronze IV - Rank 16
Bronze III - Rank 15
Bronze II - Rank 14
Bronze I - Rank 13
Silver IV - Rank 12
Silver III - Rank 11
Silver II - Rank 10
Silver I - Rank 9
Gold IV - Rank 8
Gold III - Rank 7
Gold II - Rank 6
Gold I - Rank 5
Iridescent IV - Rank 4
Iridescent III - Rank 3
Iridescent II - Rank 2
Iridescent I - Rank 1
Grades are determined by the amount of points in progression (Pips) the player obtains in a Ranking Season. Depending on the player's performance during Ranked Trials, Pips can be lost, gained, or kept at their current number.
Don't forget to explore the PGG site for more on Dead by Daylight. We've got all the answers to those DBD questions covered, in our guides on What does SWF mean in Dead by Daylight and Does Dead by Daylight have voice chat?