In Dwarf Fortress, one common immediate pitfall players will fall into is not having enough dwarven workers in their fortress. But there's no simple recruit option in Dwarf Fortress. Instead, there's a more passive way of getting new dwarves into your fortress. Here's how you get more dwarves in Dwarf Fortress.
Just wait!
Dwarves will arrive at your fortress every season as they migrate to your location, looking for new lives. These will have the potential to start at the beginning of each season. You'll receive a notification on the left saying that migrants have arrived. You can't control the jobs, skills, number, or type of dwarves arriving directly, but you can influence them.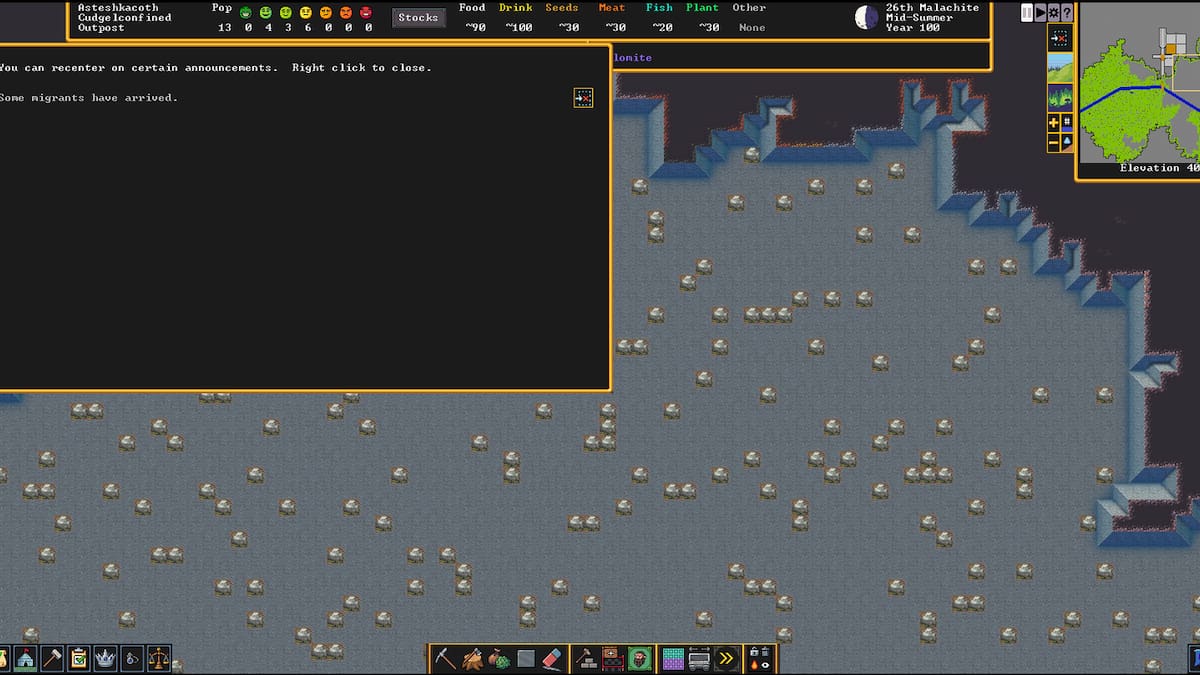 For instance, if you just want more dwarves, build more beds and bedrooms. At its simplest, make sure you have a large Dormitory designated while you carve out more bedrooms. Then you can influence the type of dwarves lured to your fortress by creating surpluses of tools and workshops. For example, if you want more miners, make sure you have spare picks, or if you want more leatherworkers, make sure you've built some leatherworking workshops.
Make things nicer, get things ready for new dwarves
The other method to encourage dwarves to migrate to your fortress is to make the space nicer for the dwarves. By creating fully furnished bedrooms ready for new dwarves, meeting halls, dining rooms, guild halls, taverns, temples, etc., you can make sure that any potential migrants will be eager to move to your fortress. As your fortress grows, this will increasingly be the best way to encourage new dwarves.
Related: All Digging designation cancelled messages in Dwarf Fortress and what they mean
Build the most impressive fortress you can
Dwarves are greedy, materialistic, and petty creatures for the most part and want nothing more than shiny trinkets, fancy furnishings, and pretty baubles. So by raising the overall wealth of your fortress and creating higher quality items, buildings, furnishings, food, etc., you'll attract more and more dwarves to your fortress.
In fact, as you grow, you'll even attract nobles, visitors from other kingdoms, thieves, musicians, and all kinds of creatures to your fortress. Even the vile forces of darkness, such as goblins or, worse, elves, will be attracted to your fortress as it grows.
Dwarves aren't moving to my fortress in Dwarf Fortress
If you genuinely have no new dwarves, there are a few culprits. First, if you've had a lot of invasions, raids, and deaths in your fortress, migrants just won't come to your fortress as they'll feel it's too dangerous. To repair this reputation, you'll have to cut down on the deaths, make the location safer, and improve your fortress. Although by this point, it might be too late.
Additionally, if you've hit the population cap of 200 by default, the only way to expand your fortress after this is by having children within your fortress. Finally, if you've had no migrations at all, check your save. It may be you've found yourself either isolated from your original civilization, or you may be some of the last dwarves in your civilization. Either way, it might be best to abandon the fortress and start again.
Looking for more Dwarf Fortress guides? Check out All Differences between Dwarf Fortress classic and Dwarf Fortress Steamon Pro Game Guides.