Fall Guys is the ultimate battle royale game with random rounds of races and other mini-games, filled with laughs and fun. The twist being––everyone competes as ragdoll-like characters with little to no balance or coordination. You race your character and attempt not to get eliminated so you can get the win and unlock new items and customizations. Despite being simple bean characters, there are plenty of options available to customize them how you like, from outfits, colors, and patterns to switch up their look. Here are some of the best patterns you can use to style your character.
Scanlines
The Scanlines epic rarity pattern was a part of the fourth season and one of the more complex ones to attain. Its thin and thick lines may seem simple but make up an intricate pattern that spells out "Fall Guys" across your character's body. This is one of the best because of its rarity and simplicity and one of the best to look at in any color.
Hoodie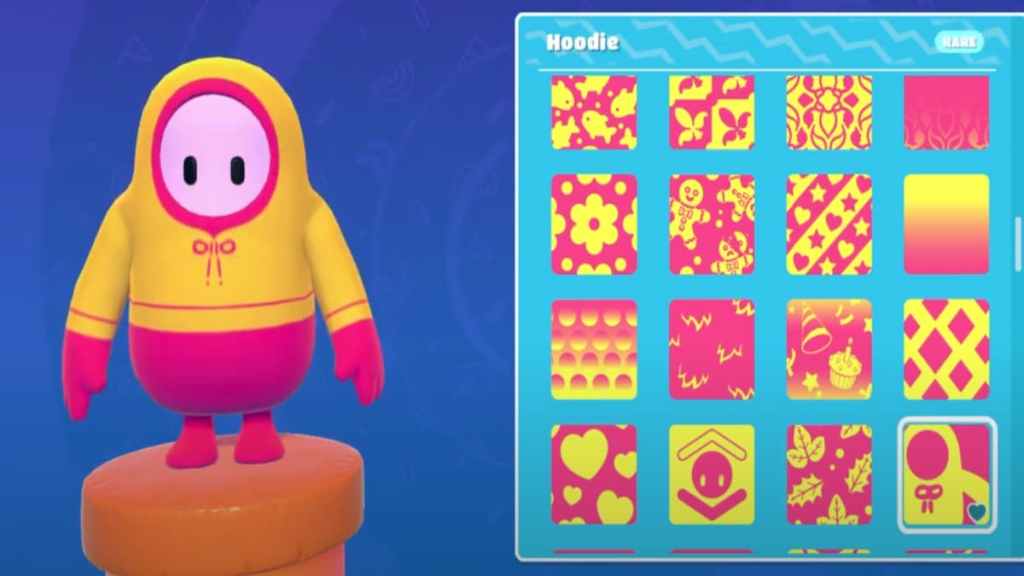 The rare Hoodie pattern was a part of the first season and cost 300 Show-Bucks to acquire. It covers the full half of your character with the hood pulled over the head and a nice bow to tie off the neck. This is an excellent pattern not only for its cuteness level but, much like the T-Shirt and other top patterns, it's a whole outfit on its own––no other outfit is required.
Pop Art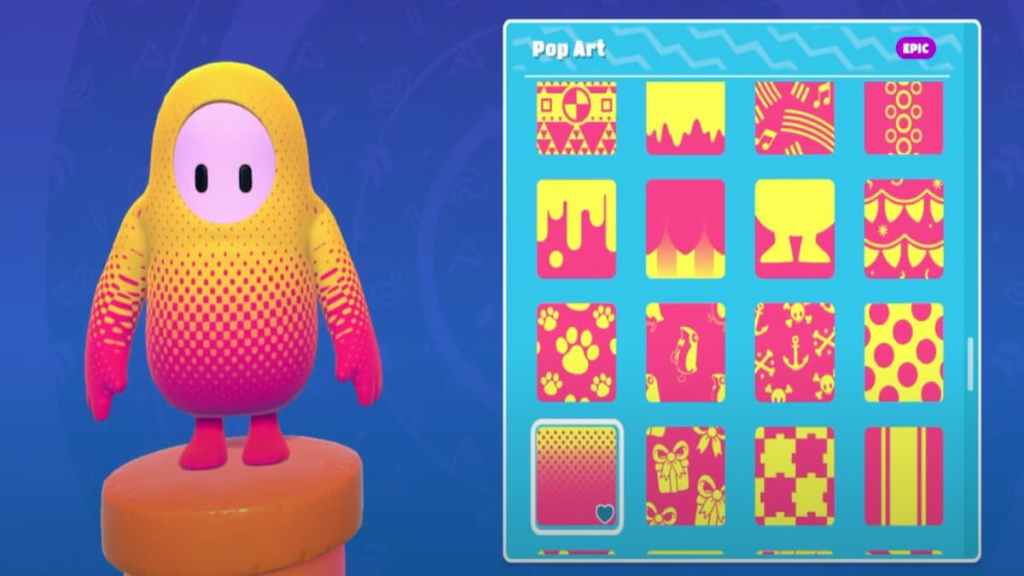 The Pop Art pattern is a Crown Rank pattern, making it very special to attain, and no doubt why it's an epic rarity and worth 339 Crowns. This Andy Warhol art-styled pattern is a slow gradient from your character's head, dissipating into dots from one color to another. This is one of the best gradients and patterns overall because––it's art, and it looks great in any coloring.
Clouds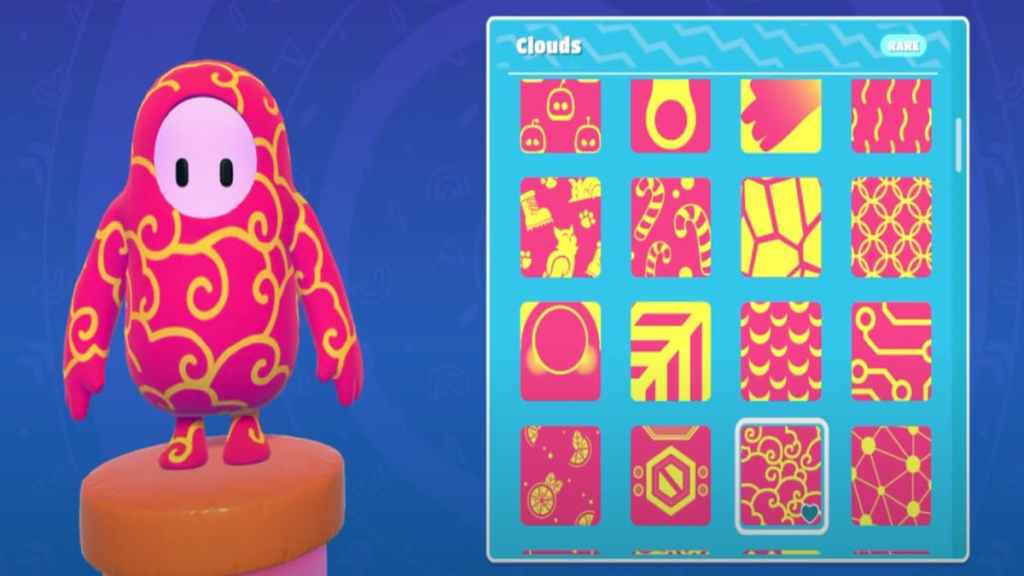 Clouds is a rare pattern unlocked during the first season for 300 Show-Bucks. While it may seem pretty straightforward, its billowy clouds cross over your character's entire body in an almost Japanese style of art, creating an elegant style. This will look fine in any coloring, but white might accentuate those fluffy clouds to the next level.
Avocado
The characters are shaped in the perfect egg-like avocado shape, so it's only fitting that one of the best patterns is the Avocado. This pattern was a part of the first season, and even better, it was completely free for all players upon reaching level 81 of the season pass. This pattern turns your character into a cute little avocado but will probably like more recognizable if colored in greens. Otherwise, it might look a little like the egg pattern.
Undies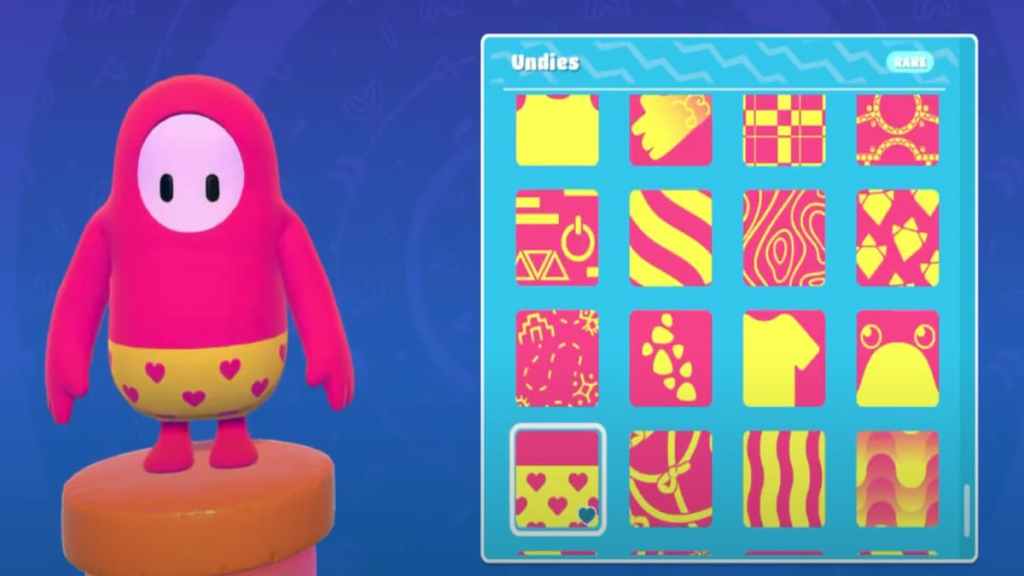 The Undies pattern is not only a comical option but one of the best patterns because of its outfit quality. It was available as a rare pattern during the Season 1 Pass. Like the pants and t-shirt patterns, it is an outfit all on its own, meaning if you don't have the funds to equip an outfit for your character, this is all you'd need. It's silly but truly adorable on your character and works in any coloring.
Wave Gradient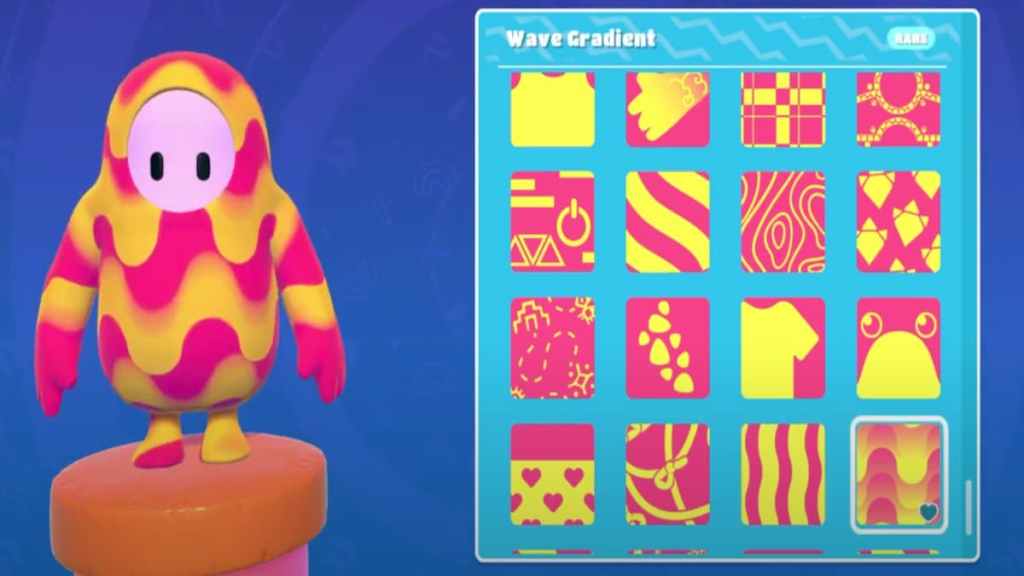 Despite being only a Rare pattern, Wave Gradient is one of the coolest with its creative and stunning qualities. It appears like a wave washing over the shore or paint dropping from top to bottom of your character. Of course, with its gradient appearance, the colors blend nicely together no matter the use.
Shake & Swirl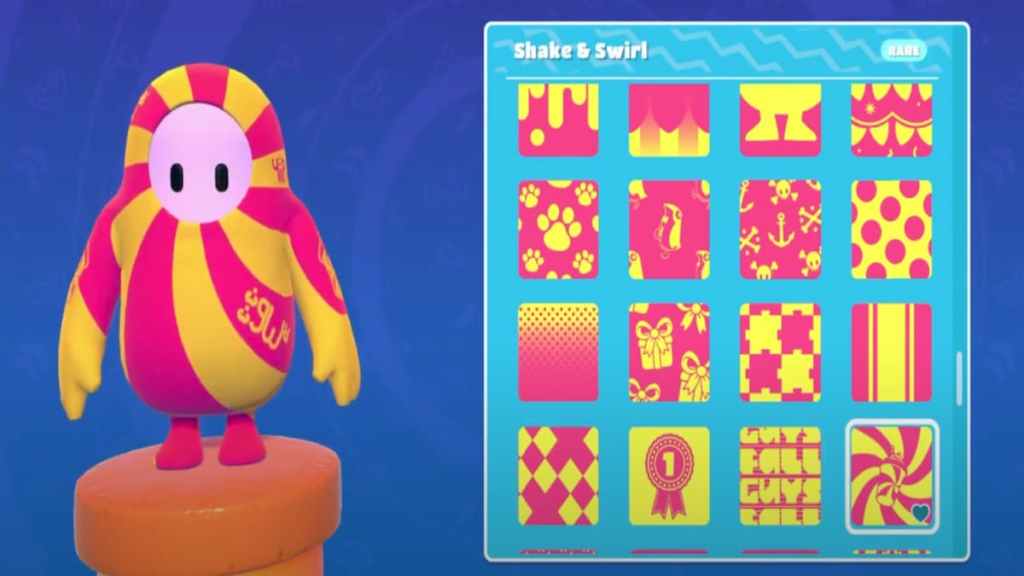 The Shake & Swirl is a rare pattern rewarded for reaching level 74 on the Season 1 Pass. As it's named, it is a swirl of colors that come together in the back to reveal a frosty shake. It may only be a Rare pattern, but it sure makes you stand out on the courses and look great in any color. Shake & Swirl would work great for a whimsical summer pattern that reminds you of the fair or an ice cream parlor.
Knitted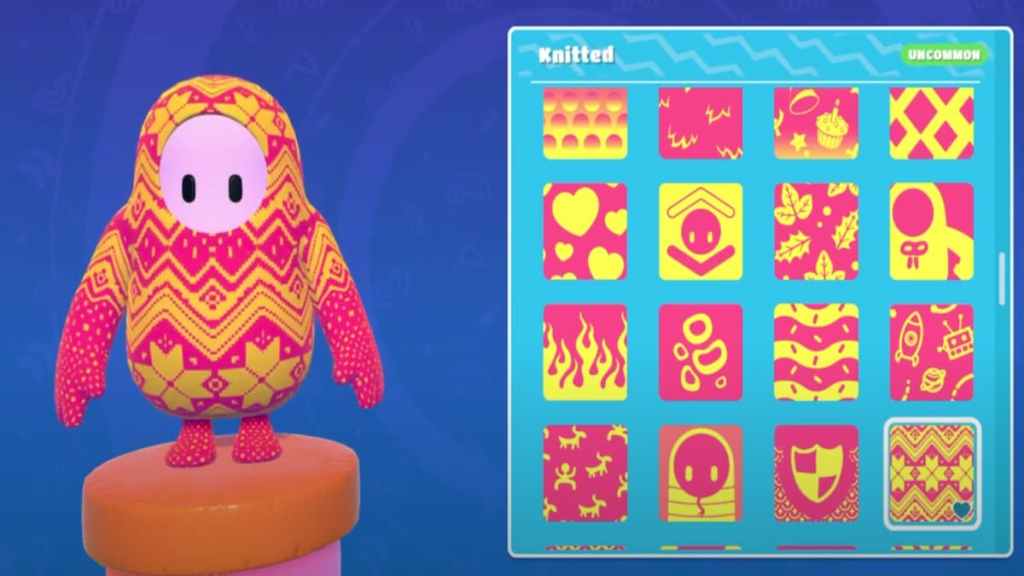 The cozy Knitted pattern is attained by reaching level 25 during Season 3. This pattern covers your character from head to toe with what appears like a fluffy sweater body suit. It is the perfect wintery or Christmasy pattern and would look great in blues, reds, and greens. Or don it anytime for that jolly look year-round.
Skelly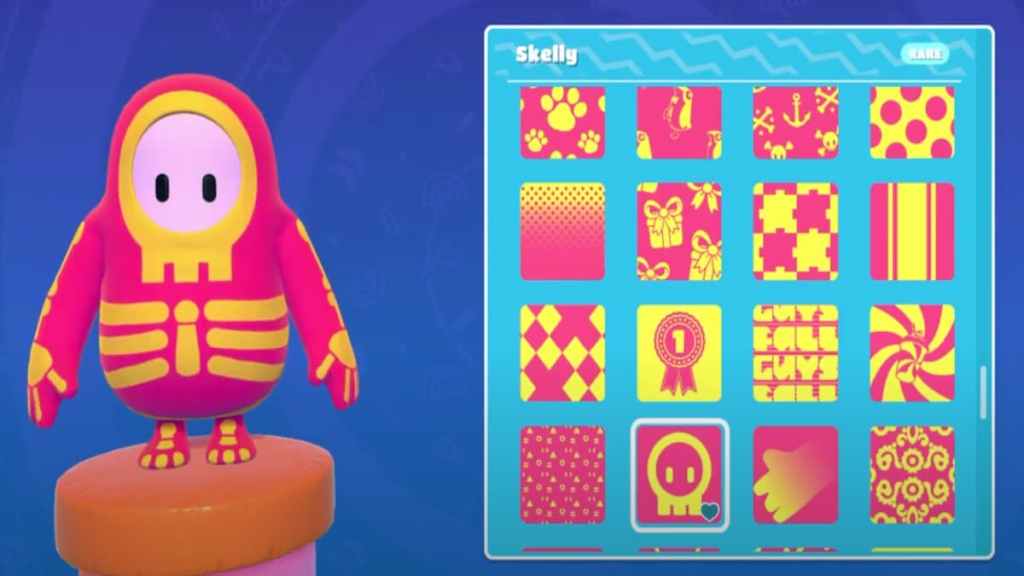 The Skelly is another of the best patterns, despite being only rare. It was available during Season 1 for 300 Show-Bucks and made your character into a cute little skeleton bean. This pattern looks great in any color you want, but black and white would make for the best spooky, scary skeleton pattern. You may just be able to scare away the competition.
Sprinkle Top
This Sprinkle Top pattern is the perfect sweet design for your character, available when you reach level 65 of the Season 1 Pass. The top of your character is a solid color that gradually fades into tiny bits of sprinkles flowing down the rest of your character's body. This cute little pattern is an excellent party-like or summery vibe for your character, and switch up the colors to create your own twist.
These are just a few patterns we think are the very best and cutest for your characters. So many more are available through the Shop or Season Pass of the game, and more are continuously added as the game updates. Let us know in the comments below which ones you think are the best!
Looking for more Pro Game Guides Fall Guys content? Check out our guides on How to fix the Amazon Prime Not Working Error in Fall Guys or How to get the Tall Guy in Fall Guys!