You can care for pigs in Farming Simulator 22 in many different ways. As pigs are a huge responsibility, players must prepare a barn before purchasing these necessary farm animals.
Remember, if you're going to own pigs in Farming Simulator, you need to shelter them, understand what to do with them, feed them, and nurture them.
What barn should I buy for pigs?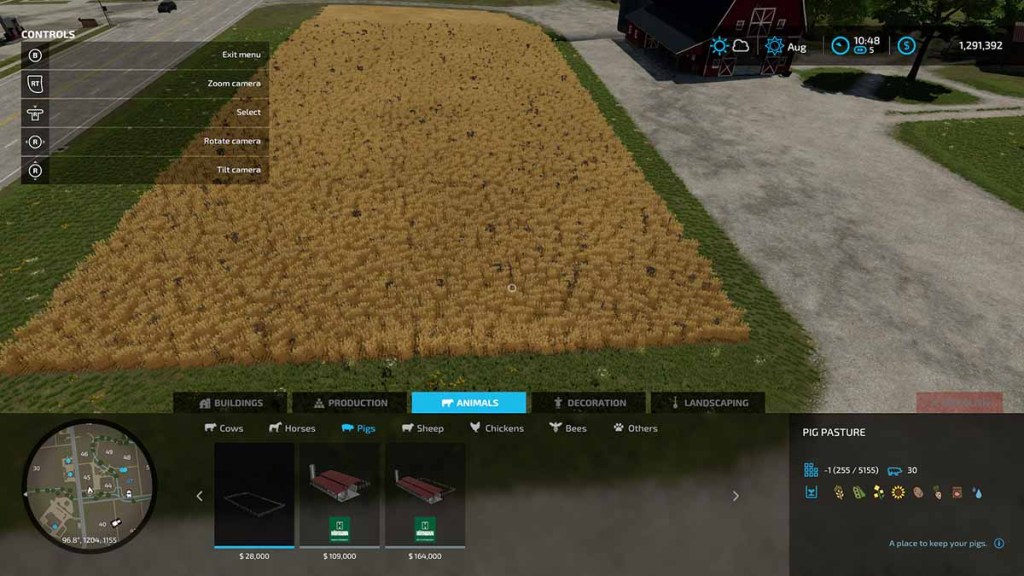 Players can purchase a barn by visiting the store and selecting the Construction menu. From there, pick the ANIMALS tab. There are four choices in the Pigs section, which is the third section in the ANIMALS tab:
Pig Pasture - $28,000 and holds 30 pigs
Pigsty - $109,000 and holds 108 Pigs
Pigsty (Large) - $164,000 and holds 270 pigs.
If you've never raised pigs before, start small and gradually expand. When you get used to pigs, you might want to consider buying a larger place to keep them.
Differences between a Pig Pasture and a Pigsty
Pig Pasture: you'll need to manually provide water to your pigs. To do this, drive up to the water icon next to the pasture.
Pigsty: Be sure that there are either loose straw or bales of straw on the floor for the pigs to sleep on. You can drop off the straw at the straw icon next to the pigsty.
Related: Farming Simulator 22 Cows: Beef & how to purchase, breed, and milk cows
How to buy pigs
Players can buy pigs in two main ways. The most convenient way is to purchase them from an animal dealer and have them delivered. As an alternative, you can buy your own equipment, which will be cheaper in the long run but more time-consuming.
Pigs are sold by the animal dealer at two stages: newborn (cheaper) and mature (for breeding). It doesn't matter what kind of pig you buy; this is more of a cosmetic decision. The animal dealer charges $50 per pig if you decide to have them delivered.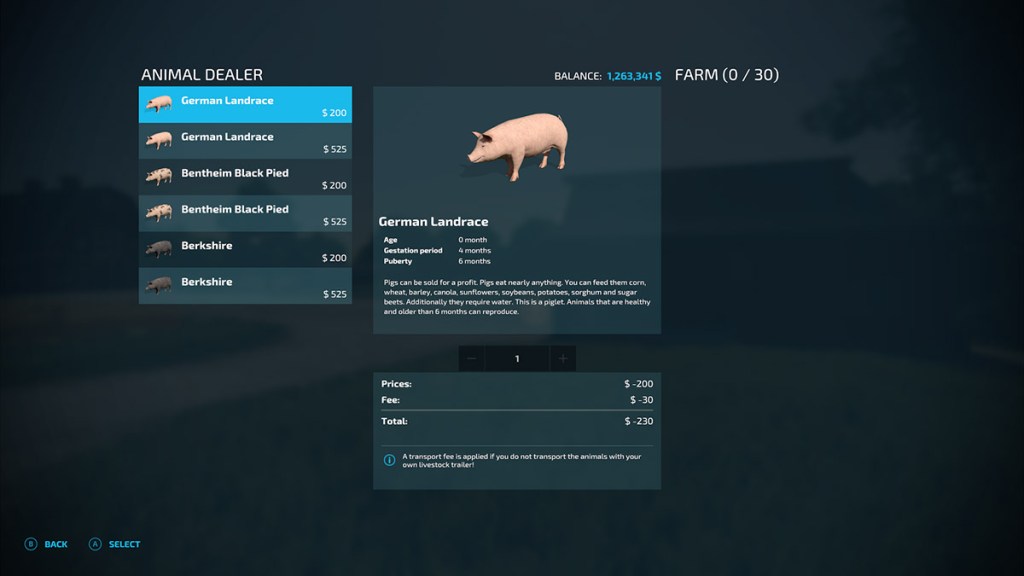 Mature pigs are known to reproduce at an incredibly fast pace on their own. You should sell the ones you cannot keep since it may become too time-consuming to keep breeding too many.
Using your own equipment
Go to your menu and navigate to Tools. Select Animal Transport and purchase the Silverstar by Wilson Trailer for $80,000. The Silverstar can carry 36 pigs at a time and can be connected to a semi-truck to transport them to your farm.
After that, drive to your local animal dealer, buy the pigs, and return to your farm. We do not recommend that you lease these trailers if you breed pigs because you will quickly sell them.
How to feed and maintain pigs
To get a return on your investment, you must ensure that your pigs remain healthy and productive once you've purchased them. You can see pig statistics under the Animal menu. It's okay if the bars are all really low when you first get the pigs; they will rise as long as you install the proper feeding facilities etc.
The health, reproduction, and productivity bars will rise on their own as long as the other bars are going up. For productivity to be 100%, the base food, grain, protein, and root crops must all be at 100%.
Pig food can be purchased at the store and loaded into pig enclosures. Although Pig Food is more expensive than using four lots of food items for the pigs, it is so convenient that we say it's worth the expense.
How to make money from pigs in Farming Simulator 22
Pigs produce Slurry, which is an easy way to make money from multiple pigs. Slurry is a great reason to get a Pigsty because it will not come out of owning a Pig Pasture. Slurry can be loaded into a slurry tank or tailer and used as fertilizer or sold for money.
To earn income from pigs, it is still most profitable to sell the pigs themselves. As stated earlier, pigs reproduce quickly, so selling those you can't keep makes sense as far as boosting your revenue is concerned. You can't make pigs into sausages or bacon. Instead, you are a rancher who sells the pigs themselves, which is still a good profit.
You'll need a lot of land in this game, so why not check out How to buy land in Farming Simulator 22? For more guides, tips, and information on Farming Simulator 22, stay here on Pro Game Guides!