FIFA 23 brings a lot of new content, but for many, introducing characters from the hit Apple TV show Ted Lasso is the reason to buy the game. You cannot play with the characters from a TV show in a sports simulation game daily. Just imagine having a chance to play in Madden with a Miami Sharks from Any Given Sunday movie or with LeBron from Space Jam! But back to AFC Richmond players, the biggest question is, what are their ratings in FIFA 23?
Best rated AFC Richmond players from Ted Lasso in FIFA 23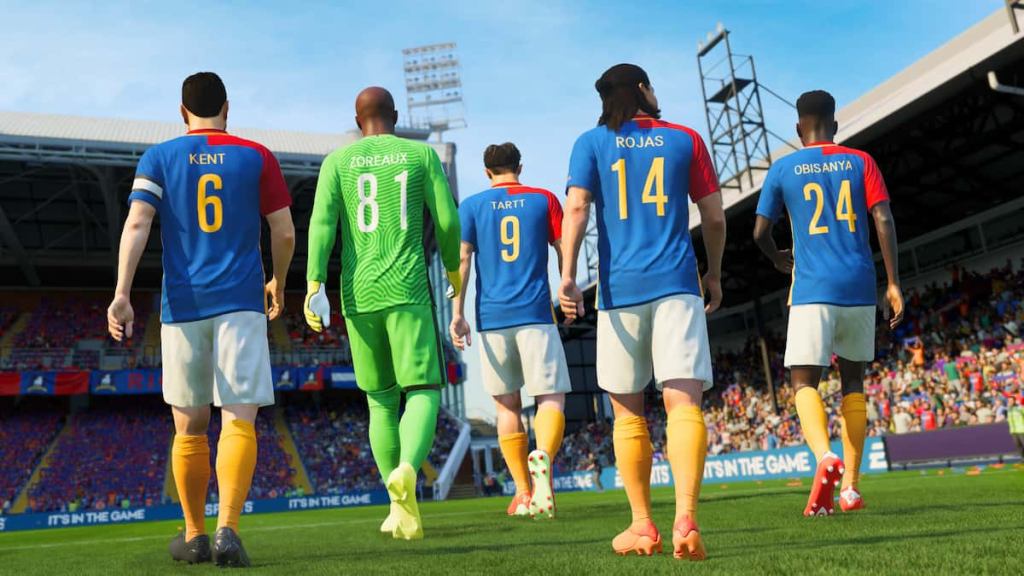 Although AFC Richmond is not a Premiere League team in the TV show, it has some strong players. Even without looking at overall ratings, you would expect Jamie Tartt to be a great scorer. And there are other great players such as Roy Kent, Sam Obisanya, and Dani Rojas (because "football is life"). Here's the list of players' ratings for AFC Richmond's starting lineup and bench:
AFC Richmond Strikers Ratings in FIFA 23
Dani Rojas (ST) - 82
Jamie Tartt (ST) - 84
AFC Richmond Midfielders Ratings in FIFA 23
Colin Hughes (LM) - 78
Moe Bumbercatch (CM) - 79
Roy Kent (CM) - 83
Sam Obisanya (RM) - 81
AFC Richmond Defenders Ratings in FIFA 23
Arlo Dixon (RB) - 78
Jeff Goodman (LB) - 79
Jan Maas (CB) - 77
Isaac McAdoo (CB) - 80
Thierry Zoreaux (GK) - 76
AFC Richmond Bench Players Ratings in FIFA 23
Ugo Babatunde(CB) - 75
Dejon Cockburn (ST) - 75
Richard Montlaur (CDM) - 77
Ozie Kukoč (RM) - 75
Tom O'Brien (GK) - 75
Joe Reynolds (CB) - 76
Tanaka Roberts (ST) - 78
Emmanuel Winchester (CD) - 76
In what modes are Ted Lasso and AFC Richmond playable?
You can play with The Greyhounds in several FIFA 23 modes such as Kick-Off, Online Friendlies, Online Seasons, and Career mode. And not just that, you can also play at AFC Richmond's Nelson Road stadium! You can also play as Ted Lasso or Coach Beard in Career mode. Enjoy FIFA 23, or as some call it - Ted Lasso: The Game!
For more information on FIFA 23 on Pro Game Guides, check out guides like How does AcceleRATE work in FIFA 23 and How to earn XP and level up in Pro Clubs.