Genshin Impact's development team tirelessly continues to expand Teyvat with new areas, characters, and exciting events and stories—one update at a time. There's a lot to be excited about in the upcoming Version 3.6 update, which leakers allege will involve yet another desert expansion for the beloved Sumeru.
Despite the crackdown on leaks, the community has still been able to share content mined from the beta and private servers. But remember: take leaks with a grain of salt as they have not been confirmed by HoYoverse, and do not regard them as official information.
A huge thank you to @merlin_impact, @dendrosdaily, @SagiriShape, @Genshin_Intel, @77__oat, and the Genshin Impact community for providing information.
Genshin Impact Version 3.6 release date
Below is a roadmap for future Versions based on HoYoverse's six-week update interval. These are subject to changes and delays without prior notice:
Version 3.5 - March 1, 2023, to April 12, 2023
Version 3.6 - April 13, 2023, to May 25, 2023
Version 3.7 - May 26, 2023, to July 7, 2023
Genshin Impact Version 3.6 leaks – Baizhu, Kaveh, new desert area, & more!
New characters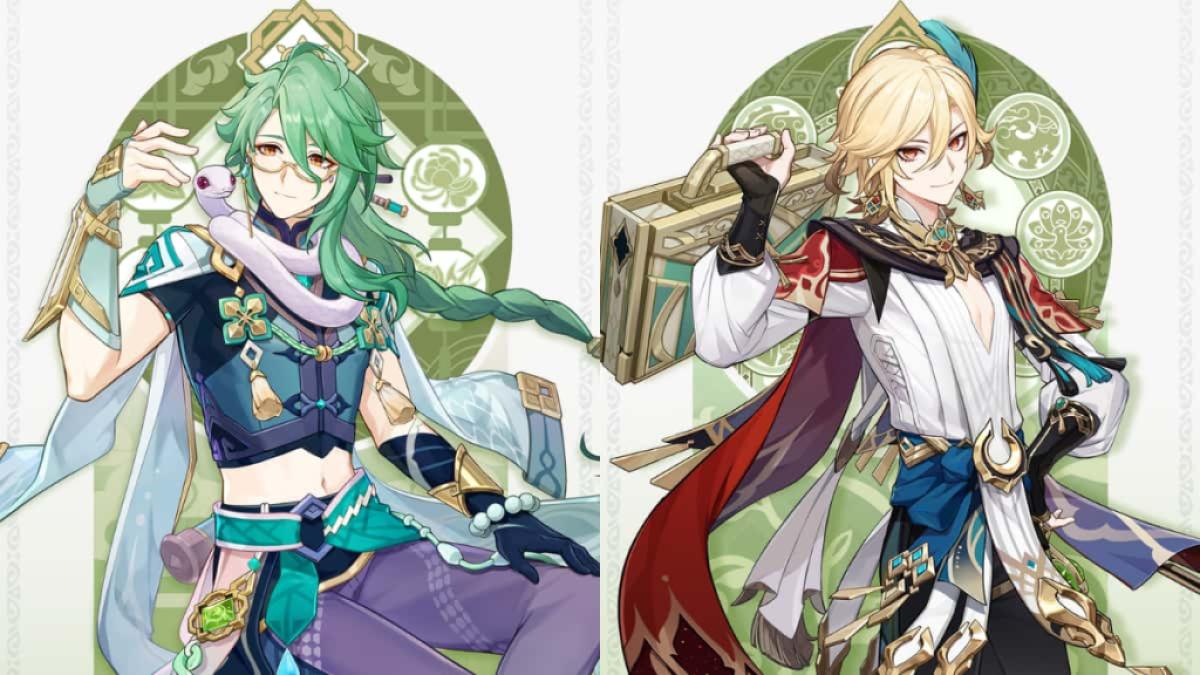 HoYoverse has officially announced the release of two new characters expected to arrive in Version 3.6.
Baizhu
Baizhu is the doctor of Bubu Pharmacy, who's always seen with the snake, Changsheng, wrapped around his neck. He has shown to be extremely passionate about his line of work, going so far as to ensure that all his patients are cured of their inflictions to the best of his abilities—even though he himself has a fragile body.
Five-star Dendro catalyst
Kaveh
Kaveh is Alhaitham's roommate and the architect behind the Palace of Alcazarzaray—a highly ambitious project that caused him bankruptcy. Despite his financial struggles, he's seen as the light of the Kshahrewar Darshan. Interestingly, his leaked character model can be seen carrying a suitcase, even in battle.
Four-star Dendro claymore
Kaveh's suitcase is allegedly a sentient being called Mehrak, which acts like a portable AutoCAD software that has been leaked to be able to project his designs. Leakers state that Mehrak's expressions can change in different situations, as can be seen above.
Leaker @SagiriShape shared alleged gameplay footage of Baizhu and Kaveh, which you can watch above.
Meanwhile, fans of Alhaitham and Kaveh will be thrilled to know that the two have allegedly matching idles. The animations, originally shared by leaker @merlin_impact and stitched by @dendrosdaily, showcase Alhaitham accidentally taking both his and Kaveh's keys, and Kaveh frantically searching for his own.
Version 3.6 Banner Lineup
Leaker @77__oat believes that the banner lineup for Version 3.6 will be as follows:
First Half: Nahida and Nilou
Second Half: Baizhu, Ganyu, and Kaveh
If this were to be believed, then husbando lovers can enjoy an extra two weeks to save for the two new characters.
New Hangout: Layla
Version 3.5 marked the return of Genshin Impact Hangout Events after nearly a year without them. Seasoned leaker @Genshin_Intel stated that Layla's Hangout may be the next one to release in Version 3.6.
Related: All New TCG Cards in Genshin 3.5 – Eula, Kokomi, & Kujou Sara's TCG Skills
New weapon
Version 3.6 is expected to introduce Baizhu's signature five-star weapon, as is tradition for all five-star characters released. According to leaker @merlin_impact, this may be called the Jadefall's Splendor. However, the weapon notably looks identical to early images of the unreleased Primordial Jade Regalia, so the name may or may not eventually change.
New Artifacts
Leakers revealed that new Artifacts will allegedly be farmable in Version 3.6, which means that players may possibly also have a new Domain to unlock. The Artifact set names are still quite vague, but sources claim they could be the "Dewflower's Glow" (also translated as the "Vourukasha's Glow" in some sources) and "Nymph's Dream."
Nymph's Dream
Two-piece: Hydro Damage Bonus +15 percent
Four-piece:

After Normal, Charged, and Plunging Attacks, Elemental Skills, and Elemental Bursts hit opponents, one stack of Mirrored Nymph will be triggered, lasting eight seconds.
When under the effect of one, two, three, or more Mirrored Nymph stacks, Attack will be increased by 7/16/25 percent, and Hydro Damage will be increased by 4/9/15 percent. Mirrored Nymph stacks created by Normal, Charged, and Plunging Attacks, Elemental Skills, and Elemental Bursts exist independently.
Dewflower's Glow / Vourukasha's Glow
Two-piece: HP +20 percent
Four-piece:

Elemental Skill and Elemental Burst Damage will be increased by 10 percent. After the equipping character takes damage, the aforementioned damage bonus is increased by 80 percent for eight seconds. This effect increase can have five stacks.
The duration of each stack is counted independently. These effects can be triggered even when the equipping character is not on the field.
New desert area: Lonerock Desert/Waftgaol
Based on information from various leakers, it seems as though the desert is set to expand yet again with a major area northwest of the Desert of Hadramaveth. You can view the new area, allegedly called the Lonerock Desert and Waftgaol, via the map above, plus possible viewpoints by clicking the link.
According to a leak by community members in r/Genshin_Impact_Leaks, the premise of the new area may or may not involve restoring the sky alongside a new friend named Sorush. They allege that the area could be approximately the same size as the Desert of Hadramaveth, and could be the last Sumeru area expansion in the foreseeable future.
Evolving Gadget (Sorush) & new Tree Offering System (Sweetdew Pool)
Leaks allege that a Gadget called Sorush will be necessary to explore the regional expansion. It seems to be a companion like Liloupar—one that evolves like a Pokemon allegedly upon completing the area's primary quest chain.
While the exact purpose of the Gadget is unclear, a leak hints that the new little friend may be used to obtain collectibles called Plumes of Purifying Light. These will allegedly be used for a new Tree Offering system called the Sweetdew Pool, similar to the existing Tree of Dreams.
New local specialties
With every new area comes new collectibles. According to leaks, the Debris of Panjvahe may include two local specialties: Sanguite and Mourning Flower. One of these could possibly be Kaveh's Ascension material, so eager players may not be able to pre-farm, depending on his banner release schedule.
New enemies
Genshin Impact has consistently released a stream of new enemies in the past few updates. According to leaks, Version 3.6 could possibly include some shocking additions to the enemy lineup. First is what looks like bulky Hilichurls with more humanoid forms. These will certainly raise questions on the variations of curses laid upon Khaenri'ahns, but that it's unclear when a new Archon Quest could answer these burning questions.
Scroll right and you'll see images of what leakers claim is the Inquisitous Lustrator, which is rumored to be a new World Boss. Next in the lineup are massive beats with reptilian forms. And finally is Apep, a rumored Weekly Boss with a form that leaves players wanting less.
Related: Leaked Genshin Impact 3.6 Weekly Boss allegedly looks like an illegible abomination
New Dendro Sigil Souvenir Shop
Fast explorers may finally be able to trade in excess Dendro Sigils for a variety of goods in Version 3.6. A leak claims that the Dendro Sigil Souvenir Shop may release, although its offerings don't seem to be that impressive, with only Mora and Talent materials for sale in the current beta.
Abyss Floor 12 Enemy Lineup
The 12th floor of the Abyss has been a massive challenge for the past few updates, and Version 3.6 doesn't seem like it's going to be any easier. Based on a leak posted by u/Guirland on r/Genshin_Impact_Leaks, the enemy lineup may possibly include the annoying Consecrated Scorpion and Maguu Kenki.
Meanwhile, the leaked Abyss blessings can be seen above. If they're to be believed, then it may be a good time to start preparing Dendro and Hydro characters to take advantage of the blessings.
New event: Sumeru Festival
Leakers claim that the main event for the upcoming patch will be a festival held in Sumeru. It will allegedly include six stalls that players can interact with, each representing a Darshan. Completing event tasks will reward players with Festive Fever, but it's unclear how this currency will be used.
Gathering of Stats (Rtawahist)

Rotate the Artisan Astrolabe and complete the pattern.

Project Connectivity (Kshahrewar)

Use the least amount of Construction Points to construct roads from a single path and connect all checkpoints.

Antiquity Hunt (Vahumana)

Use the "Search Compass" to find hidden replicas of relics in each location.

In Truth's Steps (Haravatat)

Listen and consider the events of a certain story before responding with inquiries and discovering the truth via deduction.

Concocted Reaction (Spantamad)

In a mysterious Domain, use a variety of potions to overcome situations and take advantage of bonuses to maintain combat effectiveness.

Mimetic Replication (Amurta)

Control replicas for various creatures and imitate specific behaviors.
New event: Fulminating Sandstorm
This exciting event is leaked to involve using a Wenutslayer Cannon to defeat Wenuts. While little information has been circulating about this event, it could be one of the more interesting highlights of the update. Who can resist wielding a legendary Wenutslayer Cannon?
New event: Brewing Developments
This combat event is leaked to be a sequel to the Tablet Analytics event from once upon a time. It will allegedly involve three combat rounds per stage, with trial characters and potion buffs to help players score additional points.
New event: The Recollector's Path
This event will allegedly require the completion of the World Quest or quest chain connected to the new area, so consider playing through the new desert map as soon as it drops. Leakers believe that it involves completing a series of quests and trials using Sorush, the new Gadget/pet/companion:
Tranquil Trail: Use the power of Nirodha Fruits to activate Curios and repel the uninvited guests invading the Dewflower Sea.
Intrepid Impulse: Sorush must reach her destination within the time limit.
Reinforced Reminiscence: Discover sites of important memories and restore the scene of their significance.
Before diving headfirst into the V3.6 festivities, why not clear the new 3.5 content first? Check out our Genshin Impact Dehya Story Quest Domain walkthrough here on Pro Game Guides.