Genshin Impact's Akitsu Kimodameshi event runs from December 15, 2022, to January 2, 2023, and introduces a new brick-destroying game mode. You and Paimon head to the Yashiro Commission to sign up for the Test of Courage, where a twist of events gets you tangled up in an investigation surrounding alleged ghost activities.
How to unlock the Akitsu Kimodameshi event in Genshin Impact
To unlock the event, you need to meet the following prerequisites:
Reached Adventure Rank 30 or above.
Complete the "Ritou Escape Plan" section of the Archon Quest Chapter II: Act I - The Immovable God and the Eternal Euthymia
Optional: Complete Arataki Itto's Story Quest, the Taurus Iracundus Chapter: Act I - Rise Up, Golden Soul
If you haven't completed Itto's Story Quest, you can begin the event using the Quick Start button in the event menu. Otherwise, you'll unlock the Event Quest called Test of Courage. Complete it to unlock Akitsu Yuugei, allowing you to play the Leisurely Pastime mini-game.
How to play Akitsu Yuugei in the Akitsu Kimodameshi event – Genshin Impact
Akitsu Yuugei is a brick-breaking ball game. Your active character controls a bar that acts as a wall that an Elemental ball can bounce against. Switching Elements can help trigger Elemental Reactions, making it easier to break the bricks on the opposite end of the field.
Party setup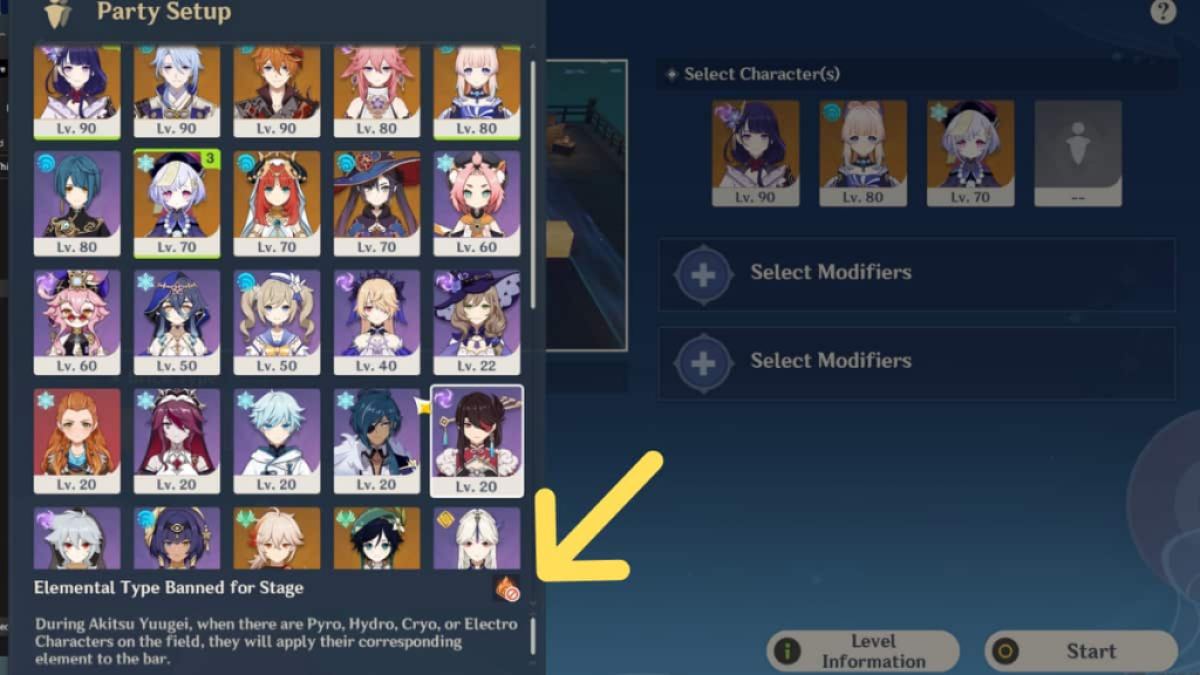 The image on the left showcases what the bricks will look like, giving you an idea of what Elemental Reactions you can create to break them. For Playful Leisure, some Elements will be banned, so the character pool you can pick from is limited. There are no limits for Unending Refinement and Shatterdark.
You can only deploy characters you own, but you don't have to think about skills, as no combat is involved. We recommend bringing one character of each allowed Element, except for Anemo or Geo, as they're not applicable in this mini-game.
Modifiers
Next, you can pick a series of Modifiers, which are buffs that will help you in the mini-game. Again, there are limits to which you can pick in Playful Leisure, but all are available in Unending Refinement and Shatterdark.
We highly recommend deploying the Relative Expansion Modifier when possible, as it will extend the length of the bar whenever you switch characters, making it a little easier to not lose balls.
Gameplay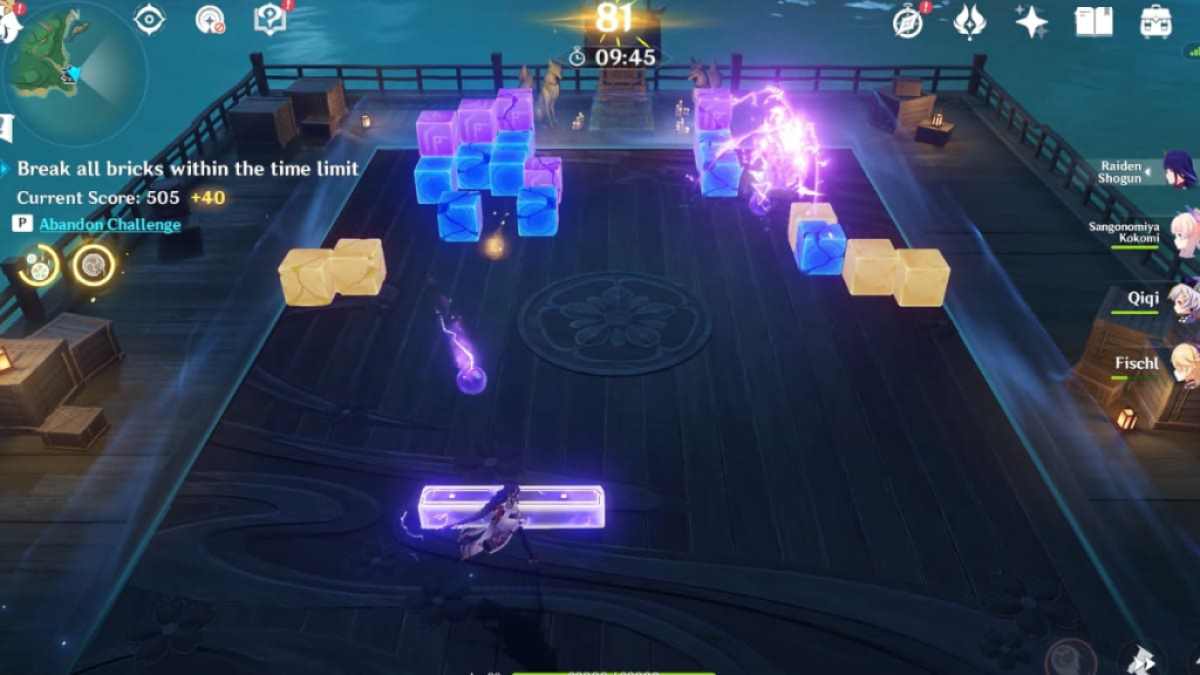 The gameplay mechanics are fairly simple. At the start of the game, you can release a ball by clicking on the attack button. There can be up to three balls simultaneously, two of which will appear based on your Modifiers and combos.
Your character will control a bar, which changes Elements depending on your active character. For example, switching to an Electro character will make the bar Electro, switching to a Hydro character will make the bar Hydro, and so on.
Your goal is to keep rebounding the ball by rushing toward its trajectory. If you fail to serve the ball, it will disappear. When the ball touches your Elemental bar, it will take on the same Element. And when an Elemental ball is served toward Elemental bricks, Reactions can occur, making it easier to break them.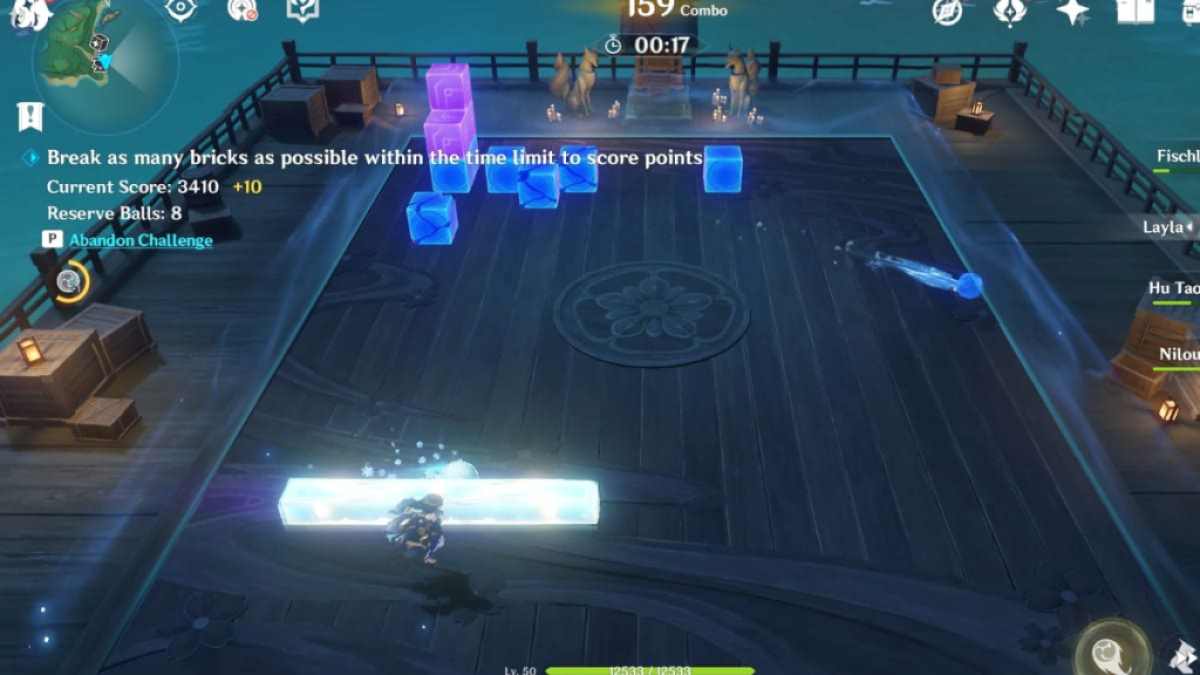 Additionally, Reactions can also occur between the bar and ball. For example, if a Hydro ball comes in contact with a Cryo bar (or vice versa), the ball will freeze, allowing you to serve the ball from any position you want manually.
Once you've run out of balls, you can use the attack button to serve another. This is called a Reserve Ball. You can only use 10 in the Unending Refinement and Shatterdark game modes.
Related: Tulaytullah's Remembrance – How to get, Ascension, stats, and who can use it in Genshin Impact
How to play Leisurely Pastime in the Akitsu Kimodameshi event – Genshin Impact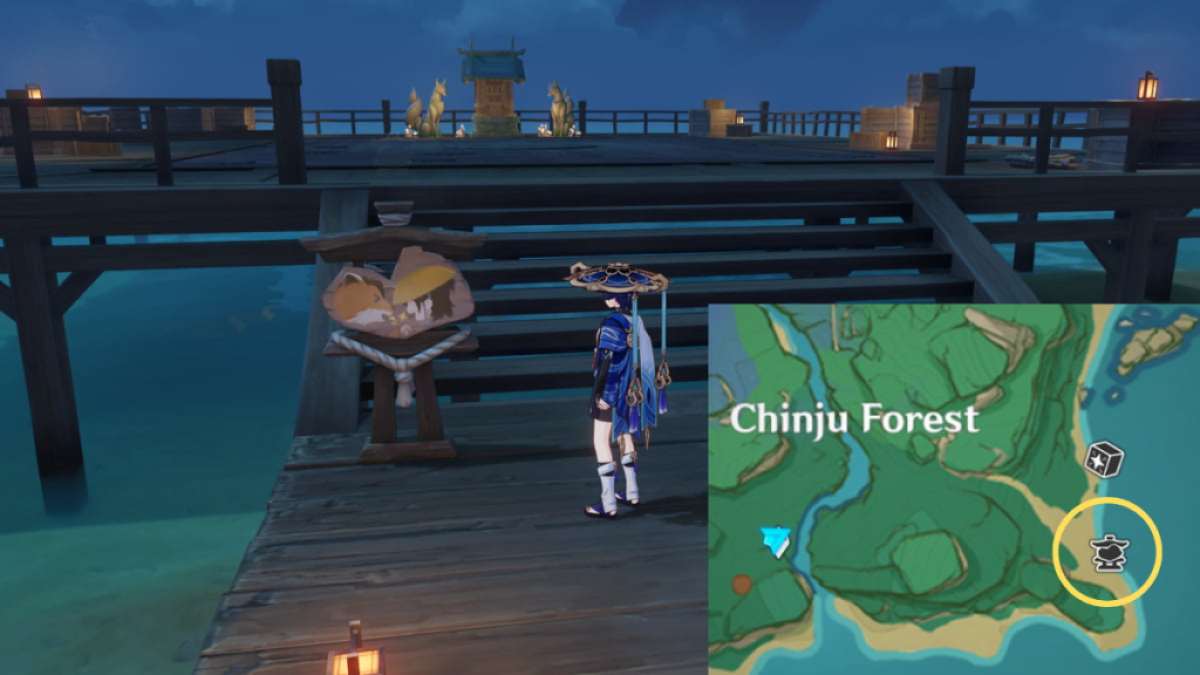 After completing the Test of Courage Event Quest, you'll unlock the next quest called Akitsu Yuugei. It will lead you toward a signboard on the coast east of Chinju Forest, essentially unlocking the Leisurely Pastime mini-game. There are two variations for each stage, and you need to complete both to get all of the rewards:
Playful Leisure

Party and Modifier restrictions
Unlimited Reserve Balls
Break all bricks within the time limit (10:00)

Unending Refinement

No party and Modifier restrictions
Max 10 Reserve Balls
Break as many bricks as you can within 2:30
How to play Shatterdark in the Akitsu Kimodameshi event – Genshin Impact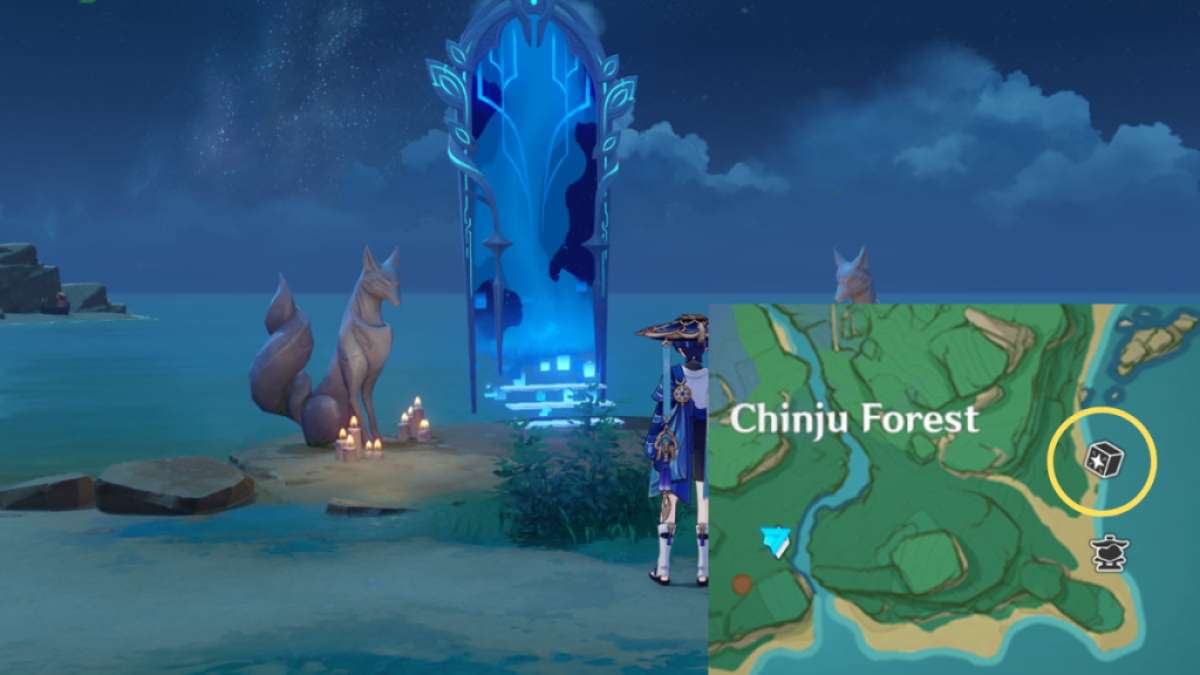 You need to complete the Men-Mayhem stage under Leisurely Pastime to unlock a quest called Dreamlike. It will introduce you to an event Domain close to the Leisurely Pastime signboard, where you can play Shatterdark. Enter the Domain, then interact with the signboard inside to begin.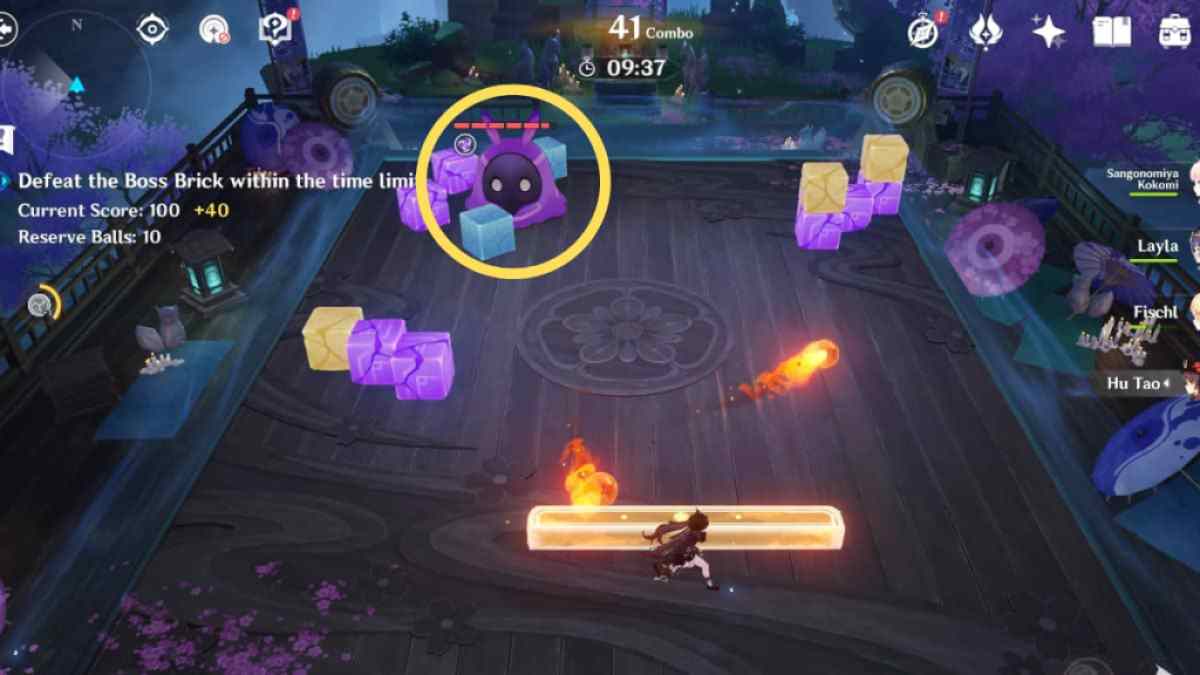 Shatterbreak is slightly different as your goal is to defeat a Boss Brick, which will consistently try to hide behind bricks. The bricks will keep on replenishing until the Boss is defeated, so try to target it with your serves.
Shatterbreak

No party and Modifier restrictions
Max 10 Reserve Balls
Defeat the Boss Brick within the time limit (10:00)
How to claim rewards in the Akitsu Kimodameshi event – Genshin Impact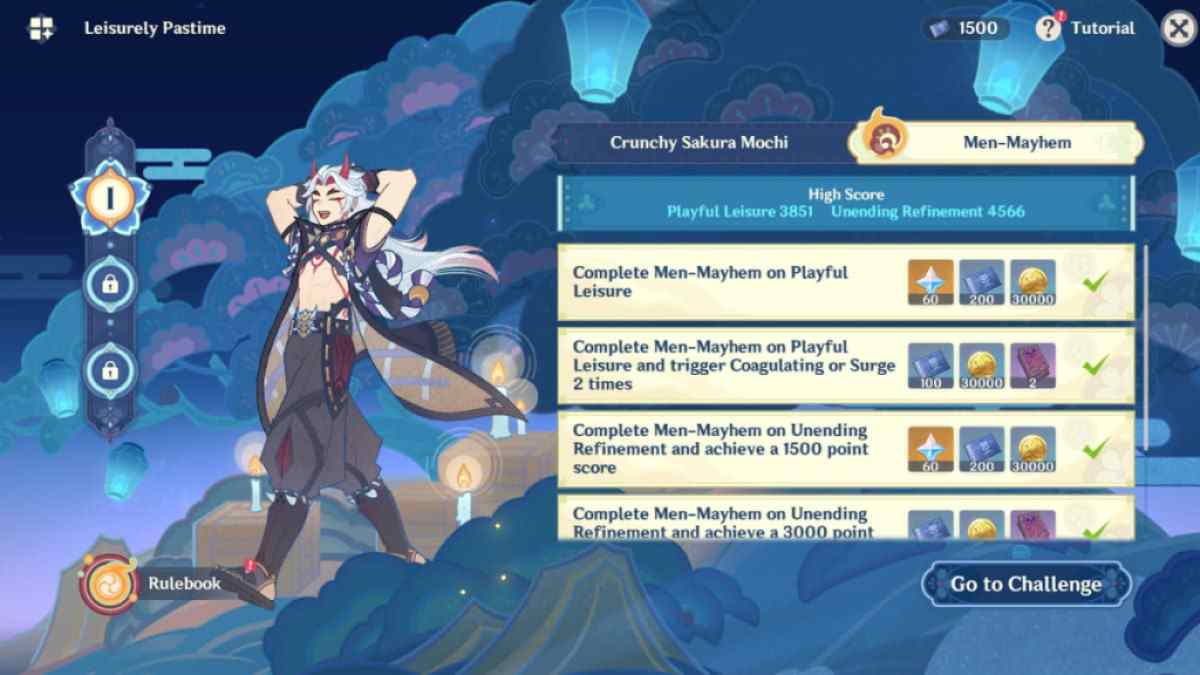 Head to the event menu and select Leisurely Pastime or Shatterbreak to claim rewards for all the stages you've cleared. Additionally, limited event currency, the Courage Test Ticket, can be used to purchase items from the Event Shop. Consider purchasing the limited items first, as they're difficult (or impossible) to obtain outside of the event:
Crown of Insight
Parasol Talcum (used to Refine the event-limited weapon, Toukabou Shigure)
Check out our guide on How to find opponents in Genshin Impact Genius Invokation TCG here on Pro Game Guides to keep busy while waiting for the rest of Akitsu Kimodameshi to unlock.