Guild Wars 2 boasts an incredible storyline, but it also has a great PvP crowd. You should remember that a specific class isn't necessarily the best at PvP. Instead, it's the skills around each class that can work to your advantage. So instead of going for the best Warrior build or best Guardian build, you should look below for the overall best PvP builds in Guild Wars 2.
Willbender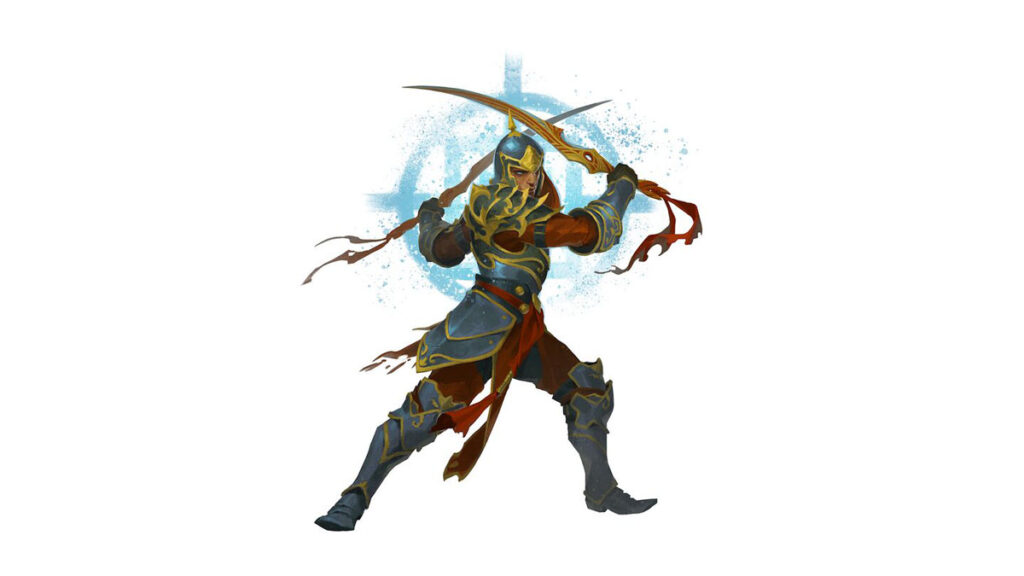 This is a glass cannon PvP Willbender power build that focuses on massive burst damage. When fully buffed, this build has 100% crit chance.
Skills
Main Skills

Rushing Justice - Dash to your enemy and gain Justice. This delivers a strike and emits Willblender Flames.
Flowing Resolve - Remove conditions to gain Flowing Resolve. Leave Willbender Flames in your wake as you rush forward and evade attacks.
Crashing Courage - Shadowstep a short distance while gaining buffs. You will also emit Willbender Flames from your location.

You will gain Courage from this.

Greatsword

Strike - Strike your enemy with a basic attack.
Whirling Wrath - Spin in place and swing your greatsword while shooting out powerful projectiles.
Leap of Faith - Jump to your enemy and deal Blindness to every enemy hit.

Each enemy hit heals you/

Symbol of Resolution - Pierce the ground with a mystic symbol that deals damage to enemies and grants Resolution to party members.
Binding Blade - Throw blades at your enemies, which cause damage over time. Any enemies bound can be pulled to you. This effect ends when enemies move out of range.

Utility

Reversal of Fortune - Guard yourself with light, which negates the next incoming strike. The next strike will heal you, even if it was meant to be lethal. If nothing hits you, you will receive a small boost of health.
Contemplation of Purity - Convert the conditions you are suffering from into boons.
Judge's Intervention - Teleport your target and burn nearby enemies.
Whirling Light - Jump to an enemy and perform a whirlwind kick. This damages and adds Burning to any enemies in the way.
Renewed Focus - Start focusing on recharging your Virtues.

You are invulnerable during this time.
Specializations
These specializations can be chosen when you level up.
Radiance

Justice is Blind
Renewed Justice
Radiant Power

Virtues

Inspired Virtue
Virtue of Resolution
Power of the Virtuous

Willbender

Willbender Training
Righteous Sprint
Lethal Tempo
Related: Best MMOs and MMORPGs on PC
Harbinger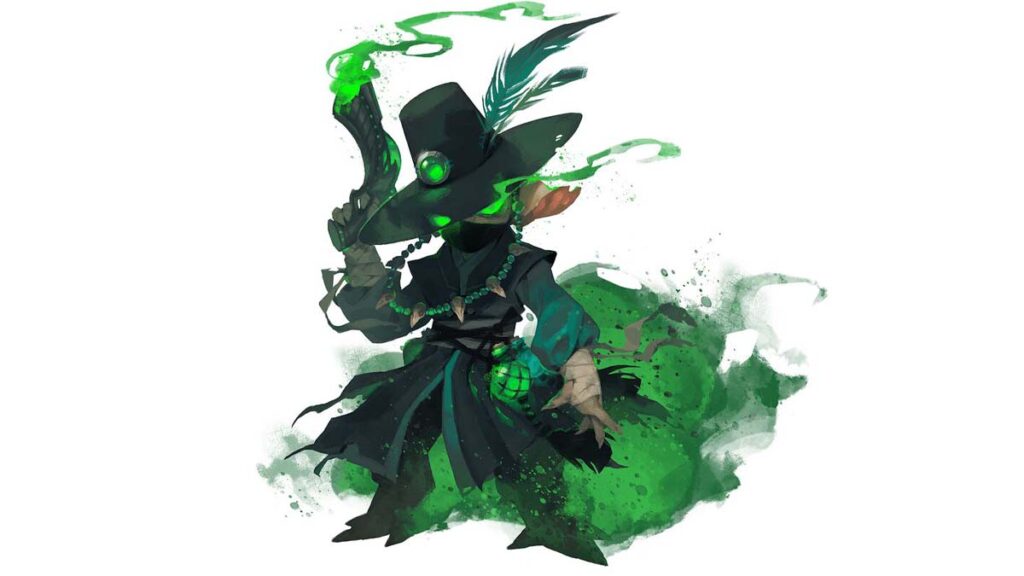 Harbinger is a high-condition damage PvP build designed for teamfighting. Regardless of whether you play this build alone or with a team, you'll really benefit from utilizing your team.
Skills
Main Skills

Tainted Bolts - Fire quick bolts of dark energy that explode on impact. This inflicts Torment to enemies in the area.
Dark Barrage - Fire six bolts of Tormenting energy that fan out from you, piercing all enemies in the path.
Devouring Cut - Channel twisted energy to launch yourself at your foe, damaging nearby enemies on impact.
Voracious Arc - Jump to a chosen destination, evading attacks through the air. Daze enemies near your impact point.
Vital Draw - Suspends enemies in the air and takes out their life force. Gain life force for each target struck.

Staff

Necrotic Grasp - Send out a grasping hand that damages enemies in a line and grant your life force.
Mark of Blood - Inscribe a mark that inflicts enemies with Bleeding and grants Regeneration to party members.
Chillblains - Inscribe a mark that inflicts Chill and Poison on enemies when triggered.
Putrid Mark - Inscribe a mark that damages enemies and transfers your conditions to them when triggered.
Reaper's Mark - Inscribe a mark that inflicts Fear on enemies when triggered.

Utility

Elixer of Promise - Infuse an elixir with good health. This heals you and gains Regeneration, and then toss the elixir at enemies. All affected enemies gain Poison.

If you are in the splash zone, you gain Blight.

Corrosive Poison Cloud - Weaken yourself and envelope the target area with a noxious cloud. This cloud blocks enemy missiles, inflicts enemies with Poison and damages them.
Summon Flesh Wurm - Summon an immobile flesh wurm to attack enemies.
Spectral Walk - Create a shadowy tether and become spectral. You can return to your initial position by using Spectral Recall.
Elixir of Ambition - Infuse an elixir with ambition and toss it towards enemies. This gives you every possible boon, but if you are in the splash area then you'll get Blight.
Specializations
You may find it helpful to choose these specializations as you level up.
Curse

Barbed Precision
Furious Demise
Target the Weak

Death Magic

Armored Shroud
Soul Comprehension
Beyond the Veil

Harbinger

Harbinger Shroud
Alchemic Vigor
Corrupted Talent
Related: Best PC Games of 2021
Specter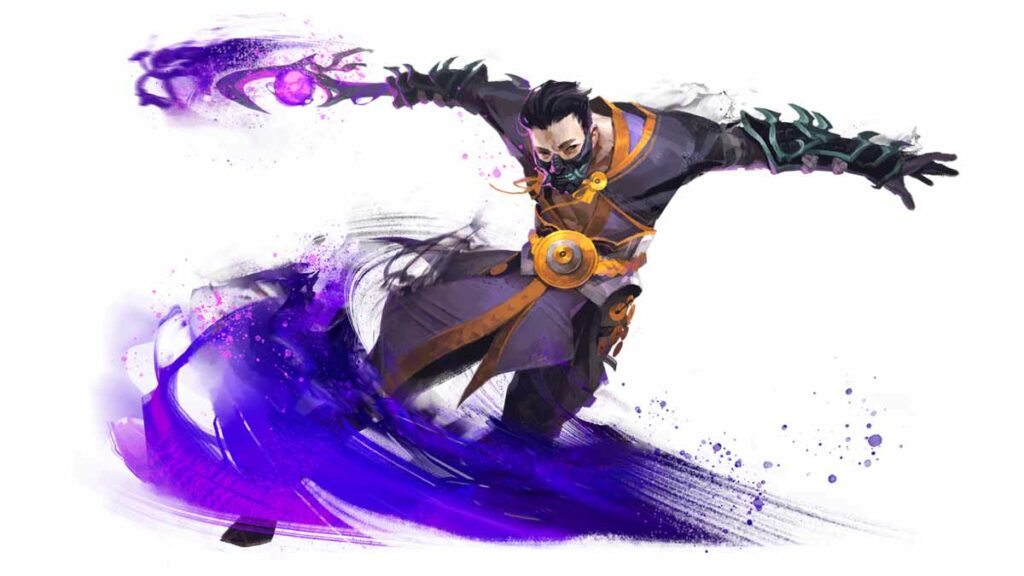 The Scepter Specter condition build focuses on Wells. Even though this build appears to be a support role, the traps and skills it possesses make it exceptionally deadly. Once you've tried this build, it will be hard to go back to another.
Skills
Main Skills

Enter Shadow Shroud - Enter shadow shroud and tether a targeted ally with Barrier. If no one is selected, then it is applied to a random ally.

Scepter and Dagger

Shadow Bolt - Fire projectiles toward enemies. This is a basic attack.
Shadow Sap - Hurl a bolt that damages enemies.
Twilight Combo - Fire a slow projectile, then fire a quick shot to accelerate it.
Dancing Dagger - Throw a dagger that cripples nearby enemies and then comes back at the end of this skill.
Cloak and Dagger - Stab your enemy and vanish in stealth.
Shadowsquall - Fire a barrage from the shadows at your target.

Utility

Well of Gloom - Shadowstep to your target location and drop a well that cripples enemies and heals allies.
Well of Bounty - Shadowstep to a targeted point and create a well that gives boons to party members. If a party member has all boons possible, they will be granted Might.
Shadowstep - Shadowstep to a target area.
Seal Area - Create an area that blocks projectiles and prevents enemies from entering or leaving.
Shadowfall - Shadowstep to your target location and drop a well that continuously pulls enemies to its center. Intensity is increased with each hit.
Specializations
As a player advances through levels, they can select these specializations.
Deadly Arts

Serpent's Touch
Lotus Poison
Exposed Weakness

Trickery

Kleptomaniac
Preparedness
Lead Attacks

Specter

Siphon
Dark Sentry
Panaku's Ambition
For more on Guild Wars 2, check out 5 Tips for Beginners in Guild Wars 2 or All Professions in Guild Wars 2 here on Pro Game Guides!