There are several ways to play Hunt: Showdown. Some players prefer to rush onto objectives with a Romero 77 shotgun and a thirst for chaos. Other players enjoy waiting on the outskirts of objectives, sniping with the Sparks rifle and creating long-range pressure. There is also a rare breed of player who runs full speed at enemy players with a Combat Axe and no fear. Whatever your preferred way to play Hunt: Showdown is, join us as we list your perfect loadouts.
Best Hunt Showdown Builds for Every Playstyle
High Risk, High Reward
You are shockingly rich. You are also incapable of experiencing fear. This loadout is for the player who likes showing off the most expensive weapons in their arsenal. The sound of the Nitro Express Rifle is enough to make even experienced players shiver, due to its 364 damage per shot and effective range of 250 meters. The Dolch 96 is a powerful pistol with one of the fastest fire rates in the game at 164 rounds per minute.
As for the tools in this loadout, you enjoy announcing your arrival on the Bayou with a Flare Gun and Fusees. You invite players to challenge you, confident in your gunfighting abilities. When it comes to consumables, you only use the best of the best. You bring four Big Dynamite Bundles in your pack and are always ready to ravage an area with explosives. Although your loadout comes at a high cost, you aren't hesitant. You don't plan on losing it.
Complimentary Bloodletting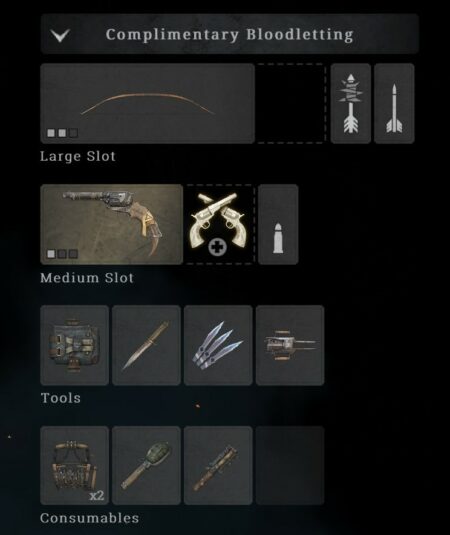 This build is for players who enjoy inflicting bleed damage upon other players. You find satisfaction in the pain of others and enjoy ambushing players while they're struggling to hold the "F" key to stop their bleeding. In this world, you believe that it's kill or be killed. You eagerly accept the responsibility of the latter.
The Hunting Bow is a silent killer that inflicts medium bleeding on players. Individual arrows can be extracted from targets, causing a burst of damage. This loadout comes with Concertina Arrows, which explode into clusters of barbed wire and cause additional bleeding. The Ripper is a modified Caldwell Pax Claw with bullets that exact bleeding.
Throwing Knives and Concertina Trip Mines also apply bleed damage to other players, which can be increased with multiple hits. For consumables, this loadout has two Concertina Bombs, which administer intense bleeding on foes. The Frag Bomb and Sticky Bomb applies intense bleeding on players as well.
Close-Quarters Chaos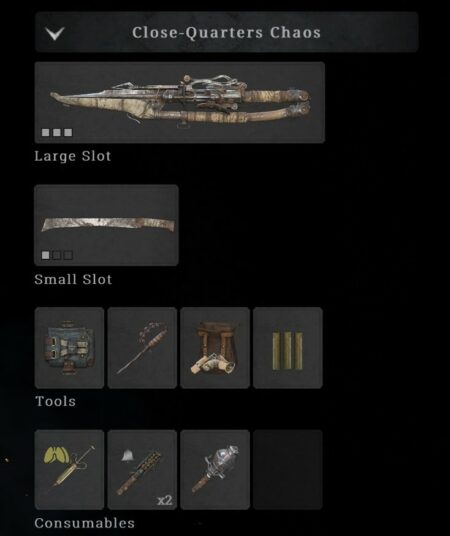 This loadout is for players who play aggressively and enjoy being in the center of the action. You push at every opportunity and overwhelm the enemy with total chaos. The Bomb Lance is lethal both as a projectile weapon and in melee. With a heavy melee, this weapon inflicts intense bleeding and deals 360 damage. The Machete is a melee weapon that deals 90 damage and applies medium bleeding on players.
For tools, this loadout has a Knuckle Knife, as well as two types of Decoys. Blank Fire Decoys imitate the sound of gunfire, which can trick players into thinking there is a gunfight occurring. Decoy Fuses imitate the sound of explosives and can confuse enemy players.
For consumables, this loadout has a Stamina Shot, used to nullify stamina consumption and make running and heavy melee attacks easier. The two Chaos Bombs create a burst of firecrackers and cause excessive noise. The Flash Bomb blinds enemy players, creating an opportunity to push into the fight safely.
The Mad Trapper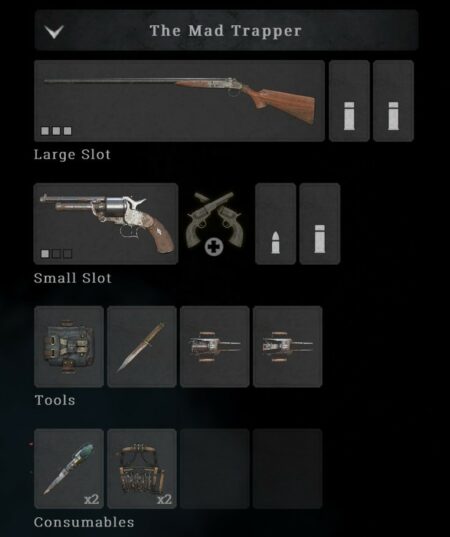 This loadout is perfect for players who enjoy locking down areas with traps. These players love trapping boss lairs and blocking off each entrance with traps and concertina wire. The Romero 77 is useful in close-quarters combat and is a one-shot when the target is 15 meters away. The LeMat Mark II is a pistol with a shotgun alternate fire. It is deadly in short-range engagements.
The Concertina Trip Mines and Alert Trip Mines are excellent at denying access to objectives, as they both create noise when their wire is snapped. With the Frontiersman trait, players can carry three Concertina Trip Mines and five Alert Trip Mines at a time.
For consumables, this loadout carries two Poison Bombs and Concertina Bombs for locking down areas. Poison Bombs cause damage over time when players enter the cloud, and the poison cloud lasts five minutes. Concertina Bombs explode into concertina wire, which inflicts bleed damage and slows enemy players. The clusters of concertina remain after the bomb explodes, leaving deadly wire to block off entrances.
Long-Range Lethality
This loadout is perfect for players who prefer to stay far away from the action. Instead of close-range combat, they choose to snipe from vantage points around the map. They would rather risk losing the match than engage in the chaos of a gunfight. With the Vetterli 71 Karabiner Marksman's scope, they pick off players from a distance. Due to the Vetterli's High Velocity Ammo, they rarely have to lead their shot.
They also carry a Hand Crossbow, which is a silent method of taking out zombies and players. For tools, they simply bring Choke Bombs so they can locate enemy players. As soon as they hear the coughing, these players secure their kill.
For consumables, this loadout has two Stamina Shots that nullify stamina cost. They help the player run from danger when necessary. This loadout also carries a Vitality Shot for extra healing and an Ammo Box to help sustain any long-range fights.
Must Have Been the Wind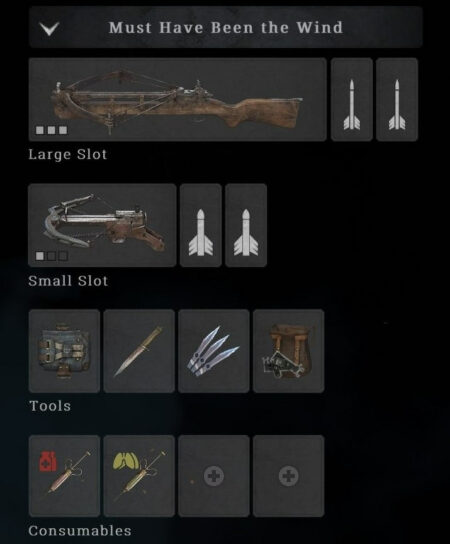 This loadout is perfect for players who avoid making noise at all costs. Through the use of silent weapons, you drive players crazy as they attempt to find the source of the projectile. Both the Crossbow and Hand Crossbow are quiet weapons, although they still deal an extreme amount of damage. Both of these weapons one-shot at a distance of 45 meters.
The Throwing Knives are used to silently take out zombies and other threats. Even though the Decoys make noise, these players use them to disorient and misdirect enemy players. These players also carry a Vitality Shot and Stamina Shot in case their stealth check fails.
For more Hunt Showdown loadout guides, come check out Best Budget Loadouts in Hunt Showdown here on Pro Game Guides.