The Deep Dark is an underground biome that was officially added in Minecraft patch 1.19, The Wild Update. This biome generates below Y-Level 0 and is the only place where the Ancient City will spawn. But the Deep Dark is more than just the Ancient City—it's a place where Skulk, Skulk blocks and the fearsome Warden will spawn. We've scoured through the latest patch and found some of the most interesting and best Deep Dark Seeds for the Bedrock and Java editions of Minecraft.
Best Minecraft Deep Dark Seeds List
Java 1.19

Blazing Mines: -8373506474087932085
Special Spawners: -2612031576208047865
Super Cavern: 1050893520410215606
Colossal Cavern: -2504412706492658835
Taiga Topside: 2025393523593427816
Quick Skulk: 5767307882542469784

Skulk Below: 1518796892237380785
Start the Mine: -4140617972297078693
A Little bit of Everything!: 3201901650831491932

Bedrock 1.19

Lava Lanterns: -8373506474087932085
Enormous Underground: 3109726350305889127
Luscious Darkness: 923703441365300422
Bountiful Badlands: -394093910842036409
Instant Access: -2797502937472306485
Rocky Resources: 6769142989480861171
Cavernous Coast: -42
Multi-city Madness: 7532078582357717303
Some of everything: 3201901650831491932
Related: How to make a Clay farm in Minecraft
Best Minecraft Java 1.19 Deep Dark Seeds
Blazing Mines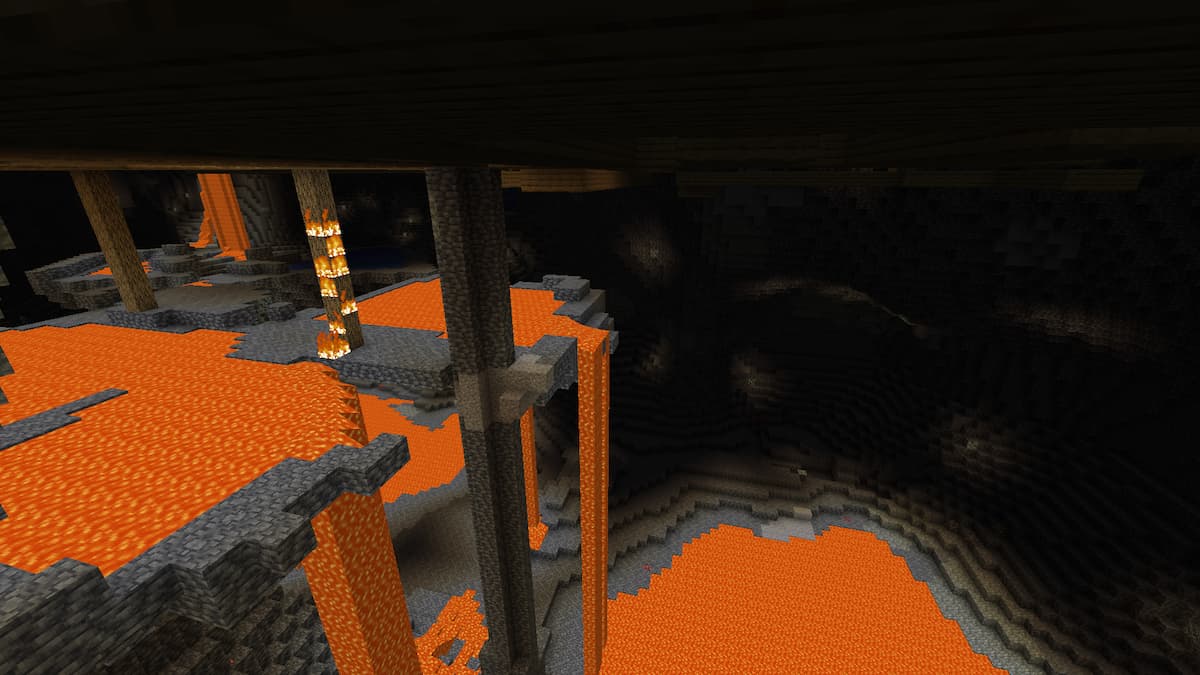 Seed: -8373506474087932085
These Mines are on fire! Or at least they will be by the time you find them. As you dig down into the mines, the Lava that pools everywhere in this dangerous area will set the mines ablaze, lighting up the area incredibly. Still, it's an impressive area to explore, and a great place to set up in, if you can manage to not find yourself burning up...
Cave/Mine: -721, -20, -200
Taiga Village: 224, -256
Igloo with Basement: -440, -504
Ancient City: 40, -51, 440
Special Spawners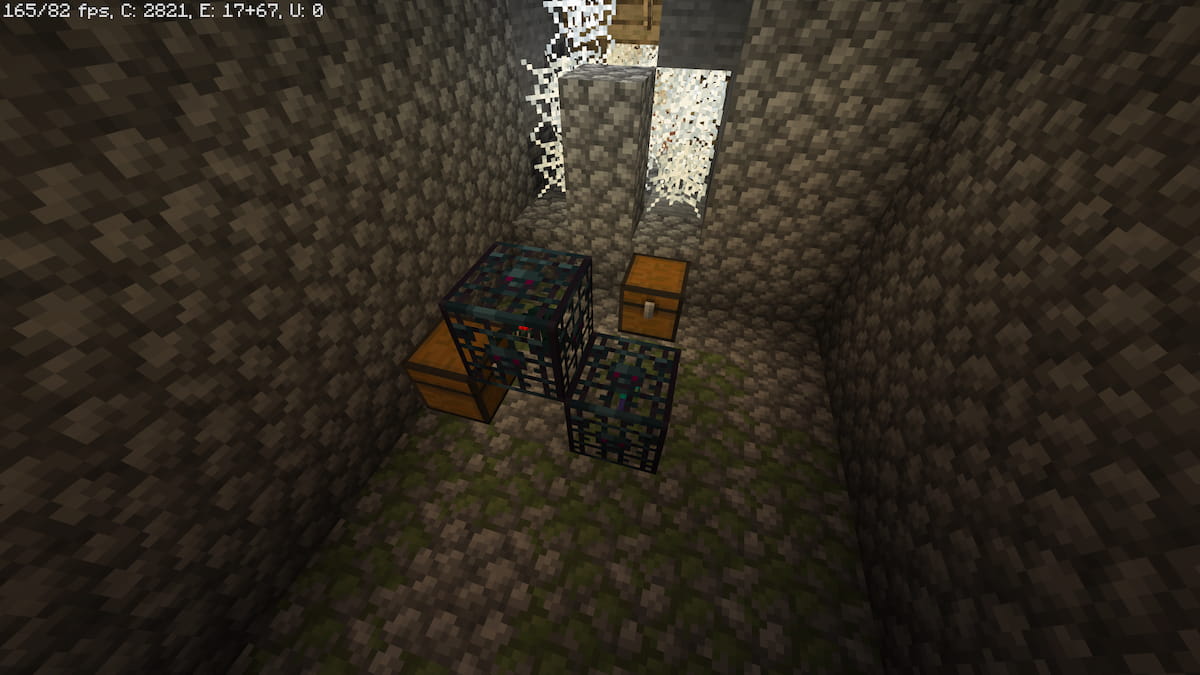 Seed: -2612031576208047865
A perfect way to set up a really effective XP farm if you're brave enough, thanks to this double spawner spawn that has both a cave spider and zombie spawner together. It's a unique spawn with some great utility to boot!
Spawners: -166, 4, 166
Village: 192, 203
Village 2: -400, 30
Shipwreck: 232, -104
A Little bit of Everything!
Seed: 3201901650831491932
An incredible section of Deep Dark hidden right below spawn! The village is quite a nice starting point, but its what's below that's really exciting. What's more, there's a huge variety of biomes, structures, and more, all within a reasonable distance of the starting area. If you want a little big of everything, this is the perfect spawn!
Plains Village: 235, 100, 630
Ship Wreck: -280, 180
Pillager Outpost: -520, 865
Woodland Mansion: -2470, -2035
Rebuild the Mine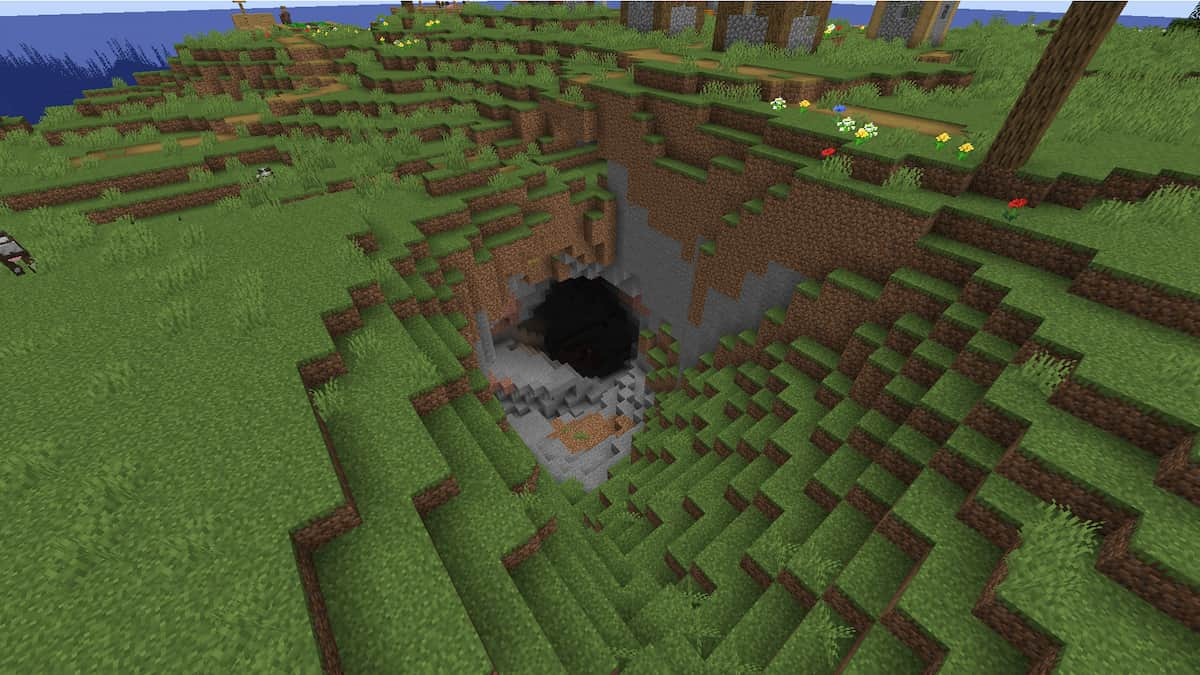 Seed: -4140617972297078693
Journey into the deepest darkest parts of the Minecraft world and rebuild the mine! There's precious iron, gold, and diamonds at the bottom of this shaft, so its time to explore some of the more dangerous parts of the underworld. Watch out for Wardens!
Key Locations

Abandoned Mine: -472, -9, 334
Shipwreck: -481, 306
Ruined Portal: -458, 659
Shipwreck in swamp: -317, 673
Colossal Cavern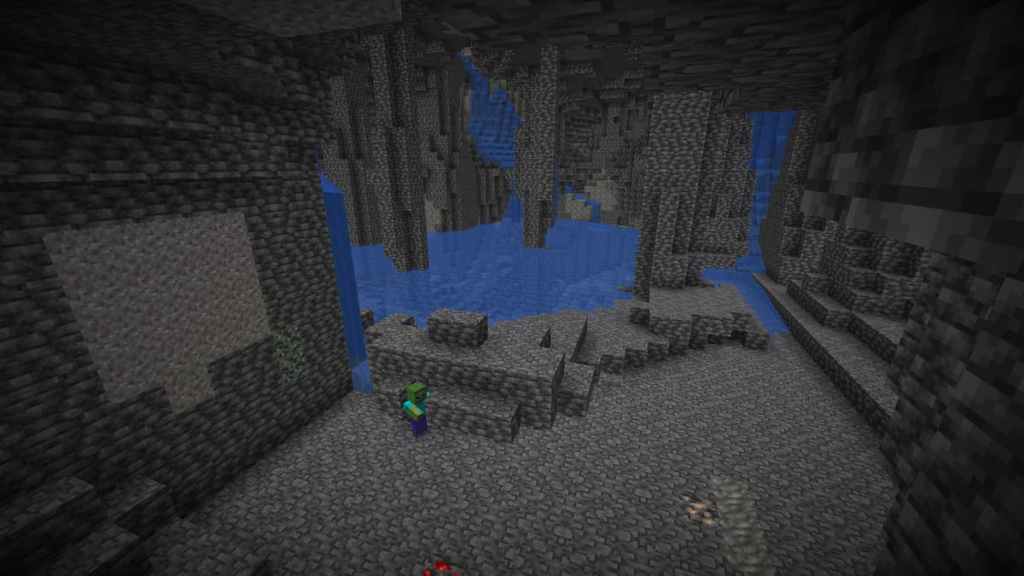 Seed: -2504412706492658835
Giant caverns that seem to go on forever are one of the best parts about the recent cave updates. This one is so large you could practically move down into the Deep Dark and live here. With fresh water and more resources than you'll ever know what to do with, this is one of the most exciting deep darks we've ever seen.
Key Locations

Deep Dark: 183, -16, 57
Huge Chasm: 121, -135
Village: 25, -366
Ruined Portal: 291, -455
Super Cavern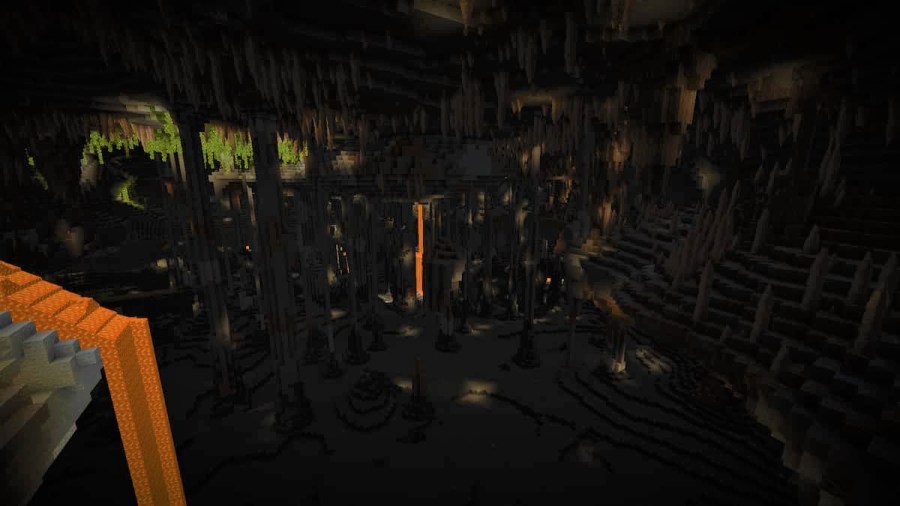 Seed: 1050893520410215606
Underneath the Old Growth Pine Taiga lurks a huge Super Cavern with multiple cave biomes. There is Dripstone, hanging Mineshafts, Geodes, and Lush Caves. And at the bottom, of course, there's the Deep Dark, complete with Skulk and Warden. The Super Cavern could be the perfect place to start your underground base or the most dangerous location you've ever visited.
Key Locations

Deep Dark: 440, -36, -622
Mineshaft: 452, 8, -638
Old Grown Pine Taiga: 401, -821
Woodland Village: 122, -872
Ruined Portal: 294, -1053
Taiga Topside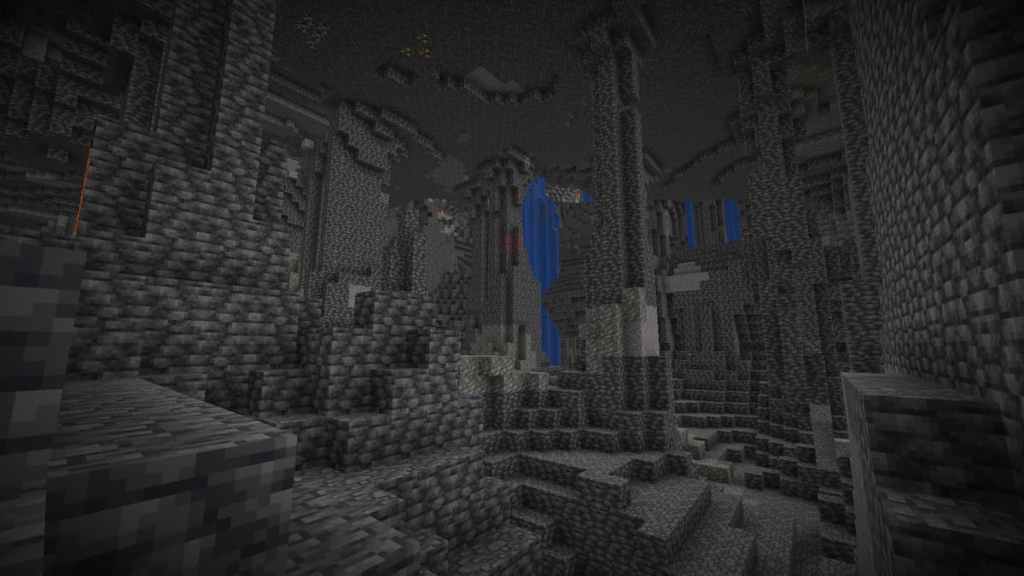 Seed: 2025393523593427816
A snowy wasteland with Ice Spikes, a Tundra Village, and snow as far as the eye can see. But that's just the starting point. Below you are some of the most intense Deep Dark caverns you'll ever find. A trio of enormous caves just waiting to be discovered. Never has the tip "Don't dig straight down" been so accurate!
Key Locations

Village + XL Ruined Portal: 128, 170
Ice Spikes Biome + Village 2: 517, 290
Plains Village with incredible scenic view: 710, -244
Quick Skulk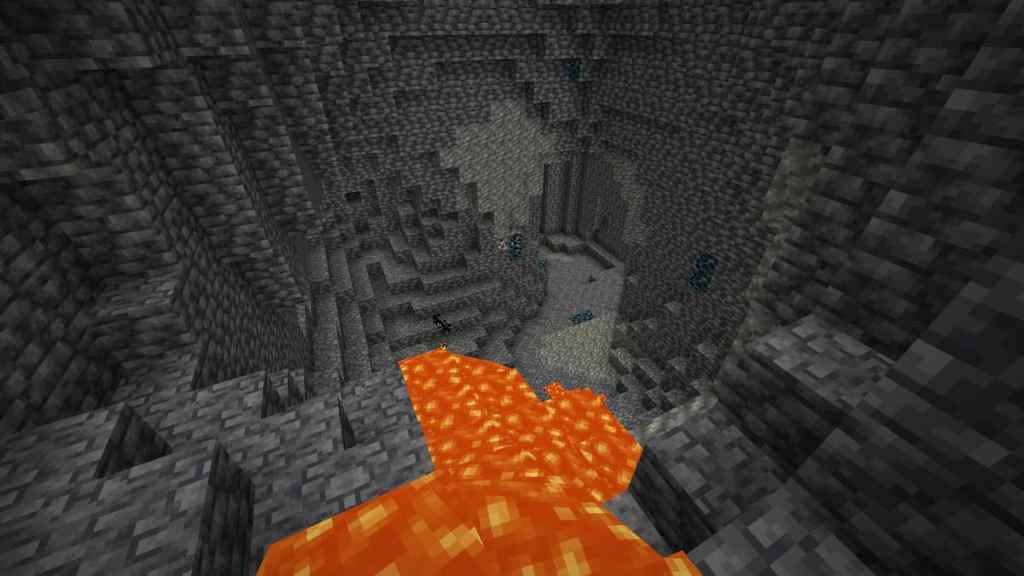 Seed: 5767307882542469784
This seed is called quick Skulk, because from the moment you spawn, a vast supply of Skulk, and the Warden, are just a few hundred blocks below you. Just dig straight down if you dare! Besides that, this is a very well stocked seed with huge amounts of resources right next to spawn, and easily travelled to landmarks.
Key Locations

Zombie Spawner Dungeon: 117, -3, 129
Ruined Portal: 8, 226
Village in a valley: 89, 361
Deep chasm and cave with dripstone: 207, 322
Skulk Below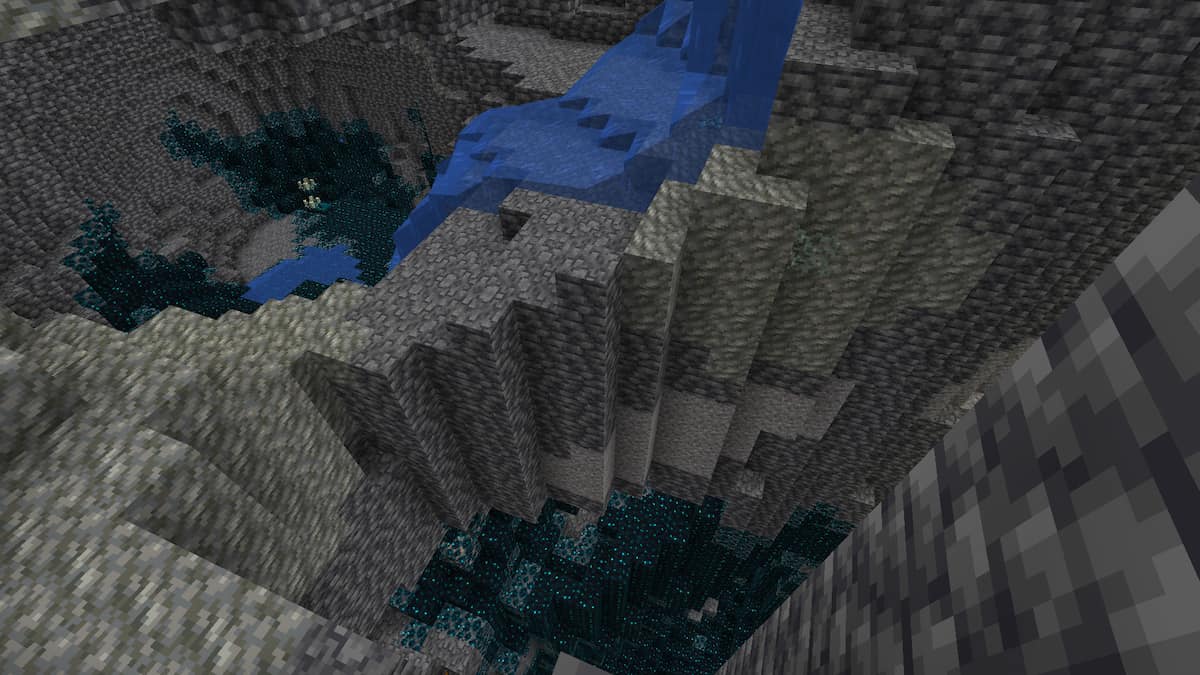 Seed: 1518796892237380785
A seemingly normal map is is absolutely covered in skulk, for as far as the eye can see, just a few dozen blocks below the surface. If you ever wanted quick access to skulk to mess around with the dangerous spread of this creeping mass, then this seed is definitely for you.
Key Locations

Skulk Cave: 139, -30, 149
Badlands: -148, -63
Village: 337, -359
Ruined Portal: 692, 354
Best Minecraft Bedrock 1.19 Deep Dark Seeds
Lava Lanterns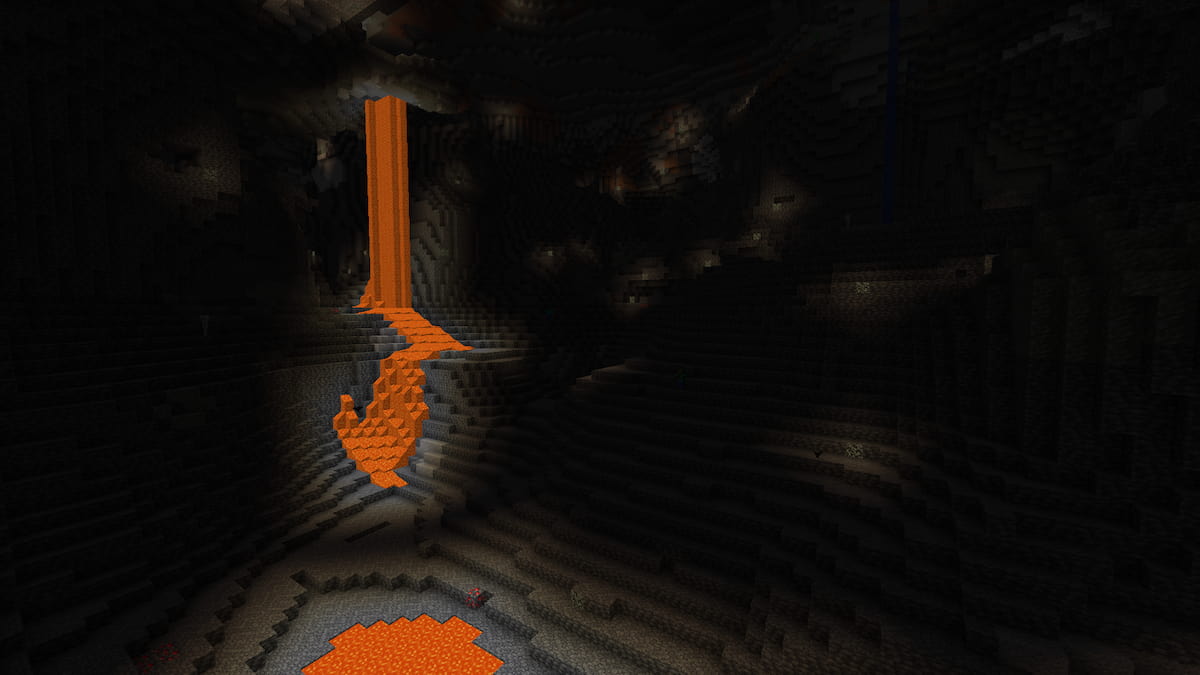 Seed: -8373506474087932085
A huge underground space awaits for whatever build you might require. Better yet, you might not need as much lighting as you think thanks to huge amounts of glow lichen and lava! It's practically lit up before you even arrive.
Cave/Mine: -721, -20, -200
Taiga Village with Ancient City below: 168, 200
Igloo with Basement: 120, 56
Snowy Village: -296, 152
Enormous Underground
Seed: 3109726350305889127
A cave at the surface that goes straight to bedrock level is a rare find, but in this seed it's right by spawn. And with the helpful village right next to it, and loot-able portal, you can easily prepare yourself for a trip into the darkness!
Huge cave to bedrock: 112, 60, 413
Village and Ruined Portal: 169, 221
Village on a hill with flowers: 189,63-
Pillager Tower: -728, 104
Luscious Darkness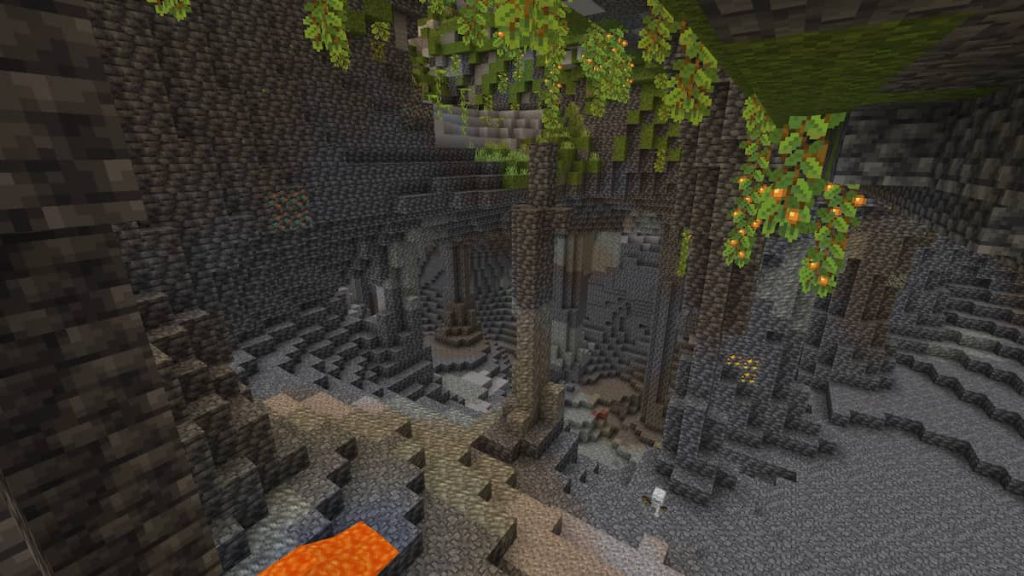 Seed: 923703441365300422
A Lush Cave spills into the Deepest Darkest part of the world, threatening to turn the gray into green! A series of Lush Caves connect into the large cavern making up the Deep Dark in this seed. On the surface? More trees than you'll ever know what to do with as a Dark Oak forest and a Birch Forest biome intersect. Looks like it's time to build a forest retreat connected to the underground darkness!
Deep Dark: -115, -15, -105
Lush Cave: -107, 10, -75
Village: -345, -394
Ruined Portal: 155, 318
Mansion atop the Deep Dark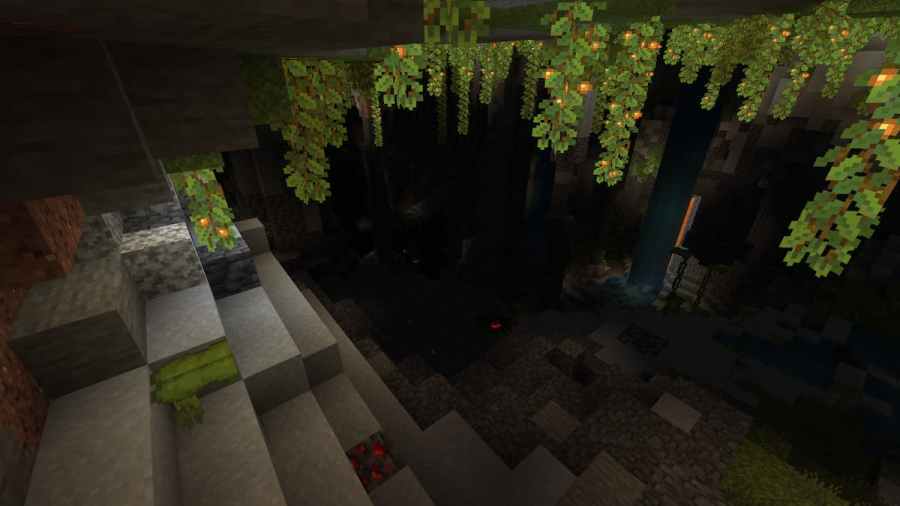 Seed: 3018068664000894136
The Illagers might know exactly what's beneath the Woodland Mansion. And if not, they best find out soon! The Deep Dark sits just below a huge Mine and a Lush Cave. Once this cavern opens up into the Deep Dark, the Ancient City sits nearby. Above ground, there are plenty of Spruce forests and other features to keep you supplied for underground exploration.
Key Locations

Deep Dark: 525, -30, -658
Village on top of Mountain: 653, -341
Village 2: 399, -321
Ruined Portal: 658, -252
Woodland Mansion: 247, -839
Bountiful Badlands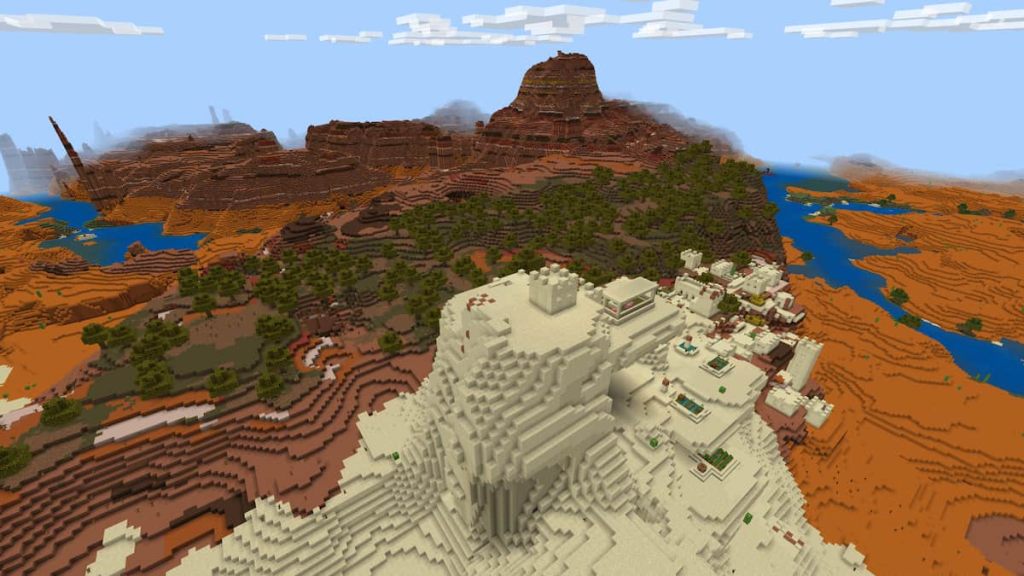 Seed: -394093910842036409
One of the most beautiful seeds we've found in a long time, this one really lives up to its name. With a cave that leads straight to the Deep Dark on the surface, there's an incredible system of caverns ready to explore. That is, if you can pull yourself away from the huge Badland's biome on the surface that really takes the breath away.
Key Features

Cave Entrance that leads to Deep Dark: -541, -500
Village with Temple next door: -422, -444
Ruined Portal: -570, -907
Seaside Village: 112, -202
Instant Access
Seed: -2797502937472306485
This seed has been named instant access because you have almost immediate access to the Deep Dark, a Village, a Mushroom Island, and much more. Really this is the perfect seed for people who want it all, and want it now! A bountiful boon of resources!
Key Locations

Cave entrance to Deep Dark: -211, 796
Village: -315, 864
Badlands: -716, 944
Mushroom Island: 315, -274
Rocky Resources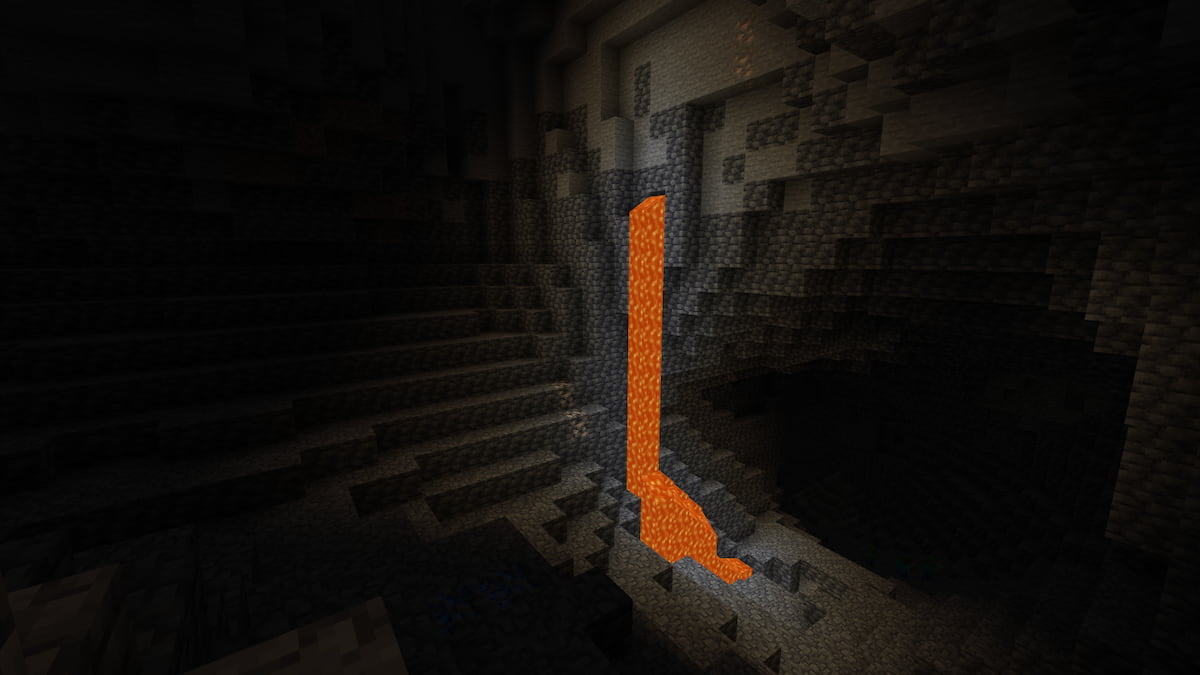 Seed: 6769142989480861171
This Deep Dark spawn has more iron than we've ever seen. By some luck of the generator, there's hundreds of veins of iron throughout the Deep Dark just below the spawn. Couple that with some good landmarks nearby and this is a great start for a long-term Minecraft game.
Key Locations

Deep Dark: -27, -3, 668
Village: 202, 704
Savana Village: 625, 1267
Ruined Portal: 93, 652
Cavernous Coast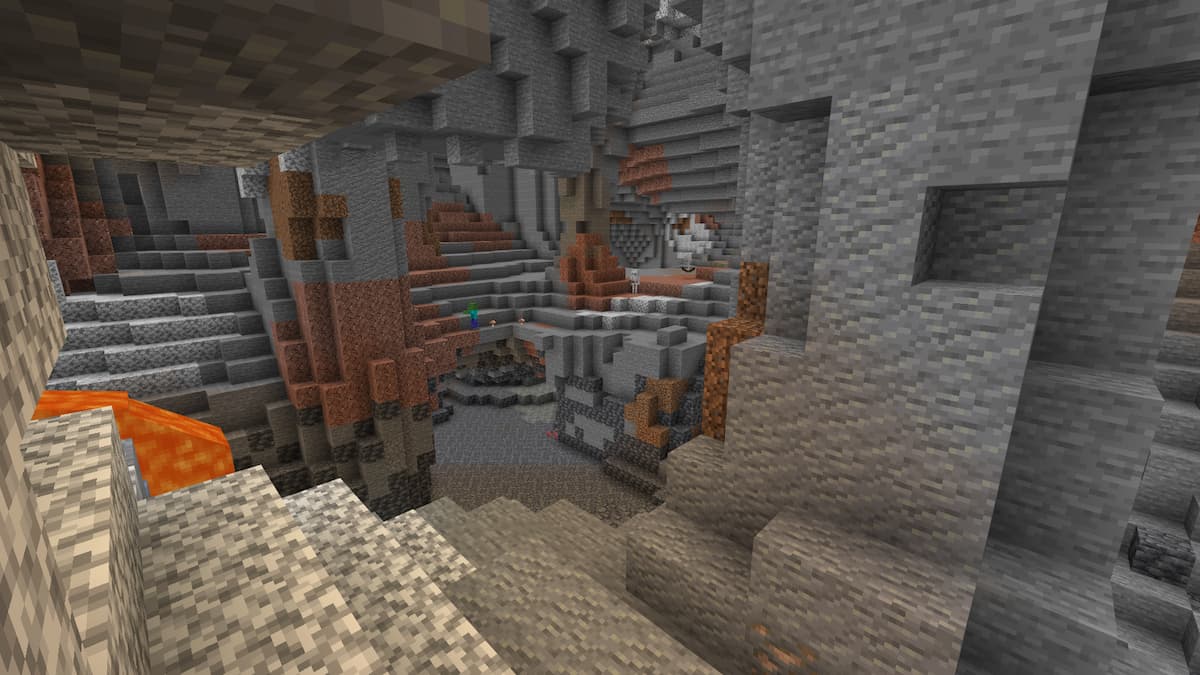 Seed: -42
An unusual seed number for an unusual location! Vast caverns that lurk just below the cliffs of this start on the edge of an ocean. Some of the more traditional features in a Minecraft World are quite far away from spawn, but lots of more interesting items are closer, such as a mushroom island and a geode right near your spawn!
Key Locations

Deep Dark: -163, 16, -668
Underwater Geode: -236, -475
Mushroom Island: -265, -326
Shipwreck: -232, -567
For more Minecraft seeds and spawns, check out Best Minecraft Ancient City Seeds for Bedrock and Java on Pro Game Guides.