Minecraft is a game perfectly suited for exploring and adventures. But sometimes, we want to get into the action without walking thousands of blocks from the spawn point. We have made a perfect list of the best Minecraft seeds with interesting geographical features, natural landmarks, and outposts right next to where you spawn!
15 Seeds for lazy players in Minecraft
15 - A spawn right next to a Village with a Portal and a deep Ravine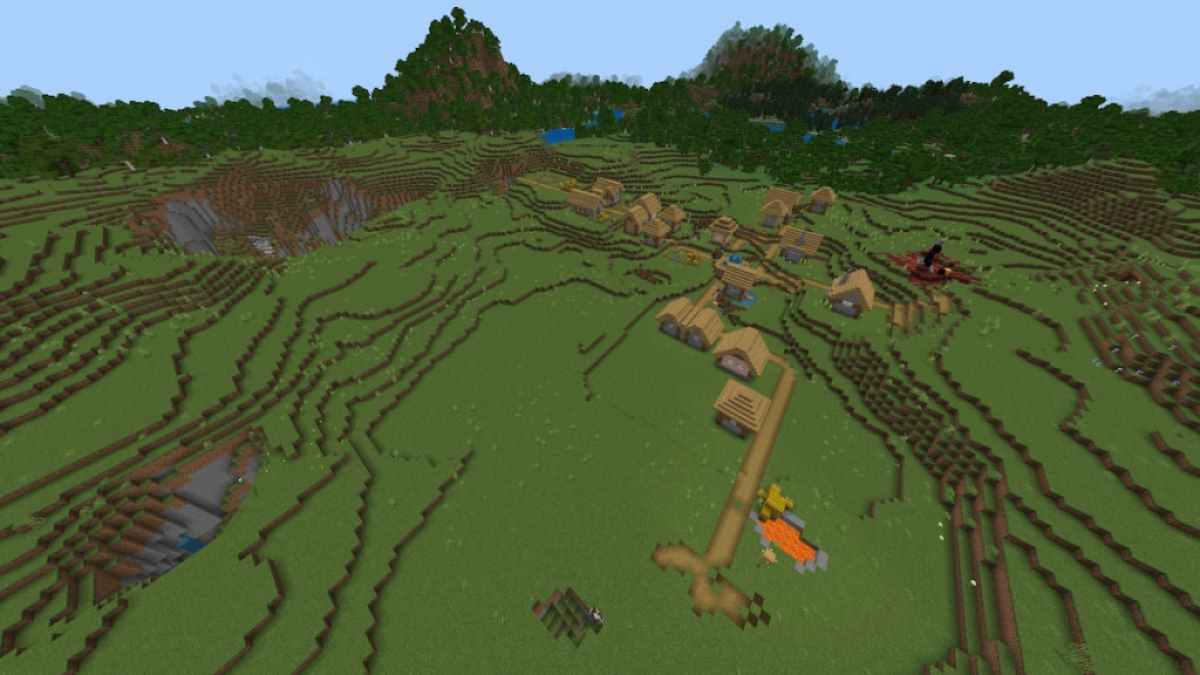 Map seed: -9057352651117540831
Game Version: Bedrock
This seed will have you spawn next to a gaping maw of the entrance to a vast underground cave network ripe for exploration. There is also a village nearby for all your trading needs and a Ruined portal next to it. This excellent seed provides quality content with hours of guaranteed fun without much need to go further into the map.
14 - A Cave System in a Tropical Setting
Map seed: 4079393558202846493
Game Version: Bedrock
If you fancy exploring beautiful and lush caves in a tropical biome, this is the perfect seed for you. You will spawn near a cove with an entry to a vast underground cave network with beautiful and luxuriant foliage. There are also a few ruins and a mega ravine nearby to explore.
13 - Mountainside Village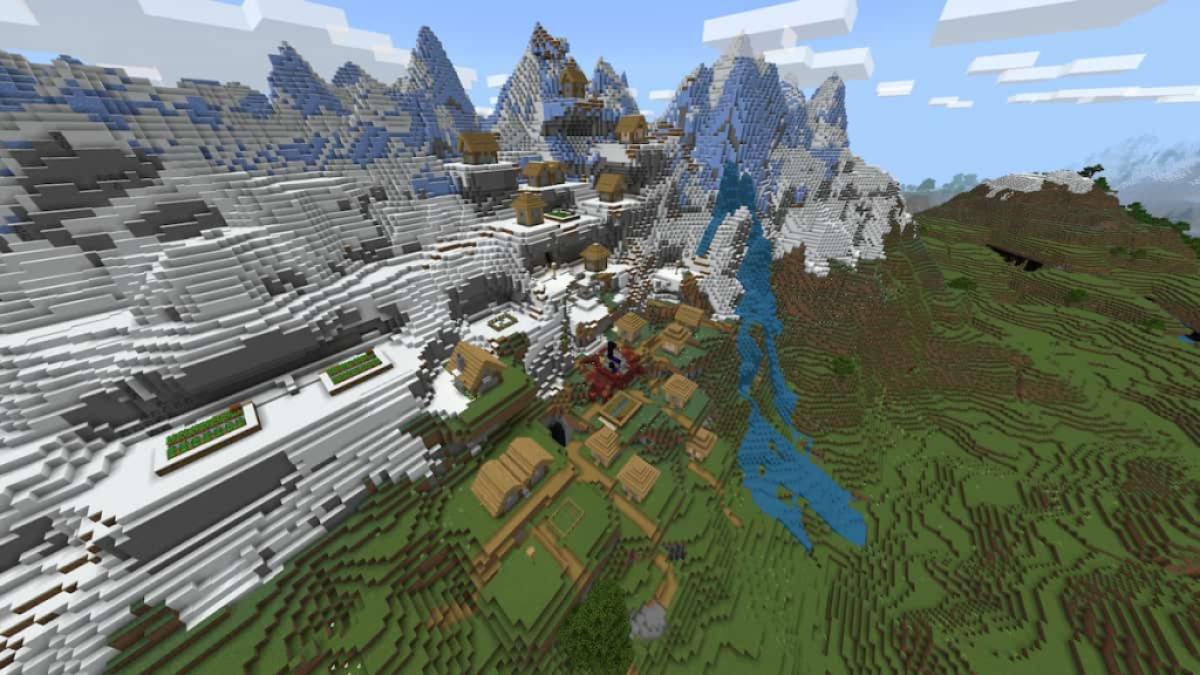 Map seed: 2147841232801735666
Game Version: Bedrock
This seed will place you next to a beautiful village embedded right into the side of a snow-capped mountain next to a waterfall. As an additional bonus, there's also a Ruined portal in the middle of a village. If you climb down the hole next to it, you will discover a massive mineshaft extending almost to the bedrock.
Related: 11 Best Houses Ever Built in Minecraft Survival Mode
12 - Mountain Chain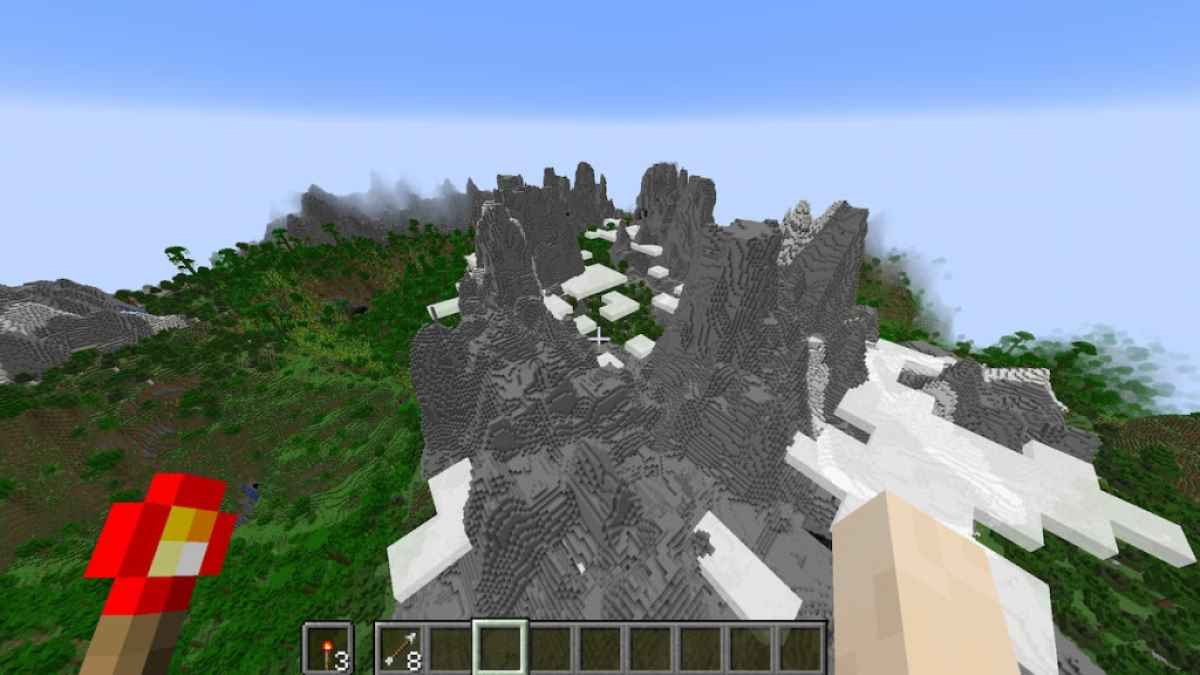 Map seed: 77007805754316
Game Version: Java
This seed has you covered if you're looking for a high-altitude adventure. You will spawn on top of a jagged mountain chain above the clouds! When you look down from the peaks, you will see a stunning and lush jungle biome with cliffs and ravines you can explore. The area below is full of caves and ravines with some hidden treasures.
11 - Village with portals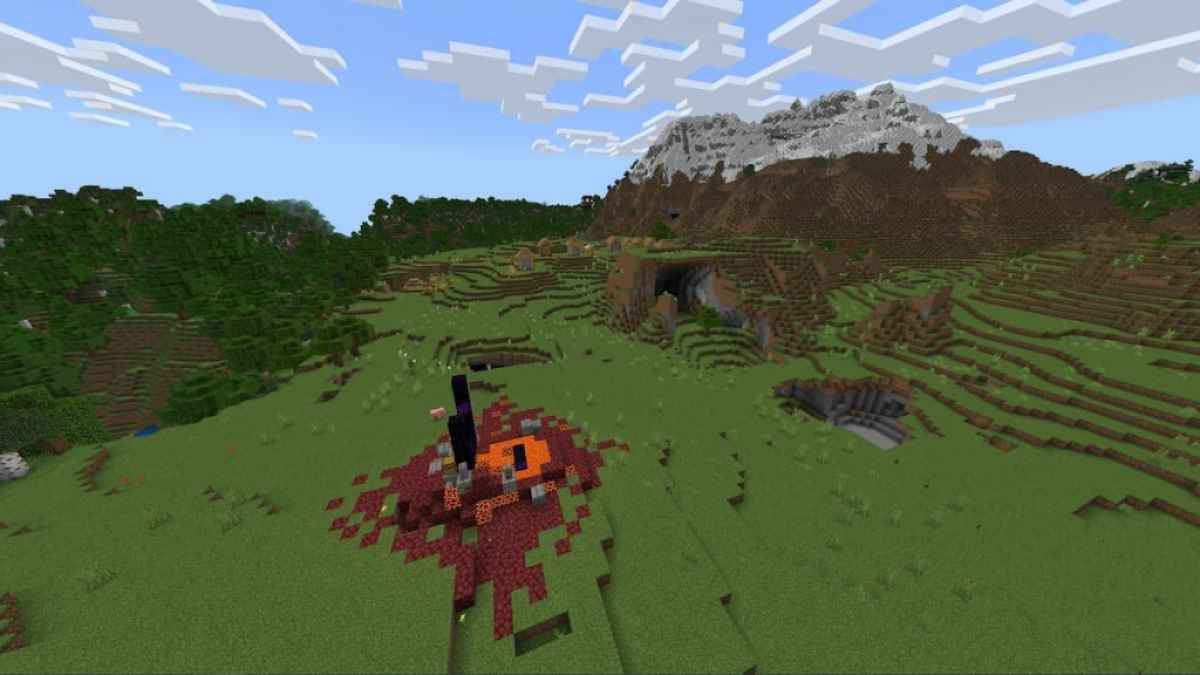 Map seed: 3254721483475349792
Game Version: Bedrock
This Bedrock seed will spawn you in a ravine-rich woodland biome next to a small village. Multiple cave entrances surround a Ruined portal near the village with an underground tunnel network teeming with enemies. If you're willing to expand your search further into the map, on coordinates X 705, Y 180, and Z 716, you will find a beautiful meadow village surrounded by snow-capped mountain peaks. Many exciting features near your spawn location in this seed make it worthwhile!
10 - Diverse archipelago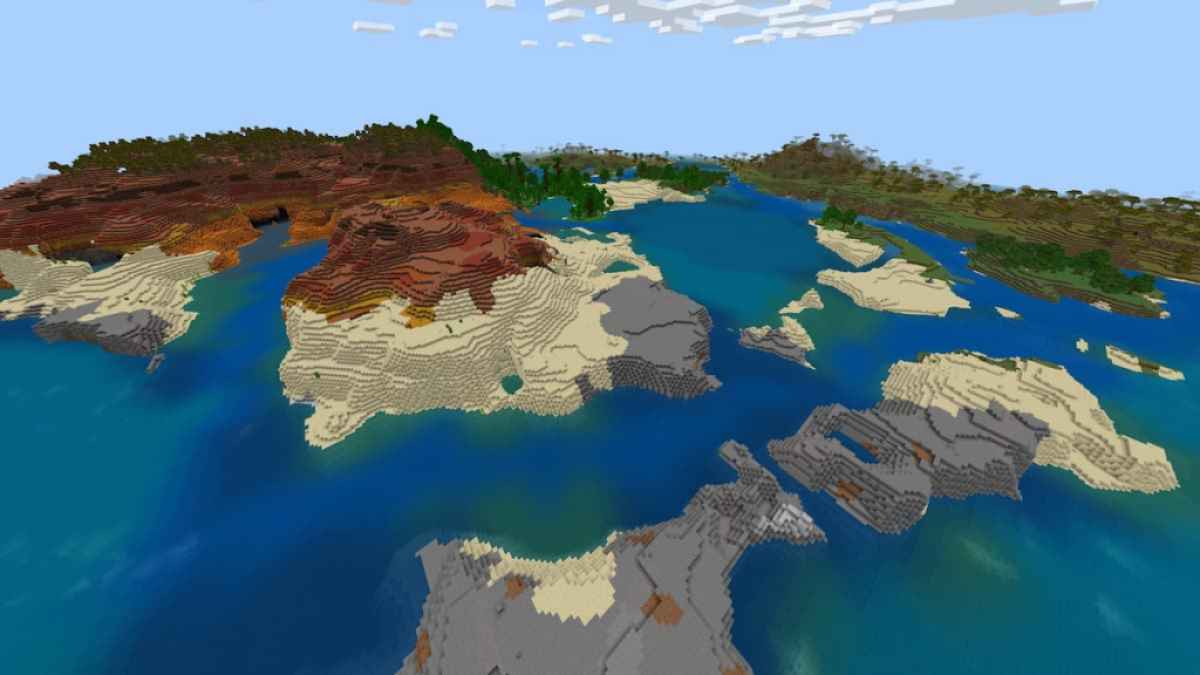 Map seed: 8672609961208932840
Game Version: Bedrock
You will spawn on an archipelago surrounded by diverse biomes in this seed. The surrounding area has multiple buried treasures hidden inside the coves that are ripe for exploring. Discover a ruined portal and a mineshaft full of enemies to fight This map keeps giving, and it will offer you many hours of adventure and fun!
9 - Mountainside next to an Ocean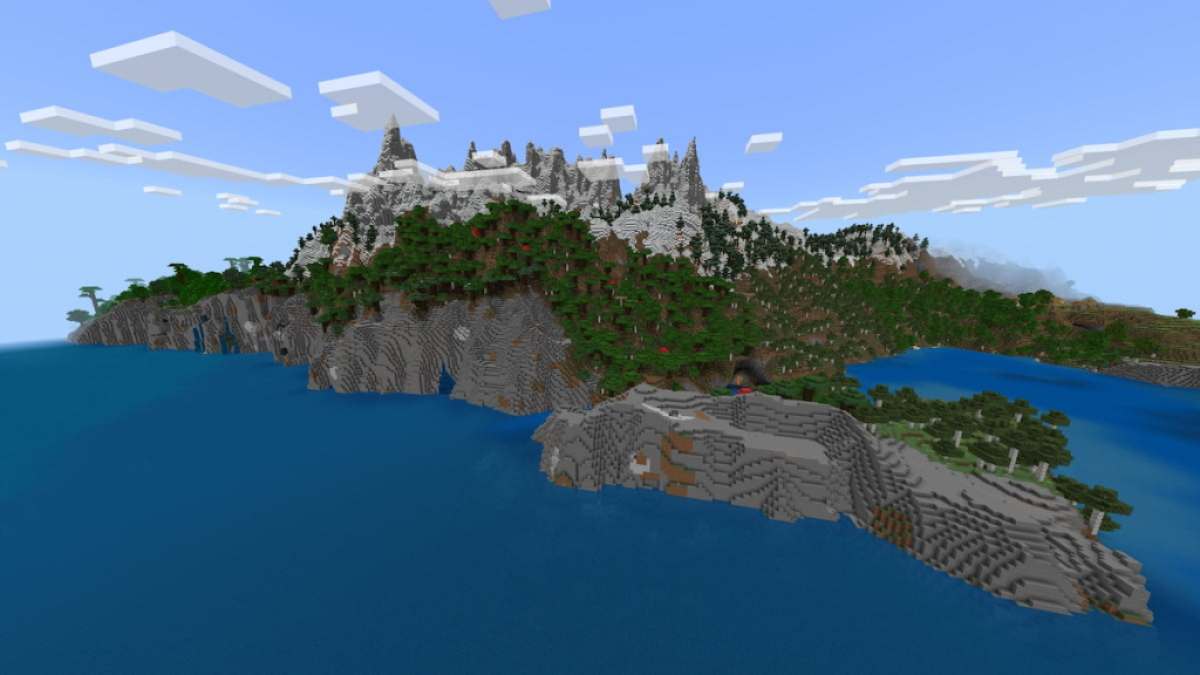 Map seed: 3859588599659708154
Game Version: Bedrock
Who says you need to explore to get an incredible mountainscape? With this seed, you will be placed right into this captivating beauty! You will spawn on a cliffside of a snow-covered mountain chain coming into the vast ocean. Immediately next to you will be a small meadow perfect for the ocean-view cabin. If you want to explore further into the mountains, you will see that they stretch for a very long distance with many beautiful places to build. Further in, you will find villages and pillager outposts that inhabit slopes of the mountains.
8 - Massive Cave next to a Village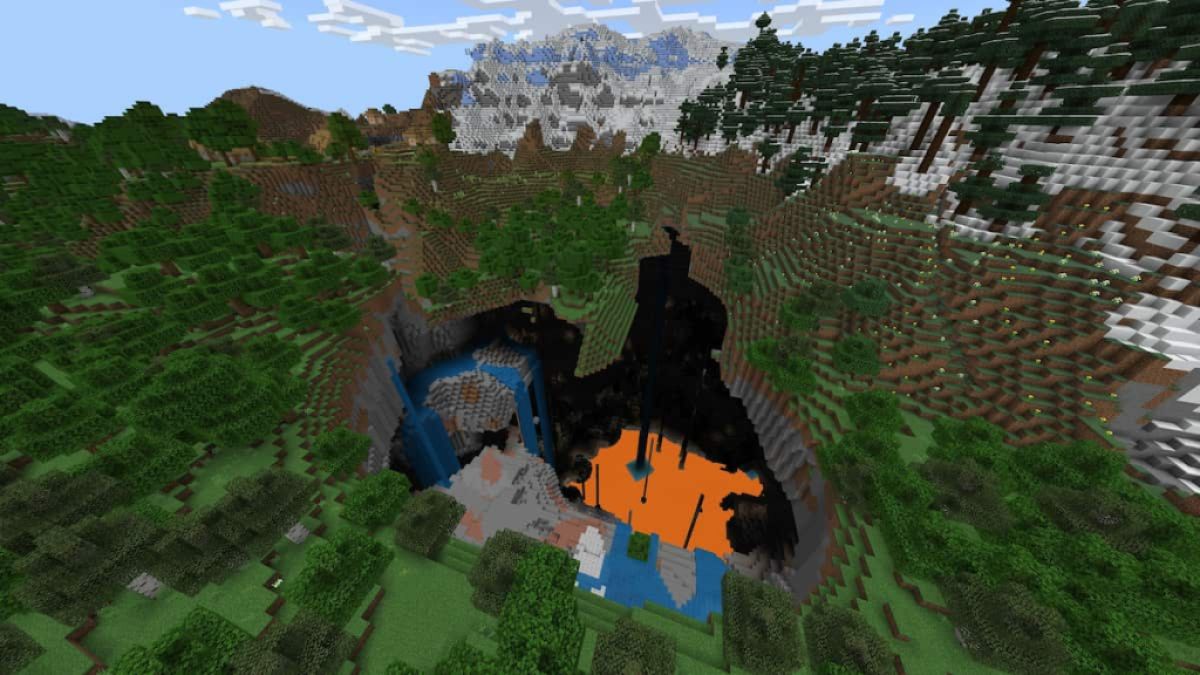 Map seed: -294736379
Game Version: Bedrock
This incredible map seed offers one of the most impressive pits in Minecraft. Right next to your spawn point, you will see a giant hole below the face of a mountain. You will see waterfalls, dripstones, and lava falls if you jump down. When you reach the bottom, there will be a huge lava lake and, right next to it, two Ancient cities separated by a short tunnel. This impressive cave can be perfect for a base of operations and is a truly rare sight. The jagged staircase area is rich with animals, so consider putting up a fence there or making a farm out of it.
7 - Natural Stone Colosseum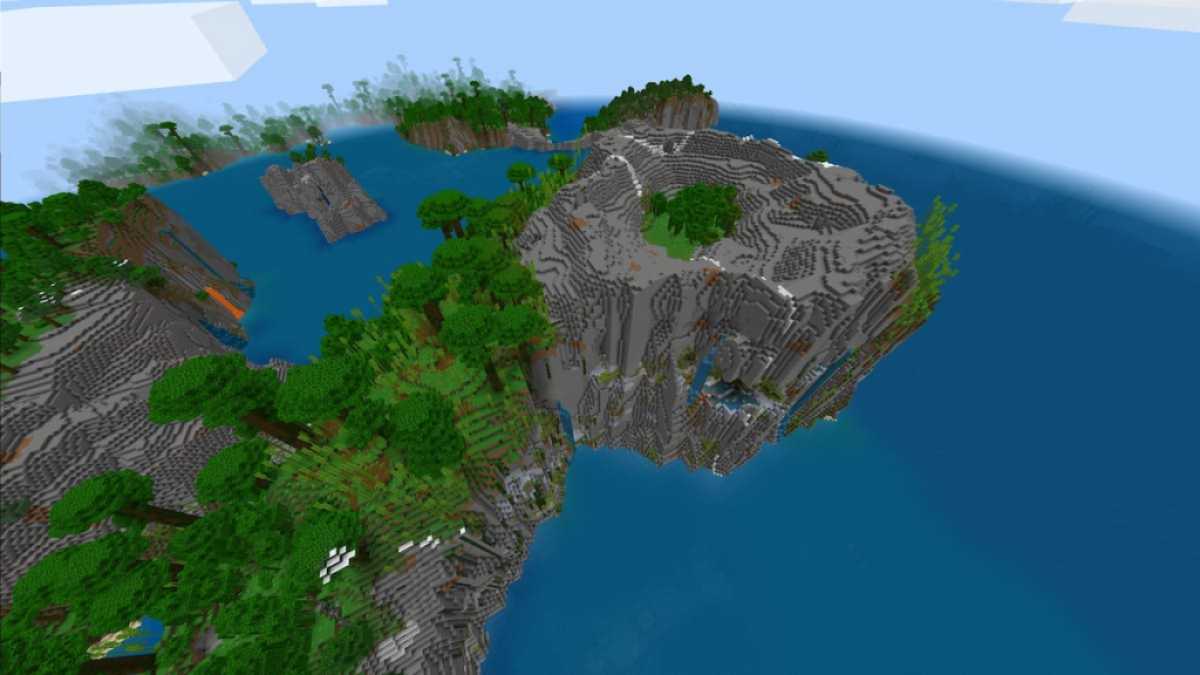 Map seed: 4357545557967448
Game Version: Bedrock
With this great seed, you will spawn next to a cliffside leading up to the rock mesa-like formation that oddly resembles a Colosseum rising from the water! This unique structure has small lush caves embedded into its side and a tiny forest perched on the top. The building possibilities here are endless, and the cliffside begs for a castle to be built on top of it! For a true adventure, after you make your base of operations, you can explore further by going ahead on a mushroom island right across from the stone mesa!
6 - Cliff in the Ocean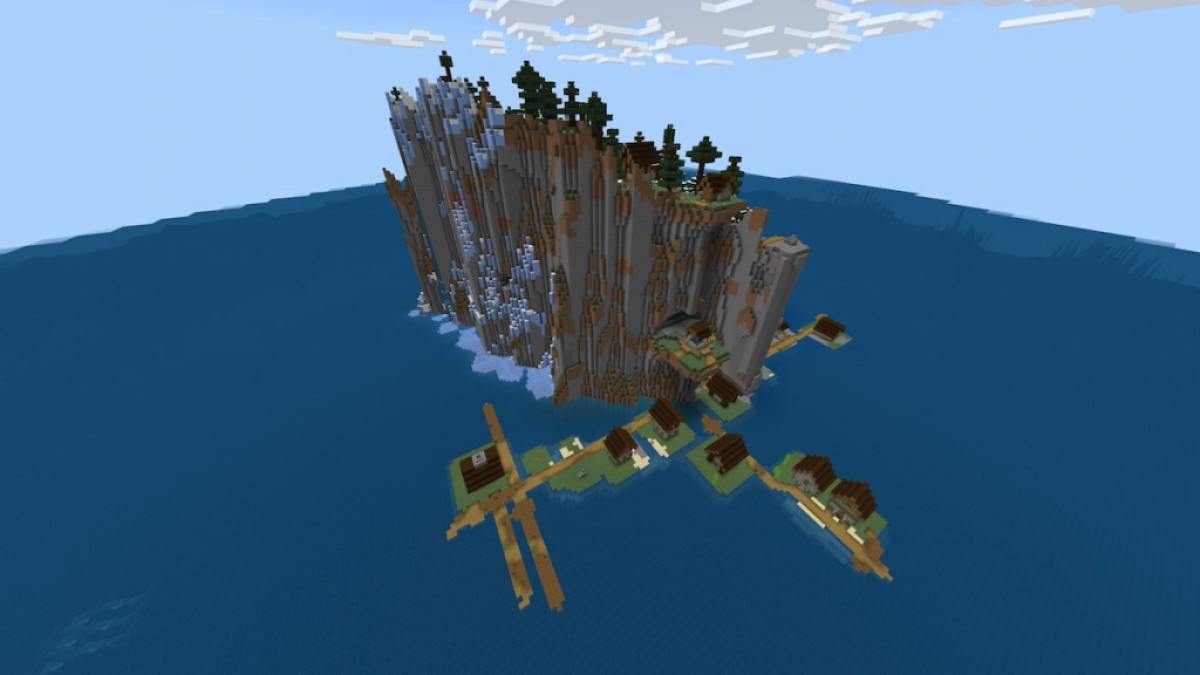 Map seed: 6168669096356993368
Game Version: Bedrock
This village island is one of the best discovered. An X-shaped floating village spawns half-embedded into a small cliff island covered with snow and forest. There's an ocean monument right beside the village under the surface. But that's not all! If you do a bit of island exploration, you will find a single-block tunnel that leads deep underground to an ancient city with a stronghold. There are also two combined mineshafts and a Ruined portal. There's also an End portal in the city itself, which makes this seed one of the most feature-rich seeds ever found!
5 - A Village with an Outpost, Ruined portal, and Cavern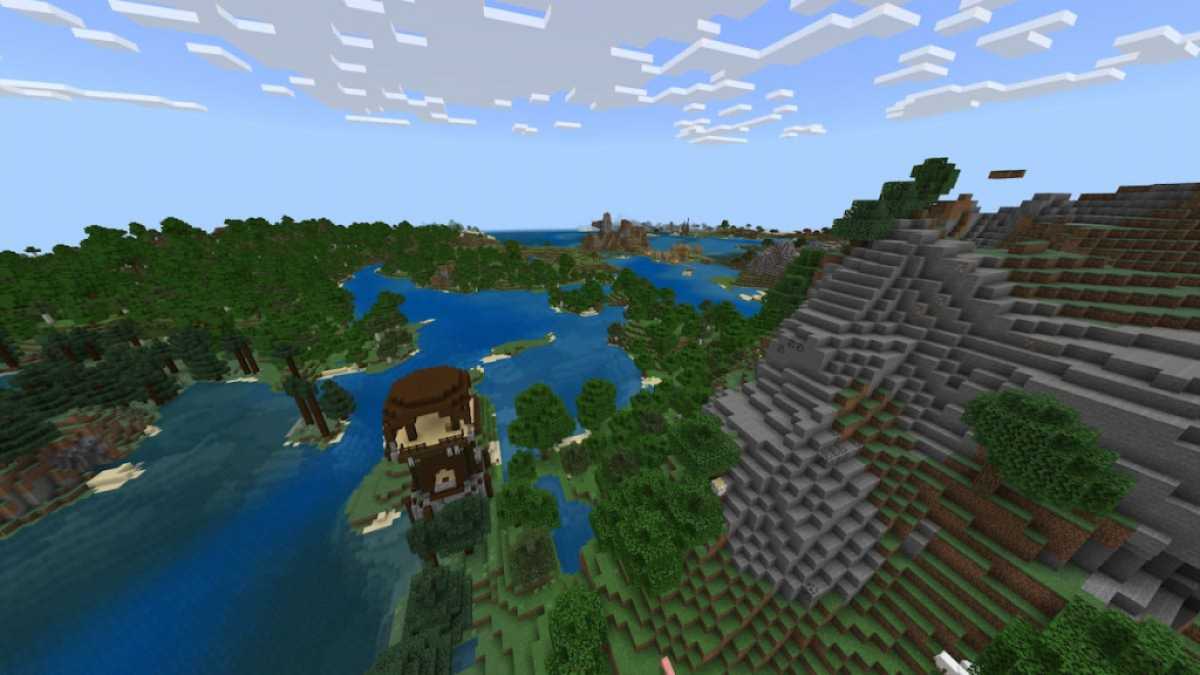 Map seed: -4559868957062083373
Game Version: Bedrock
This seed is one of the luckiest in Minecraft, featuring a unique combination of elements and beautiful structure arrangements. This world features something for everyone, a lush underground cave perfect for exploration and dungeon adventures, a village with a nearby outpost, and a beautiful Mansion overlooking a vast expanse near the outpost. You can access the cave by diving into an overgrown ravine beside the Mansion. The possibilities are almost endless with this beautiful seed, and the only limit is your imagination!
4 - Best Mountainside Backdrop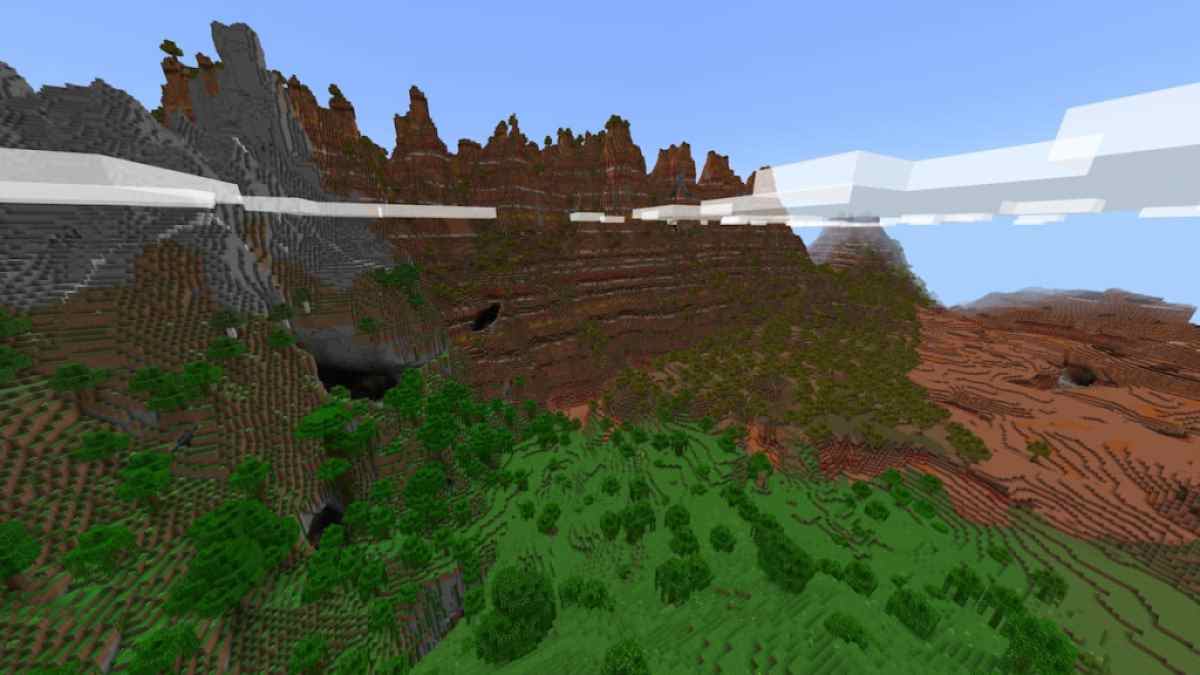 Map seed: 746939950032865412
Game Version: Bedrock
This seed has probably one of the most colorful and breathtaking mountainscapes ever discovered. The faces of the mountain chain feature a badlands biome and extend for miles. They are riddled with deep ravines ripe for exploration.
3 - Biome-diverse survival map
Map seed: 4026541781358269797
Game Version: Bedrock
If you're looking for a survival game with plenty of biome diversity, this seed is definitely for you! You will spawn in a beautiful mountain range with a village nearby. There will be cold biomes to the northeast of your position and warmer, desert-like biomes to the southeast, creating a perfect distribution and a simulation of climate belts.
2 - Desert City with a Mansion near the Mangrove Forest
Map seed: -8450008732085704067
Game Version: Bedrock
This excellent seed offers plenty of features just a stone's throw away from where you spawn. This is one of the rarest desert village spawns we have ever found. On one side of the village, there's a mangrove forest, and on the other plenty of bamboo vegetation. There is a Mansion spawned on the cliffside on the other side of a small river overlooking the village. If you climb on top of it, you will see that many similar villages and some temples surround you. As a bonus, a stronghold lies below the village underground. It's a truly unique and diverse seed, ripe for exploring.
1 - Tower next to the Village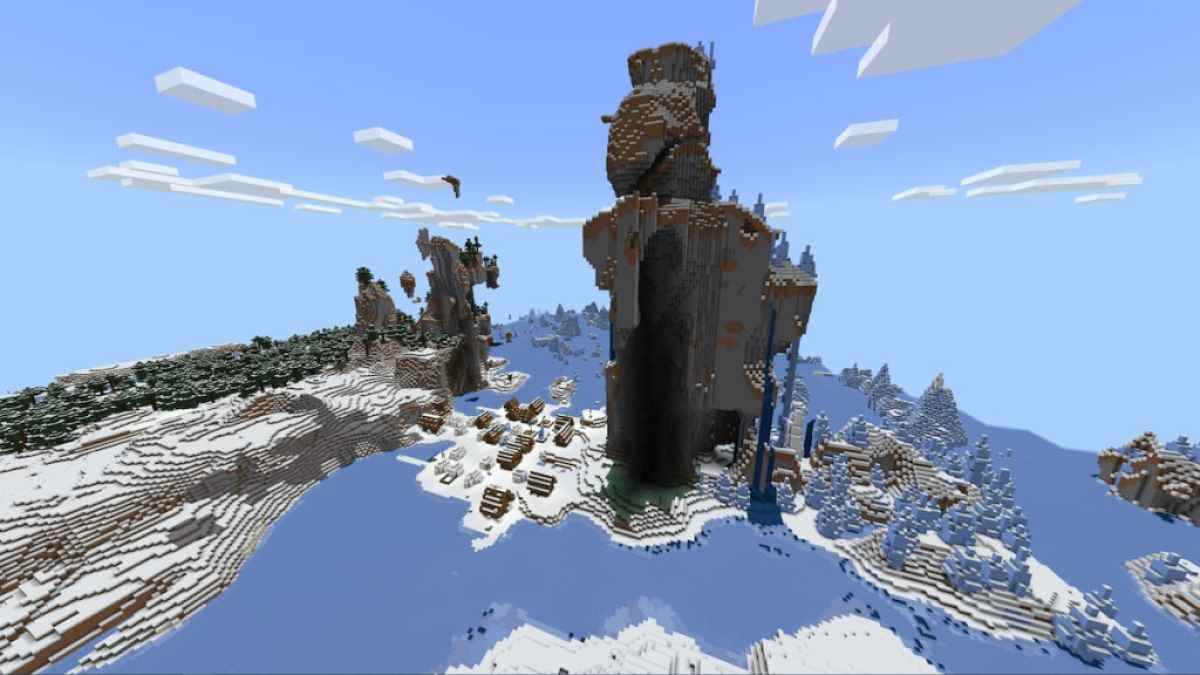 Map seed: 5247087368916921300
Game Version: Bedrock
This seed is simple, just as it is beautiful. You will spawn close to a village towered over by a massive rock formation. Building options here are plenty, as the cliffside can serve you well as a foundation for your base of operations. The area around the village has some interesting vertical terrain features as well.
We have what you need if you're looking for more Minecraft articles! Check out Best Enchantments in Minecraft – Best Armor, Sword, Pickaxe, Trident Enchantments & More! and Best Minecraft Seeds (February 2023) 1.19 – Xbox One, PS4, & All Platforms! here on Pro Game Guides!