Goading the Grapes is an Octopath Traveler 2 side story you can find in Western Conning Creek Coast in the Harborlands. It concerns a Grape Farmer looking for tips on how to grow the fruit in his vineyard. Here's where you can find the information you need.
How to complete Goading the Grapes in Octopath Traveler 2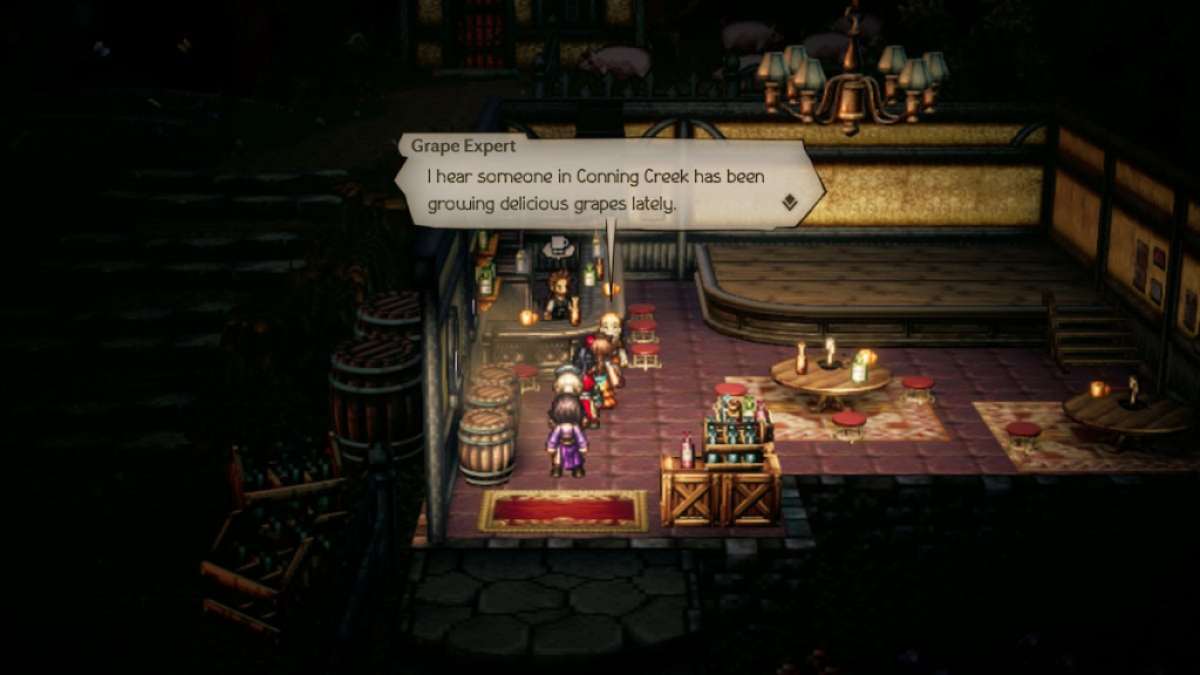 The piece of information needed to complete this quest can be found in Cropdale, Leaflands (where Agnea lives). The person you're looking for is the Grape Expert in the Tavern. Scrutinize with Osvald or Inquire with Castti to receive Tricks for Growing Grapes. Take your knowledge back to the Grape Expert, and he'll give you a ton of expensive rewards.
Aside from the first wave of rewards, we later found that he manages to get the vineyard flourishing to the point where they bear Healing Grapes on occasion. You can drop by to pick up a couple every now and then.
Related: How to complete The Soused Nobleman in Octopath Traveler 2
If you're stuck resolving a quest like this one, just remember to Steal/Entreat/Purchase all suspicious-looking items and Inquire/Scrutinize every NPC you can in every town visit. You never know when the information and items will come in handy. Chances are, they're for a quest you can only access in a town levels above your current one. A Present for My Son is a very good example of this.
For more help with Octopath Traveler 2, take a look at How to complete The Bourgeois Boy in Octopath Traveler 2 and How to complete A Gambling Man in Octopath Traveler here at Pro Game Guides.