Ramattra is a tank hero that has been added with season two of Overwatch 2. Junker Queen and Ramattra expand the tank roster in Overwatch 2, using the new design philosophies of having a single tank. Ramattra is considered a tempo tank with many unique abilities. Here is our guide for Ramattra in Overwatch 2.
Ramattra Abilities Explained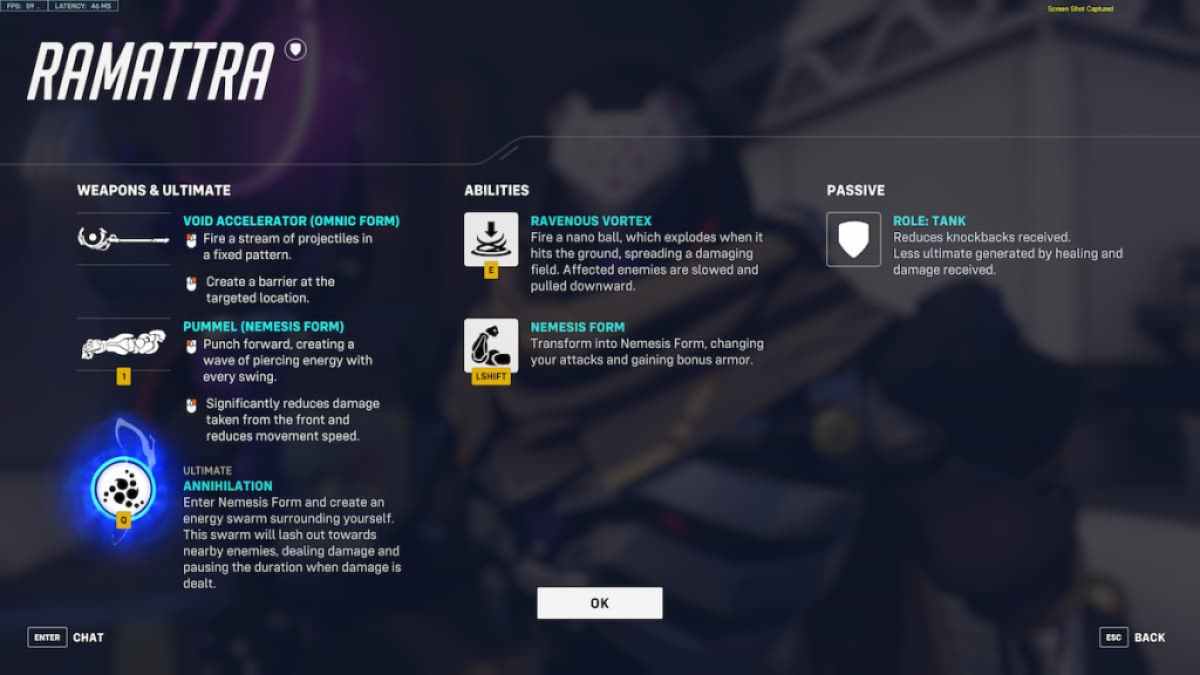 Weapon and Ultimate
Void Accelerator (Omnic Form): Primary Fire fires a stream of projectiles in a fixed pattern. Secondary Fire creates a barrier at the targeted location.
Pummel (Nemesis Form): Primary Fire punches forward, creating a wave of piercing energy with every swing. Secondary Fire significantly reduces damage taken from the front and reduces movement speed.
Annihilation (Ultimate): Enter Nemesis Form and create an energy swarm surrounding yourself. This swarm will lash out toward nearby enemies, dealing damage and pausing the duration when damage is dealt.
Abilities
Ravenous Vortex: Fire a nano ball, which explodes when it hits the ground, spreading a damaging field. Affected enemies are slowed and pulled downward.
Nemesis Form: Transform in Nemesis Form, changing your attacks and gaining bonus armor.
Passive
Role: Tank - Reduces knockback received. Less ultimate generated by healing or damage received.
Related: Best Overwatch 2 Tank Heroes, Ranked
Ramattra General Tips
Ramattra has a lot of similarities to Reinhardt's playstyle, as you want to get in close with the enemies and apply pressure with Nemesis Form. Ramattra's barrier has a very short duration; without Nemesis Form, Ramattra can die very quickly. The best tips for Ramattra are:
Rely on corners and natural cover rather than Ramattra's barrier for protection.
Nemesis Form is Ramattra's strongest ability.

Place the barrier before entering Nemesis Form as it cannot be placed during.
Pummel pierces enemy barriers.
You can Quick Melee while in Nemesis Form for additional melee damage.

Annihilation will last indefinitely while it's latched on to an enemy. It's best used on the objective where enemies want to get to.

Ravenous Vortex can help lock enemies in place during Annihilation.

Ravenous Vortex can pull Pharah and Echo to the ground. Use this to your advantage.
For more Overwatch 2 hero guides, check out Overwatch 2 Season 2 Patch Notes – All Changes & New Features here on Pro Game Guides.