Bow to your opponent before you knock them out in Karate! Do you love Cobra Kai and the Karate Kid? This game is loosely based on the hit Netflix show, and you can now choose which dojo you want to represent, Miyagi-Do or Cobra Kai! Compete in familiar karate tournaments like the All Valley Karate Tournament and finish your opponent with a crane kick.
The codes you can use in Karate! are for experience boosts. Use these codes before fighting an opponent to gather experience points and help you rank up. These codes are helpful to new players and will help you get out of the white belt status.
Do you enjoy beating down and fighting other Roblox players? We have a list of codes that will help you become a more experienced fighter in these games. Claim these codes in Karate Kick Simulator Codes, Roblox Power Fighting Tycoon Codes, Super Power Fighting Simulator codes, Anime Fighting Simulator Codes, and Anime Fighters Simulator Codes.
All Karate! Codes List
Updated October 28, 2022

Added three new Karate! codes! New info added to claim codes.
Karate! Codes (Working)
Here's a look at all the working Karate! codes.
BLASTOFF—Redeem for 1 hour of 2x XP (New)
DOUBLEXP—Redeem for 1 hour of 2x XP (New)
RAININGYEN—Redeem for 100 Yen (New)
Karate! Codes (Expired)
These Karate! codes no longer work.
NEWMAP—Redeem for 2 hours of 2x exp
sry4shutd0wn$—Redeem for 2 hours of 2x exp
Karate! Frequently asked questions
Here's everything you need to know regarding Karate! codes.
How to redeem Karate! codes
Redeeming codes in Karate! is simple. Follow our instructions below.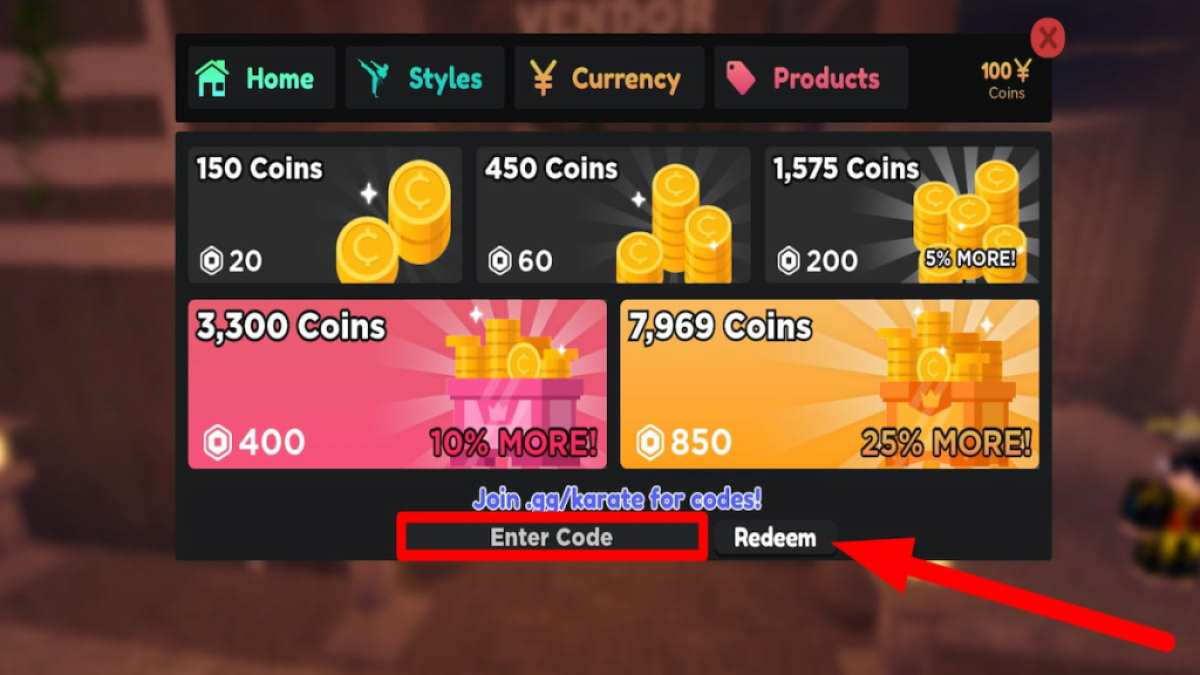 Launch Karate! on Roblox.
Go to the Style Vendor dressed in black.
In the Home tab, enter the code into the Enter Code text box at the bottom of the Menu window.
Click on the Redeem button to claim your rewards.
How to get more Karate! codes
To get the latest Karate! codes from the developer Κarate join their Karate! Discord Server. Here at Pro Game Guides, we have all the latest code drops from the developer bookmark this page and make sure to return often to redeem all the freebies available.
Why isn't my Karate! codes working?
There may be several reasons why your Karate codes are currently not working. These codes may be expired, most codes in Roblox experiences are time-sensitive, and the developers are the final say when a code expires. Claim the codes as soon as possible from our working list to avoid missing out on any rewards that may disappear soon. These codes could be mistyped or missing the correct punctuation. Ensure that you copy and paste the codes from our list to avoid making any mistakes when claiming your freebie.
What are the basic controls in Karate!?
To climb the ranks and get belts in Karate! you will need to understand and master the basic controls to improve your fighting style. Learn these controls to take down other players more quickly.
Controls
"LCTRL" key—Combat
"LCLICK" (Mouse)—Punch
"RCLICK" (Mouse)—Block
"Q" key—Left Kick
"E" key—Right Kick
"Z" key—Bow
"X" key—Sit
What is a Karate! game?
A Karate! game is a fighting simulator. Go one-on-one against other players in this game to level up and get different color belts. Outsmart and beat down your opponents by blocking and attacking at the right time. Do you have what it takes to become one of the first players to get a black belt and become a sensei?
If you're looking for codes for other games, we have a ton of them in our Roblox Game Codes post! You can also get a bunch of free stuff via our Roblox Promo Codes page.