In the world of Roblox Mining Simulator 2, we continue where we left off from the original with a completely revamped experience of harvesting and selling rare gems to become the ultimate spelunker! Right from the start, players set out to get the best equipment and harvesting tools to maximize their profits in the lucrative world of mining!
You can give yourself a boost in the game by using our codes list below to claim free rewards. These codes often provide you valuable resources, such as Coins, Crates, and even exclusive Eggs! Coins are the main form of currency in the game and can be used to upgrade your gear. Crates unlock special skins for your equipment, and Eggs hatch powerful pets that can greatly increase your profits as a miner!
While you're using our Mining Simulator 2 codes list, don't forget to check out our comprehensive list of Roblox codes for many other great Roblox games! We have the latest codes for other similar simulator games like Soda Simulator X, Dragon Fighting Simulator, and Stone Miner Simulator. If you want codes for related Roblox games that aren't simulators, use the lists we have for Minerscave and Minerblocks, two Minecraft-themed Roblox games!
All Roblox Mining Simulator 2 Codes List
Updated June 24, 2022

No new codes today. Check back over the weekend!
Roblox Mining Simulator 2 Codes (Working)
Here's a look at all the working Roblox Mining Simulator 2 codes.
UltraLuck—Redeem for 30 minutes of Ultra Lucky (New)
MegaLuck—Redeem for 30 minutes of Ultra Lucky (New)
Lucky—Redeem for a Luck Boost (New)
SuperLucky—Redeem for a Super Luck Boost (New)
FreeGems—Redeem for 150 Gems
Trading—Redeem for 250 Gems
Gems—Redeem for 50 Gems
RareCrate—Redeem for a Rare Crate
Release—Redeem for 100 Coins
FreeCrate—Redeem for a Basic Crate
FreeEgg—Redeem for a Basic Egg
Roblox Mining Simulator 2 Codes (Expired)
These Roblox Mining Simulator 2 codes no longer work.
Roblox Mining Simulator 2 Frequently Asked Questions
How to Redeem Roblox Mining Simulator 2 Codes
Redeeming codes for free rewards in Roblox Mining Simulator 2 is easy.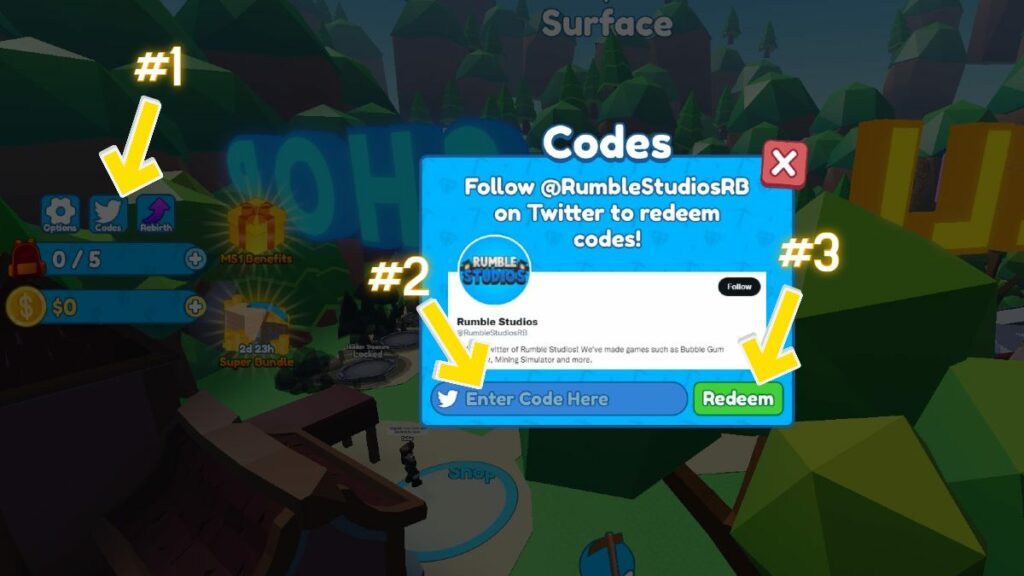 In the game, press the Codes button on the left side of the screen.
In the text box, enter the code exactly as it appears in the list above.
Press the Redeem button to claim your reward!
How can you get more Mining Simulator 2 codes?
Mining Simulator 2 developer Rumble Studios is a well-known Roblox developer with an established presence on Roblox and many other social media platforms. This is beneficial for the player, as they typically inform their players of new codes on Twitter or on the game's official Discord server. Those are the fastest way to get codes as soon as they drop. However, the easiest way to get new codes is to bookmark this page and check back if you notice there has been an update to the game. We do all the tedious work for you so you don't have to monitor Twitter or Discord for codes, and they're added to the page as soon as they're available!
What are Crates and Eggs in Mining Simulator 2 and how do I get more of them?
Crates are rare objects in Mining Simulator 2 that can be opened to roll for rare skins for your gear. Unique skins are typically more rare, while the more boring skins are usually more common. You can get crates by claiming codes or finding them in chests while mining. You can also get them if you Rebirth your character so you can purchase them in the shop!
Eggs are similar in function to many other Roblox simulator games. When they hatch, the game rolls to through an assortment of pets that vary in value and rarity. The more valuable the pet, the bigger a boost it will provide to your selling and harvesting rates. To buy a new egg, you can go to the Egg stands that are at the surface and interact with one of the large eggs to roll for a creature they contain.
What is Roblox Mining Simulator 2?
Mining Simulator 2 is a revamped version of Mining Simulator 1, a popular Roblox simulator game by the same developer. In the game, you must dive into the mining areas to mine for rare and valuable gems that you can sell to add coins to your in-game wallet. You can then use these coins to purchase more powerful equipment to make mining easier or more profitable. Your main goal is to become the ultimate miner by purchase and mining with the best gear and the biggest coin stash!
If you're looking for codes for other games, we have a ton of them in our Roblox Game Codes post! You can also get a bunch of free stuff via our Roblox Promo Codes page.