Bees don't only collect honey; they also race each other in this fun Roblox Bee Race experience. Become a bee and race your way to the finish line by trying to build your speed. For each checkpoint you cross, you earn Wins, which can be used as currency to purchase cute pets that assist you in your races. Earn enough Wins, and you can re-birth, allowing you to travel to new regions of the world.
You can earn some Wins, pets, and boosts by using in-game codes. Developers give out codes for players to claim free items that help them get a headstart in their experience. You can claim other free rewards for games like this, such as Roblox Bee Farm Codes or Roblox My Bee Tycoon Codes.
All Roblox Bee Race Codes List
Roblox Bee Race Codes (Working)
Here is a look at all the working Roblox Bee Race codes.
RELEASE—Redeem for a free Happy Red Dragon Pet reward!
Roblox Bee Race Codes (Expired)
These Roblox Bee Race codes are no longer working.
UPDATE—Redeem for free Wins reward!
Related: Bee Swarm Simulator Codes – Free buffs, honey, & boosts
How to redeem codes in Roblox Bee Race
Redeeming codes for Roblox Bee Race is a quick and easy process.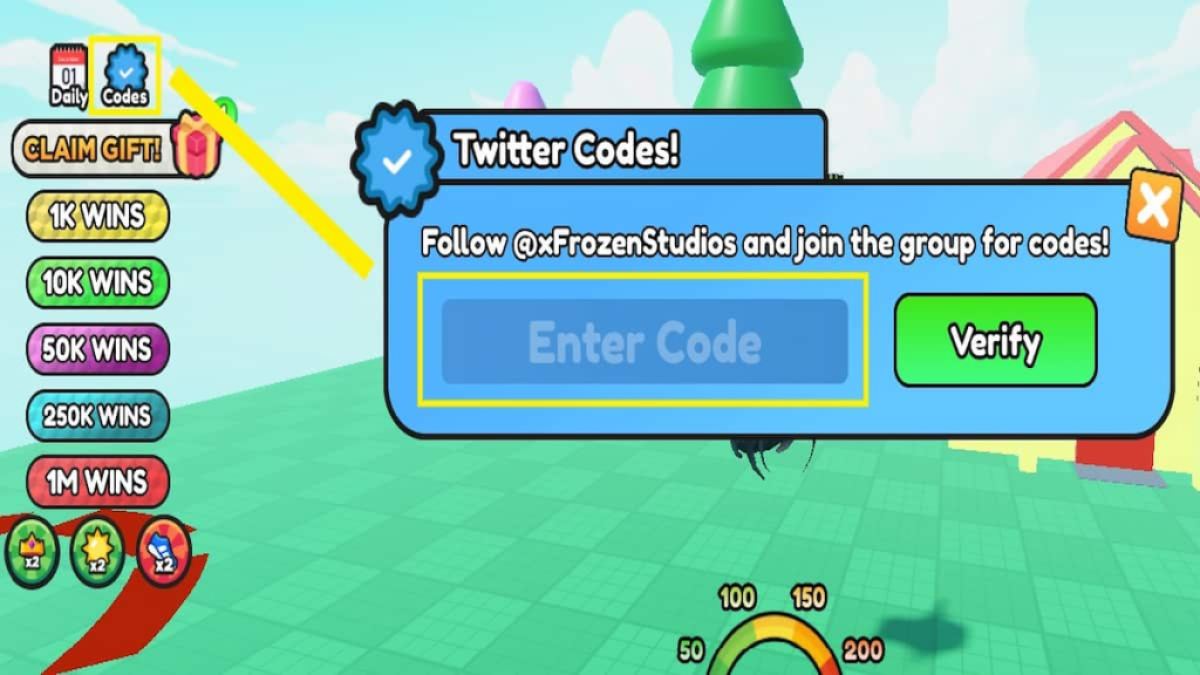 In the game, open the Codes menu, symbolized by the checkmark icon on the left side of your screen.
Type your codes into the text box exactly as shown in the list above.
Press Verify to enjoy your rewards!
How can you get more Roblox Bee Race codes?
Developers usually give out codes during an event, update, or as a goal is met, such as a specific number of likes reached. Some developers will place them directly in the game's image or description to notify players when they are available. However, other developers might require you to follow them on their social media pages, such as Twitter or Discord. You can follow this experience on their Twitter, @xFrozenStudios. For your convenience, you can also bookmark this page and check back whenever to see when new codes are added.
Why aren't my Roblox Bee Race codes working?
There are various reasons why your codes may not be working correctly. The most common reason is that codes may have already expired. Since codes are regularly cycled in and out of the game, they can expire with little to no notice. We try to keep our lists updated, but if you notice a change before us, feel free to leave a comment below, and we will try to fix it as soon as possible.
It is also important that you double-check your spelling when entering codes. They are almost always case-sensitive, meaning the slightest typo could make them appear invalid. Ensure you are entering them exactly as shown in the list above, or if the game allows, I like to copy and paste to avoid any issues.
Other ways to get free rewards in Roblox Bee Race
Roblox Bee Race has so many other ways for you to collect free rewards. Not only do they have daily gifts you can claim every day you join in, but you can also claim Playtime Gifts the longer you stay in the game. You can find Daily and Playtime Gifts on the left side of your screen, one with the calendar icon and the other with a big present icon. You can also claim some exclusive rewards by joining the developer's group, xFrozen Obbys (hyperlinked here), and giving the game a like. After you do this, find a present with balloons in the lobby and step on it to claim your rewards!
What is Roblox Bee Race?
Even though bees used to scare me (and maybe still do a little), I can't deny that they are one of the cutest little critters, which is why this Roblox Bee Race is such a fun and unique Simulation Clicker experience. You become a bee and must race through various courses as fast as you can before time runs out to gain Wins. Wins are used as a currency to purchase eggs that hatch little pet sidekicks that assist you in your races by boosting your speed. At the start of each race, you'll have a few seconds to boost your speed by clicking as fast as you can with your mouse. Then, zoom your way through as many times as you can to increase your Wins. Eventually, you can use your saved Wins to rebirth and head off to new locations with increased difficulty.
If you're looking for codes for other games, we have a ton of them in our Roblox Game Codes post! You can also get a bunch of free stuff via our Roblox Promo Codes page. And in the meantime, take a look at the latest news to stay up-to-date on all things entertainment.