Updated: October 3, 2023

We searched for new codes behind so many doors!
Most times, I find Roblox horror games to be hit or miss. Sometimes, they have good scares and tense action. Other times, I find myself struggling with controls or limited resources, making it harder to enjoy the game. That's why Roblox DOORS is one of my favorite experiences on the platform; It's fun and has enough polish to make me want to come back to the game.
The new Roblox DOORS codes will reward you with free Knobs that you can use at the start of your run to purchase items like Vitamins and Lockpicks to help you survive longer and take shortcuts through the game. Use these codes when the game gets challenging.
Every door in Roblox DOORS might lead you straight to your death! It is up to you to find the way out of this endless maze of puzzles and rooms to come alive. Using your detective skills and the process of elimination, you can get further in this game with each run. To help you out, we have collected some codes for you.
All Roblox DOORS Codes List
Roblox DOORS Codes (Working)
THREE—Redeem for a revive and Knobs
SCREECHSUCKS—Claim this code for 25 Knobs
Roblox DOORS Codes (Expired)
2BILLIONVISITS—Redeem for a revive and 100 Knobs
SORRYBOUTTHAT—Claim this code for 100 Knobs and 1 Revive
SORRYFORDELAY—Claim this code for 100 Knobs and 1 Revive
ONEBILLIONVISITS—Claim this code for 100 Knobs, 1 Revive, and 1 Boost
PSST—Claim this code for 50 Knobs
LOOKBEHINDYOU—Claim the code for 10 Knobs and 1 Revive
TEST—Claim the code for one Knob
500MVisits—Claim the code for 100 Knobs and 1 Revive
100MVISITS—Claim the code for 100 Knobs and 1 Revive
How to Redeem Roblox DOORS Codes
It's easy to redeem codes for free rewards in Roblox DOORS. To do so, follow the instructions below.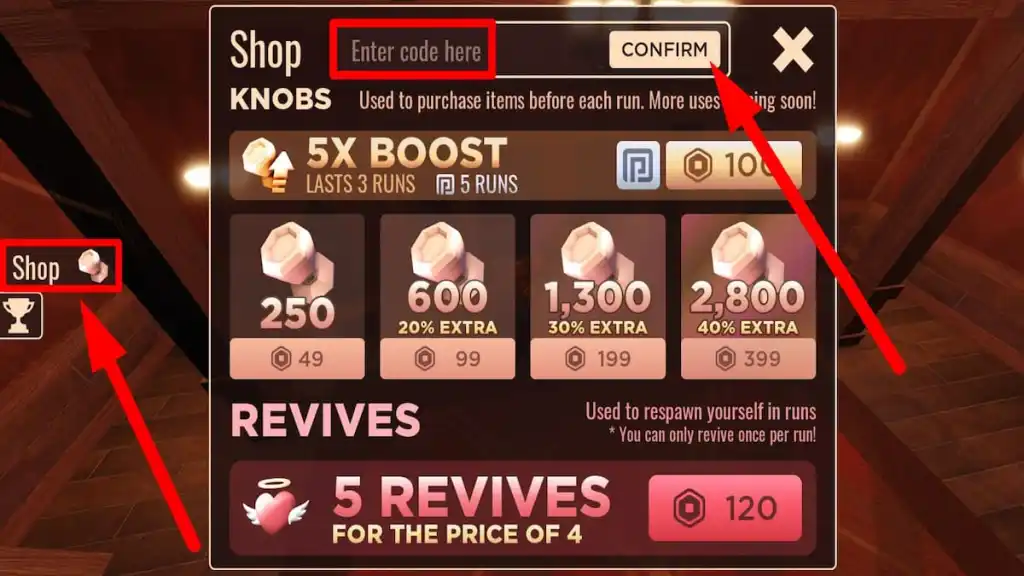 Launch Roblox DOORS.
Click on the Shop button on the left-hand side of the screen
In the Shop menu, click on the Enter code here text box on the top of the screen.
Click CONFIRM to redeem your reward.
How can you get more Roblox DOORS codes?
To get the latest codes for Roblox DOORS, follow the developer LSPLASH on Twitter @DoorsRoblox and join their LSplash Official Discord Server. Bookmark this page because Pro Game Guides has you covered when it comes to all the latest codes from the developer!
What are all the DOORS entities in the new update?
The long-awaited Hotel+ update has finally arrived and with it has come new rooms, keys, items, and, of course, entities. The list below details all of these newly added entities and what they do.
Snare

Snare is one of the most infuriating entities in the entire hotel, so it's a good thing it can only be found in The Greenhouse! Once you've made it to The Greenhouse, Snare will plant itself somewhere in the grass, waiting for the perfect moment to strike. If you accidentally step on Snare, you'll be trapped in place for three to four seconds, unable to escape from the Rush or Ambush that's likely on its way, and damaged 10 points. Having a flashlight or lighter that you can use to look for Snare is imperative in The Greenhouse!

Void

In multiplayer servers, Void only "attacks" those who stray away from the group, though it doesn't actually deal any damage and simply teleports them near the other players. If everyone on your team stays together, you shouldn't have to worry about running into Void.

El Goblino

Looking for a nice place to relax in the midst of door-opening chaos? Pull up a chair next to El Goblino and stay a while! This friendly entity is located in the room after The Library and can be spoken to upon interaction, which makes it one of the most peculiar entities in the entire hotel. Not only does it appear harmless, it is harmless, offering no damage or even a jump scare to the player. After interacting with El Goblino a handful of times, it will eventually stop responding and simply look at you.

Bob

Where there's an El Goblino, there's a Bob! Bob is a friendly entity who, upon interacting with it multiple times, does nothing and says nothing, at least not while non-entities are around. Bob enjoys sitting in a comfortable chair and listening to its best friend, El Goblino, talk about anything under the sun. Life is simple for Bob, and it seems ok with that.

Jeff

Jeff is a friendly, non-damaging entity who works at the mid-hotel shop and provides players with a variety of items that can be purchased with Gold. In game, all that can be seen of this entity are its glowing eyes, though it's been revealed that Jeff has long tentacles that it uses to restock the shop's inventory when it gets low, thanks to the PLS DONATE booth inspired by it. After a purchase is made at the shop, Jeff's eyes will light up, showcasing its assumed happiness to help the player.

Dupe

Added with the long-awaited Hotel+ update, Dupe is a mischievous entity whose main goal is to cause the player confusion and then strike when they least expect it. As you maneuver throughout the hotel, you may reach a room that has two numbered doors inside of it, rather than the usual one. When this happens, be sure to enter through the door that makes sense chronologically—for example, if you just walked into room 31, and you see two doors waiting for you (32 and 33), enter door 32, not door 33. If you enter the doors out of order, skipping over the right door, Dupe will jump out and attack you, knocking you over and taking a portion of your health.
What are all the DOORS achievements and badges?
DOORS has over If you're looking for a quick peek at every badge, check out the list below.
What is DOORS?
DOORS is a first-person horror game where you will need to navigate your way to the end of a level by unlocking doors. Some doors will lead you to your death, and some doors will need you to complete a puzzle to unlock them. The further you get and the longer you stay alive in this game, the higher you will score on the leaderboards.
Find the scariest experiences on Roblox. We have the codes to help you in these popular games to help you outlive the other players and climb to the top of the leaderboards in Roblox Nanny [HORROR] Codes, Roblox Bear Codes, Apeirophobia Codes, and Escape the Darkness Codes. Be sure to bookmark this page to check for new codes added daily!
If you're looking for codes for other games, we have a ton of them in our Roblox Game Codes post! You can also get a bunch of free stuff via our Roblox Promo Codes page.