One fish, two fish, red fish...pixelated fish? Hop into the sea and become an adorable Roblox-style fish in Fish Simulator! If you like Pet Simulator X or Weapon Fighting Simulator, you'll love this coin-collecting experience! For an extra boost on coins, be sure to read through our OP code list before you start swimming!
Each Fish Simulator code listed below unlocks a unique in-game bonus—from piles of currency, including Pearls and Coins, to exclusive items, these codes have it all! If you're looking for even more freebies, be sure to check back with this article regularly—we update this list as soon as new codes come out! If you find a code in the Working Codes section that seems expired, please let us know so we can remove it as soon as possible. Keep in mind, also, that you'll need to enter each code exactly as it's written or the experience won't accept it!
If you're looking for more Roblox content to browse while you wait for new codes, check out some of our related guides including How to invite people to your bank in Roblox Pet Simulator X, How to level up weapons fast in Roblox Weapon Fighting Simulator, or How to get Chikara Shards fast in Roblox Anime Fighting Simulator!
All Fish Simulator Codes List
Fish Simulator Codes (Working)
Here's a look at a list of all the currently available codes:
NEWSEASON—Redeem for 7K Pearls
MYTHICAL—Redeem for 7K Pearls
FISHSQUAD—Redeem for 3K Pearls
LETSGO—Redeem for 3K Coins
NUCLEAR—Redeem for 3K Pearls
APOCALYPSE—Redeem for 3K Pearls
MUMAZING—Redeem for 500 Coins
VALENTINE—Redeem for 7K Pearls
FISHGOALS—Redeem for 3K Pearls
SUNKEN—Redeem for 3K Pearls
BOSS—Redeem for 3K Coins
GOLDEN—Redeem for 3K Coins
LITTLEFISHY—Redeem for 500 Coins
KANSHY—Redeem for 500 Coins
RUSSO - Redeem for 500 Coins
WOOHOOLIKES - Redeem for 500 Coins
CALAMITY - Redeem for 500 Coins
FLYES - Redeem for 7K Pearls
BARO - Redeem for 7K Pearls
RELEASE - Redeem for 1.5K Coins
Fish Simulator Codes (Expired)
These codes are no longer available and can't be redeemed!
Redeeming Fish Simulator Codes
How do I enter codes in Fish Simulator?
It's easy to redeem codes for free rewards in Fish Simulator! To do so, simply follow the steps below.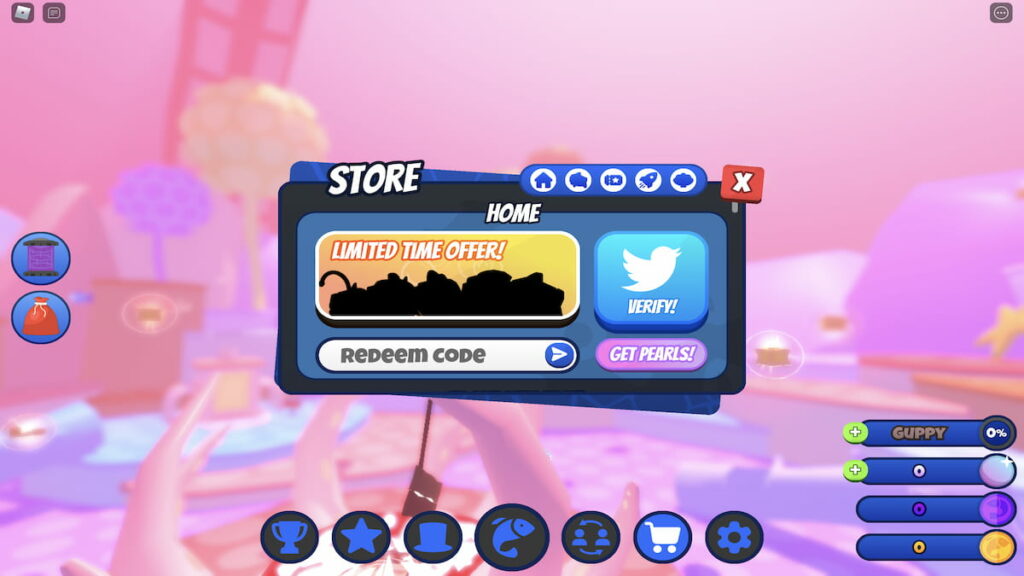 Launch the experience
Click on the Fish icon that's located at the bottom of the screen
Click on the shopping cart icon
Enter each working code into the text box that appears
Press confirm to receive your free reward!
How do I get more Fish Simulator codes?
The best ways to stay up-to-date on codes are checking back with this article, following Baro, the main programmer of Fish Simulator, on Twitter, joining the RoyalFire Studios Discord server, and joining the RoyalFires Simulators Roblox group. Codes for this experience are typically released after large milestones, including high numbers of experience visits, likes, and favorites!
Why aren't my codes working?
Not all Roblox codes are active for the same amount of time, meaning some expire exceptionally quickly and may even become inactive after 24 hours or less! If you attempt to enter a code and it says Code Expired, that code is no longer active and, unfortunately, can no longer be redeemed. There's nothing that you can do to fix this issue, the code is simply unobtainable. If you attempt to type in a code and it says Invalid Code, however, this means that you've likely mistyped the code or neglected to use the correct capitalization. If this happens, try to retype and re-enter the code once more, being sure to copy it exactly as it's written!
What is Fish Simulator?
Swim through and explore a variety of mystical realms, farm for bubbles, unlock unique skins, and more in Fish Simulator! Not only do you get to play as an adorable fish yourself in this experience, you can make friends with tons of other fish too! As the experience's description mentions, the Fish Simulator world is your oyster!
If you're looking for codes for other games, we have a ton of them in our Roblox Game Codes post! You can also get a bunch of free stuff via our Roblox Promo Codes page.