Are you brave enough to enter the GOOFY AHHRENA? Don your favorite football kit and dive into a randomized arena to battle your Roblox friends and other players. Claiming KOs will earn you cash that you can then spend on new skins and emotes for when you celebrate your victories! Can you leave the GOOFY AHHRENA as the victor and claim the spoils?
Entering the codes below will reward you with either currency (doubloons or footballs) or items. Cash can be spent via the NPC vendors in the AFK area to purchase emotes and skins. Footballs can be spent on rare and unique items, such as the Messi skin. If you like Roblox combat games, you should also take a look at Anime Battle Arena.
All GOOFY AHHRENA Codes List
GOOFY AHHRENA Codes (Working)
These are all the working GOOFY AHHRENA codes.
tEnKaYOhhMaaGawwd!—Redeem for 400 doubloons (New)
qwertyuiopoasdfghjklzxcvbnm—Redeem for 300 doubloons
RobloxShutdown—Redeem for 500 doubloons
SRYFORDELAYS—Redeem for 250 doubloons
FIVEKAYLIKES—Redeem for 750 doubloons
THEGOAT!—Redeem for 300 doubloons and one football
GOOFY AHHRENA Codes (Expired)
These are expired codes for GOOFY AHHRENA.
1KPLYRSLETSGOOO!—Code has expired
Related: Untitled Combat Arena Codes
How to redeem codes in GOOFY AHHRENA
Follow the instructions below to redeem codes in GOOFY AHHRENA.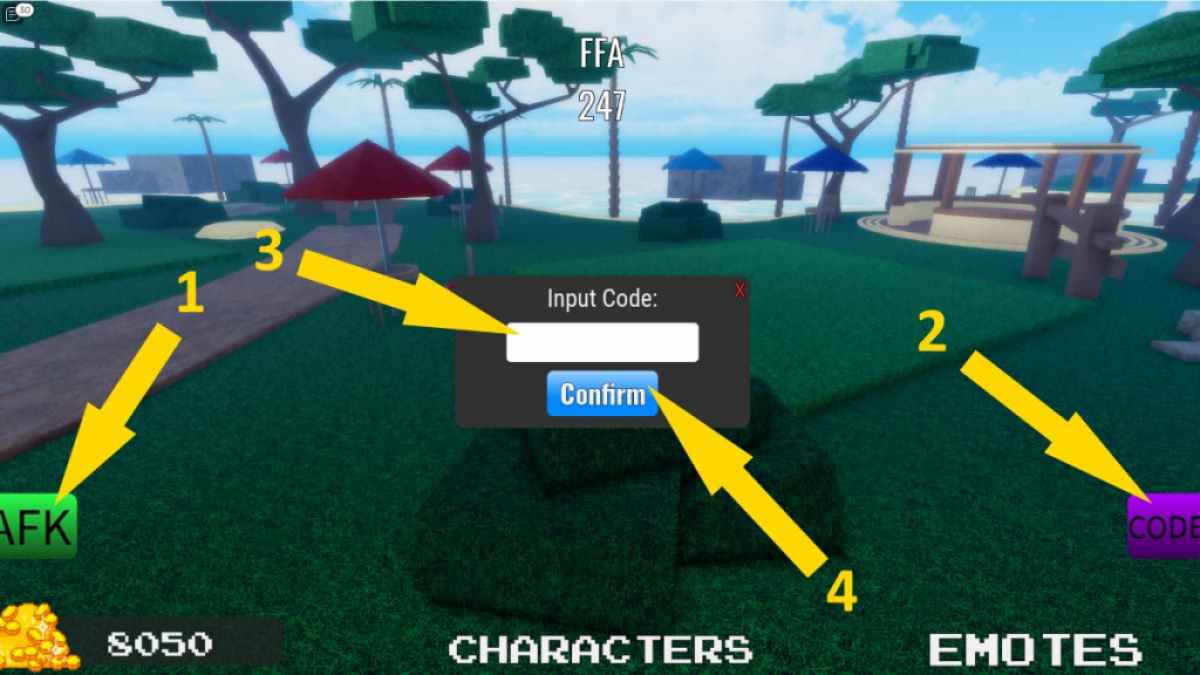 Launch GOOFY AHHRENA on Roblox. You can only enter codes when you go AFK (button on the left of the screen) from the main arena.
Press the Purple CODES button on the right of the screen.
In the white text box in the pop-up, enter the code exactly as it appears here.
Press the blue Confirm button underneath to claim your reward!
How can you get more GOOFY AHHRENA codes?
If you want to hunt for new GOOFY AHHRENA codes yourself, you can start by joining the G2E Studios Roblox Group. Real Goofy fans can also sign up to be part of the Goofy Ahhrena Discord Server, where the best channel to check for code is called game-updates. You can also subscribe to the Sayn YouTube Channel for dev videos.
Why are my GOOFY AHHRENA codes not working?
If you enter a GOOFY AHHRENA code above and it doesn't work, first check for errors. We suggest you cut and paste codes directly from Pro Game Guides because something as simple as missing a capital letter or mistaking a letter for a number can invalidate them. If you have cut-and-pasted and it still doesn't work, it may have expired. This happens to most Roblox codes over time and we can't help you with that particular one, but we will be out there right now looking for new codes to replace it.
Other ways to get free rewards in GOOFY AHHRENA
If you are looking for other free rewards in GOOFY AHHRENA, you will need to be fast on your feet. Once an Arena match begins, run around looking for footballs. They are quite rare, but if you collect them by picking them up during battles, you can spend them in the special The GOAT store on the AFK island to purchase unique items. To earn more free cash, simply stay logged in to receive regular free cash boosts.
What is GOOFY AHHRENA?
GOOFY AHHRENA is a Roblox PVP battle arena game with a football theme. When an Arena begins, players have 300 seconds countdown (five minutes) in which to do as much damage to other players as possible, racking up KOs to earn more cash. You can go AFK at any time, going to a peaceful island zone where you can spend your winnings.
If you're looking for codes for other games, we have a ton of them in our Roblox Game Codes post! You can also get a bunch of free stuff via our Roblox Promo Codes page. And in the meantime, take a look at the latest news to stay up-to-date on all things entertainment.