Your Sims in The Sims 4 will go through various life stages, including the toddler stage. It's completely understandable if you want to go to the next life stage before your game does it automatically. Just like infants need a lot of care, toddlers do as well. Here's how to get past it.
Ways to Age Up Toddlers in The Sims 4
Bake a Cake
If you want to age up your toddler, the first thing you will need to do is make them a cake and add candles to it. Here's how:
Have a teen or adult Sim bake a cake by choosing the option from a stovetop.
After the cake has been baked, drag the cake to a table or counter center and select the option to Add Candles. Do this quickly, as autonomous Sims will sometimes snag a slice, which disables the ability to add candles.
Select the Blow Out Candles option to successfully age up the toddler Sim. You'll likely have to help the Toddler do this, so have an older Sim nearby (who isn't busy) when you select the action.
Use Modify in CAS
If you want to skip making a birthday cake and wrangling your toddler to get them to blow out candles, consider using the Modify in CAS cheat. Beware, this sometimes causes Sims to not receive the Happy Toddler or Top-Notch Toddler traits if they were originally eligible. Here's how to cheat aging up:
Hit Shft+Ctrl+C on your keyboard or press all four of your triggers at once on your console's controller
Type testingcheats true into the white box on the top left of the screen. Press Enter.
In that same box, type cas.fulleditmode and press Enter. You're done with the cheat box, so hit Esc, Shft+Ctrl+C, or your controller's back button to remove the box.
Use Shift on your Keyboard and click the toddler Sim with your mouse at the same time, or click on your toddler using your A and B buttons or O and X buttons at the same time on your controller. Then, choose the option that says Modify in CAS.
You'll now be able to directly edit the Sim's age within Create-a-Sim. Hit the checkmark in the bottom right of the screen when finished.
Should you Age Up Toddlers in The Sims 4?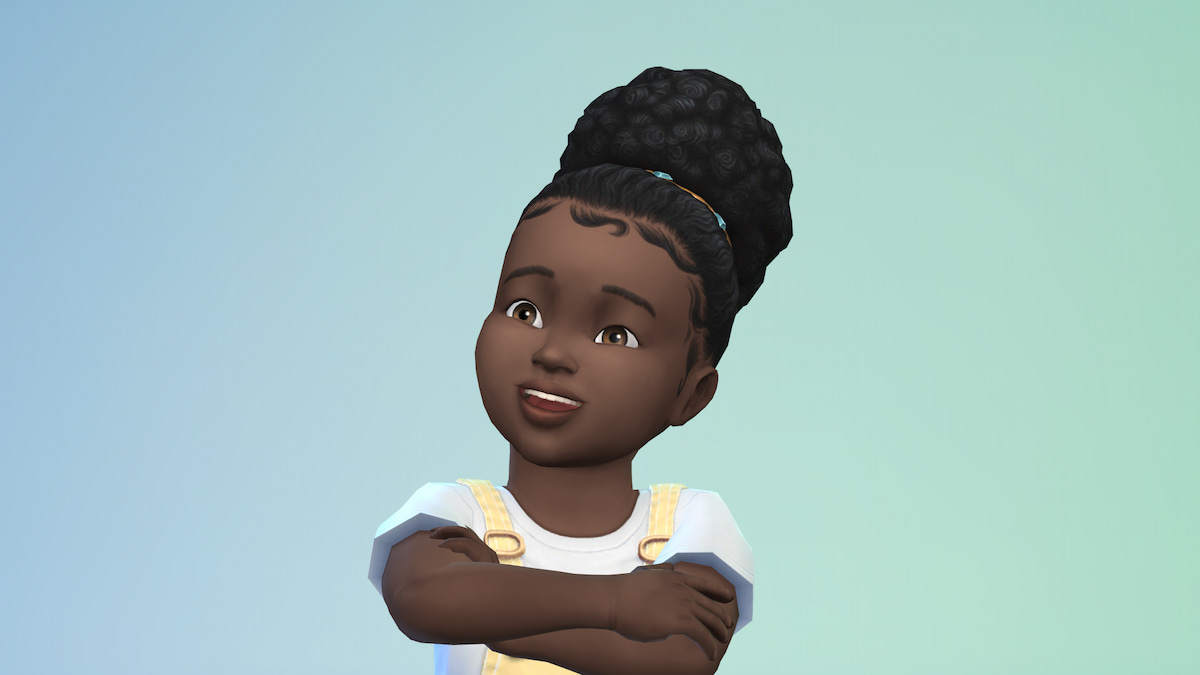 There isn't really any explicit reason you shouldn't age up your toddler in The Sims 4, but there is a reason you may want to hold off on aging them up a bit. Whenever you use the cake-baking method, your toddler will blow out candles and be returned to stand on the ground.
Once this has been completed, your toddler Sim will have an animation and shortly appear as a child sim. Depending on how much you developed their skills while a toddler, you have a chance of receiving a reward trait. You can increase the chances of this by working heavily on Communication, Potty, Movement, Thinking, and Imagination skills before aging up your Toddler. The traits you can get are:
Happy Toddler - Received when all skills are at level 3 or 4 when aging up. Will gain child skills faster.
Top-Notch Toddler - Received when all skills are at level 5 (Potty maxes out at 3) when aging up. Will gain child skills very quickly.
Why should you not Age Up Toddlers in The Sims 4?
I wouldn't recommend you do this if you're playing with the intent to control your toddler Sim as a playable character as they age. This is because the Happy Toddler and Top-Notch Toddler traits will benefit you if you're planning on grinding many of the childhood skills of that Sim. If you're just intending to have them as a member of the household that you don't play as much, then you can skip this step before aging them up.
Want to learn more about raising children in The Sims 4? If so, check out All Sims 4 Family Dynamics, explained on Pro Game Guides.