Tower of Fantasy is a vast game with tons of content for players to dive into. Almost as expansive as the many worlds within Aida are the plethora of in-game settings players can tinker around to get their best gaming experience. Whether collecting ingredients or taking down world bosses, having the best settings will streamline any action you perform in your adventures. The following are the best settings to use in Tower of Fantasy.
Basic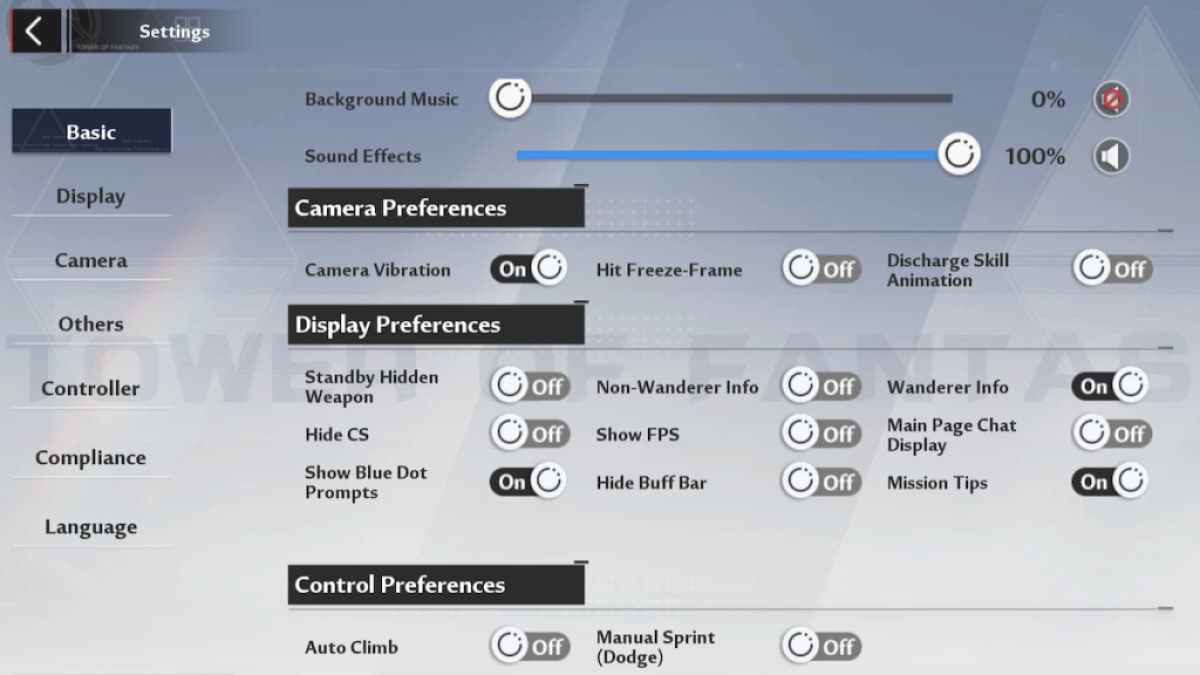 Sound Settings
Main Volume: Personal preference
Background Music: Personal preference
Sound Effects: Personal preference
Camera Preferences
Camera Vibration: ON
Hit Freeze-Frame: OFF
Discharge Skill Animation: OFF
We suggest turning Hit Freeze-Frame and Discharge Skill Animation off, as they can take a toll on your FPS and cause unnecessary disruptions in the flow of battle.
Display Preferences
Standby Hidden Weapon: OFF
Hide CS: OFF
Show Blue Dot Prompts: ON
Non-Wanderer Info: OFF
Show FPS: OFF
Hide Buff Bar: OFF
Wanderer Info: ON
Main Page Chat Display: OFF
Mission Tips: ON
Display preferences allow you to control how much information is displayed to you on the screen. Apart from the Blue Dot Prompts, Wanderer Info, and Mission Tips, turn off the rest to clear clutter from the screen.
Control Preferences
Auto Climb: OFF
Manual Sprint (Dodge): OFF
With Auto Climb turned off, you will not get stuck to walls and ledges when trying to run away from enemies quickly. Additionally, having Manual Sprint turned off allows you to Sprint every time you move forward instead of having to Dodge and use up Stamina in the process.
Related: How to unlock Confounding Abyss in Tower of Fantasy
Display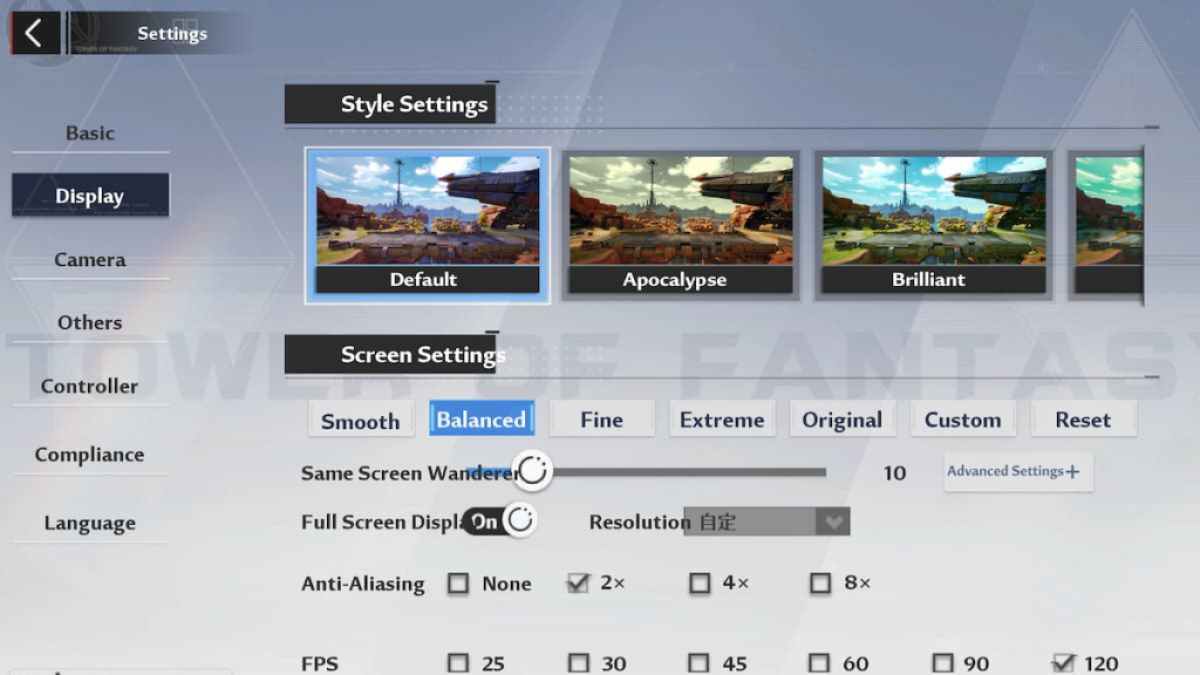 Style Settings
Screen Settings
Quality Preset: Balanced
Same Screen Wanderer: 10
Full Screen Display: ON
Resolution: Auto
Anti Aliasing: 2x
FPS: 120
Shading: ON
The most important feature here is the Same Screen Wanderer stats. This implies the number of other players who will be visible at one time on your screen. Turning this down can greatly improve performance. If you have a high-performing device, you may improve the quality preset to High or Extreme to improve visual fidelity.
Camera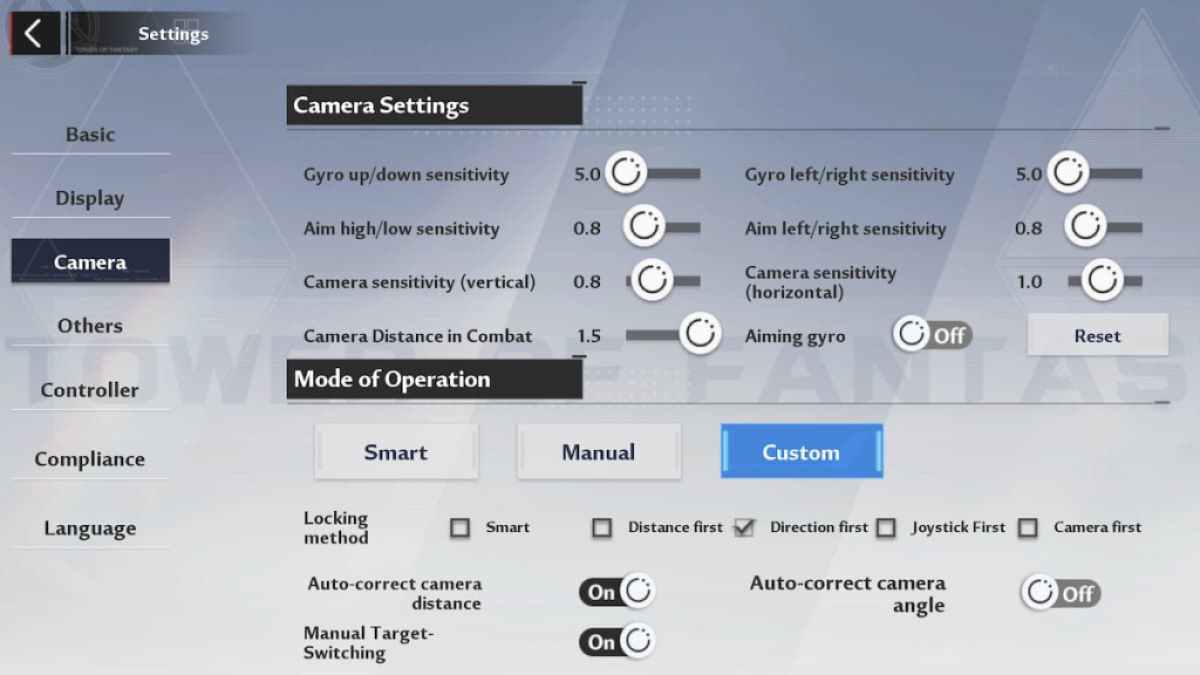 Camera Settings
Gyro up/down sensitivity: 5.0
Gyro left/right sensitivity: 5.0
Aim high/low sensitivity: 0.8
Aim left/right sensitivity: 0.8
Camera sensitivity (vertical): 0.8
Camera sensitivity (horizontal): 1.0
Camera Distance in Combat: 1.5
Aiming gyro: OFF
Sensitivity is largely personal, and you may have to find the one that suits you best. However, increase the Camera Distance in Combat to 1.5 to increase your overall visibility when in combat.
Mode of Operation
Custom
Locking Method: Direction first
Auto-correct camera distance: ON
Auto-correct camera angle: OFF
Manual Target-Switching: ON
Battle Camera: Default
Set the Locking Method to Direction first, allowing you to choose your targets based on your aim. Additionally, turn on Auto-correct camera distance to automatically have the camera zoomed out in combat.
Others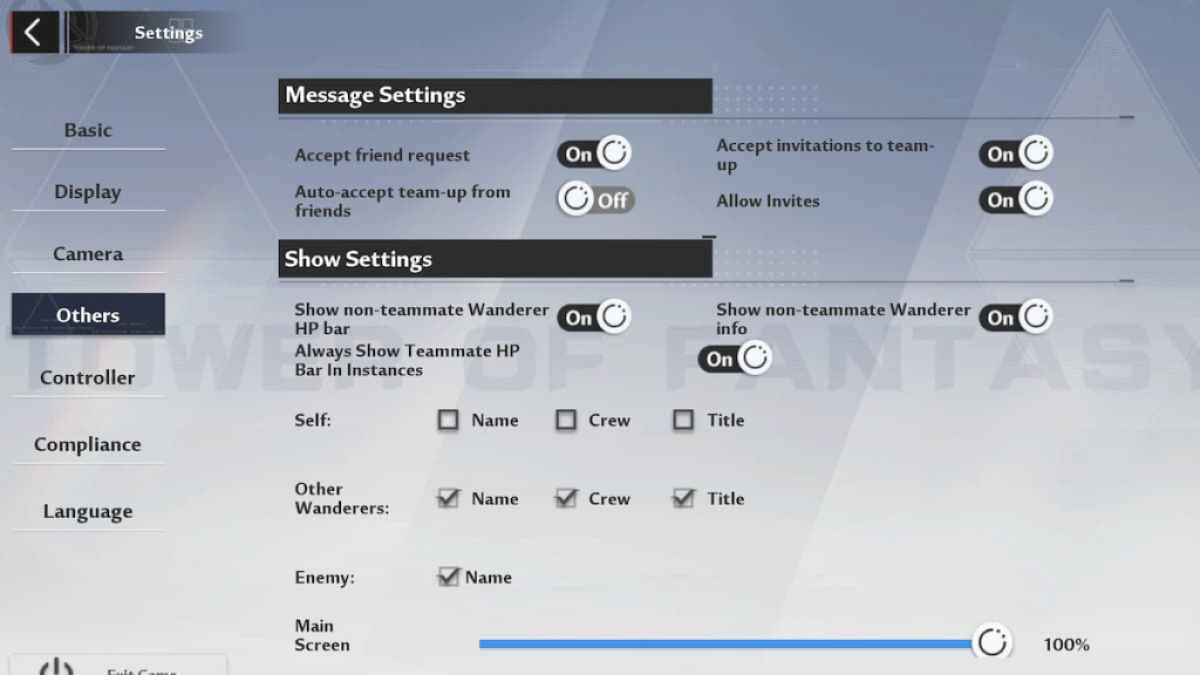 Message Settings
Accept friend request: ON
Accept the invitation to team-up: ON
Auto-accept team-up from friends: OFF
Allow invites: ON
Show Settings
Show non-teammate Wanderer HP bar: ON
Show non-teammate Wanderer info: ON
Always Show Teammate HP Bar in instances: ON
Self: None
Other Wanderers: Name, Crew, Title
Enemy: Name
Main Screen Transparency: 100%
Special Effect Settings
Wanderer skill visibility: 100%
Friendly Wanderer skill visibility: 80%
Enemy Wanderer skill visibility: 80%
Break from Destiny ally skill visibility: 100%
Break from Destiny enemy skill visibility: 100%
The skill visibility settings allow you to determine your visibility of enemy skills. Since seeing your enemy's abilities is vital for dodging them, we suggest bumping up the Enemy Wanderer skill visibility stat to at least 80% to identify their moves easily.
Voice Settings
Simulacra Voice: Personal preference
Play Squad Voice: ON
Squad Voice Mic: OFF
Scroll Text Settings
This setting manages the display of damage numbers when hitting an enemy. While Default is selected, the numbers appear haphazardly. Instead, we suggest changing this setting to List, as this will help display the numbers in a more organized fashion, allowing you to register your damage stats easily.
Looking to start your Tower of Fantasy adventure on the right foot? Check out the Best early game Tips & Tricks for Tower of Fantasy right here on Pro Game Guides.