The Mistlands update for Valheim has added many items to the game that all serve unique purposes. One such item is a construction called the Wisp Fountain, but it's unclear how it works or how to make it. Our guide will explain everything you need to know about making a Wisp Fountain and using it in Valheim Mistlands.
How to craft a Wisp Fountain in Valheim
To craft a Wisp Fountain, you must first gather 10 Stone resources and one Torn Spirit. Here's where you can find all of the resources to make a Wisp Fountain listed below:
Where to find Stone - You probably already know how to get this resource, but for those new to Valheim, you can get stone by smacking rocks with at least an Antler Pickaxe.
Where to find a Torn Spirit - You can find the strange resource called Torn Spirits by defeating Yagluth in the Plains biome. As of the Mistlands update, Yagluth drops at least one Torn Spirit on death.
How to place a Wisp Fountain in Valheim
To place a Wisp Fountain in Valheim, have a hammer equipped and right-click with it to open the Build menu. Inside the Build menu, click the Crafting tab and left-click on a Wisp Fountain. Left-clicking the Wisp Fountain allows you to place one by clicking the left mouse button again.
How to use a Wisp Fountain in Valheim
The main idea behind using Wisp Fountains in Valheim is to get a Wisp. Wisps are non-hostile creatures that players can pick up and add to their inventories. Wisps will also appear only at night in varying numbers, so you must wait for nighttime in Valheim before getting a Wisp.
The most Wisps we saw at night was around three wisps. You can later use any Wisps you grab to craft items that help you see better in the Mistlands biome and remove the fog surrounding it. Here's how to craft these items and what they are in Valheim:
How to craft a Wisp Torch - You can craft a Wisp Torch after finding your first Wisp by placing the Wisp Fountain at night. To craft a Wisp Torch, you need one Yggdrasil Wood and one Wisp per construction.
How to craft a Wisp Light - To make a Wisp Light, you need one Silver and one Wisp per item.
How to get a Wisp - To get a Wisp, you must wait for night time in Valheim.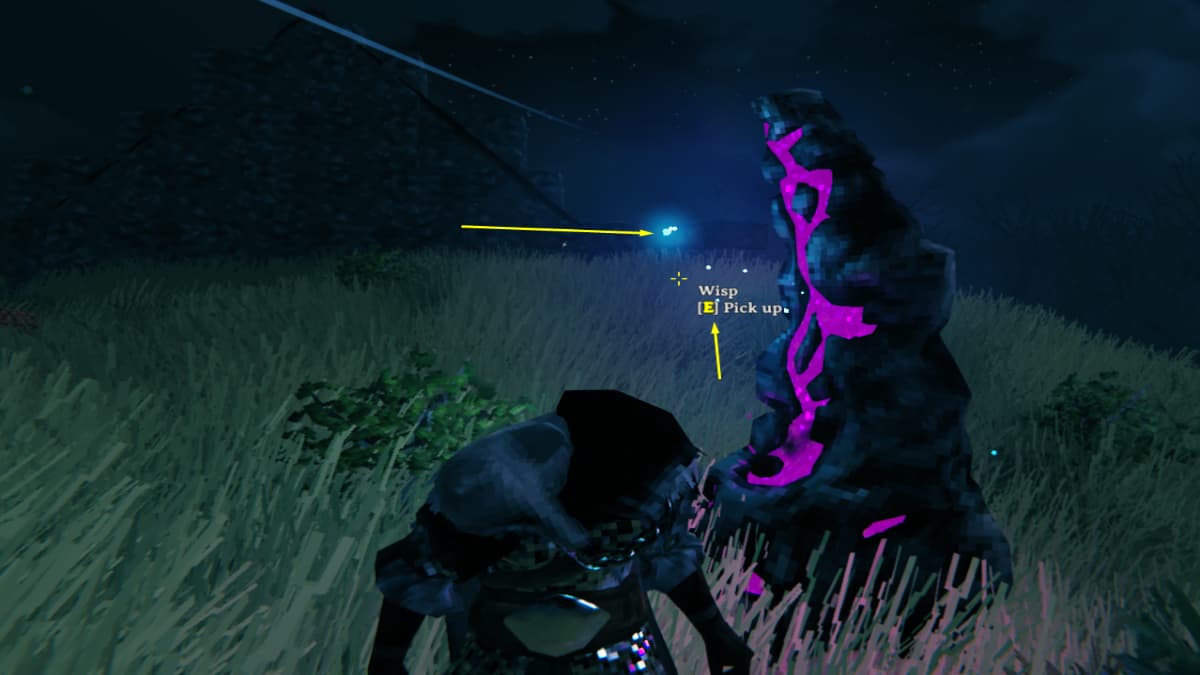 How to use a Wisp Lights and Wisp Torches in Valheim
You can use Wisp Lights by equipping them to your hot bar by clicking on them. Equipping the Wisp Lights will cause a Wisp to follow you around, clearing any Fog you approach in the Mistlands biome. However, Wisp Lights only temporarily remove the fog. Your best bet to permanently remove fog is to place a Wisp Torch, as they will remove any fog near it, but only on the ground level. To clear the mist higher up in the Mistlands biome, you must build tall structures and place torches on top of them.
For more on Valheim, we at Pro Game guides have you covered with guides like How to fix Valheim crashing on world load – Error Guide and What is Soft Tissue, and how to use it in Valheim?