If you are having problems with Discord game activity not showing as a status message, it could be due to several reasons. To figure out why Discord is not showing game activity, you must go through a few troubleshooting steps. That said, start by checking to see if the Game Activity option is On. You can check if Game Activity is On under the Activity Privacy tab in User Settings.
To access User Settings, press the gear icon on the bottom left of the Discord app. The gear icon will also be next to the options for Deafen and Mute, if you can't find it. That said, once you find User settings, scroll all the way down until you find a section called Activity Settings. Under the Activity settings section, click the Activity Privacy option.
Inside Activity Privacy is the option to turn on displaying current activity as a status message. To turn this option on, check the option shown below. Whatever game activity you have will show as a status message if this option is on. So, if you are in Skyrim, everyone on your Discord can see that you are playing Skyrim. However, if your Activity status option is already on, you must check to see if your game is registered on Discord.
Related: How to remove a Discord Overlay
How to add a game to Registered Games on Discord
If your game is not showing as a status message on Discord, it could be due to the game not being added as a Registered Game on Discord. To add a game to Registered Games on Discord, you must visit the Registered Games section under Activity Settings. Inside the Registered Games section, you can add a game by using the option called Add it! shown below.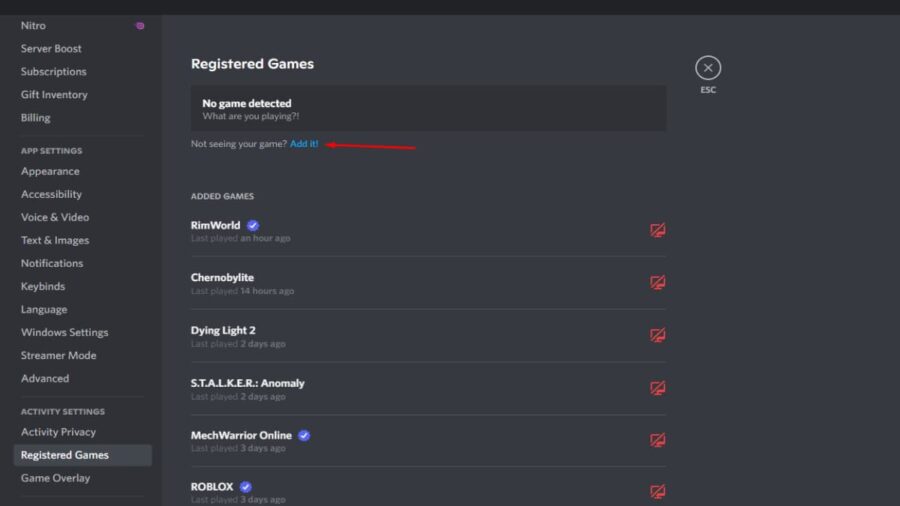 After clicking add game, you can add whatever game you are playing by searching for its exe in the drop-down list. You can also type the game's name in the search bar to make it appear. When it appears, click it, and you will add it to the list of Registered Games. After adding it to the list of Registered Games, it should now appear as a status message.
If your Discord game activity is still not showing as a status message, we recommend attempting the following: Close Discord and Restart it, then Reinstall Discord. After a clean restart and reinstall, any issues with Discord not showing game activity should disappear.
For more on Discord, we at Pro Game Guides have you covered with guides, and articles like Discord stuck on checking for updates – How To Fix and How to switch accounts in Discord easily.