Fortnite has changed the way Legendary Quests work for Chapter 2 Season 7. Instead of the accolades we saw in previous seasons, Legendary Quests for Season 7 are more like advanced Epic Quests. In this guide, we are covering the basic instructions to complete these quests as easily as possible.
Cheat Sheet Map
The map below provides the locations of all the spawns for this week's Legendary Quests with specific locations. Follow the instructions below the map if you need more detail.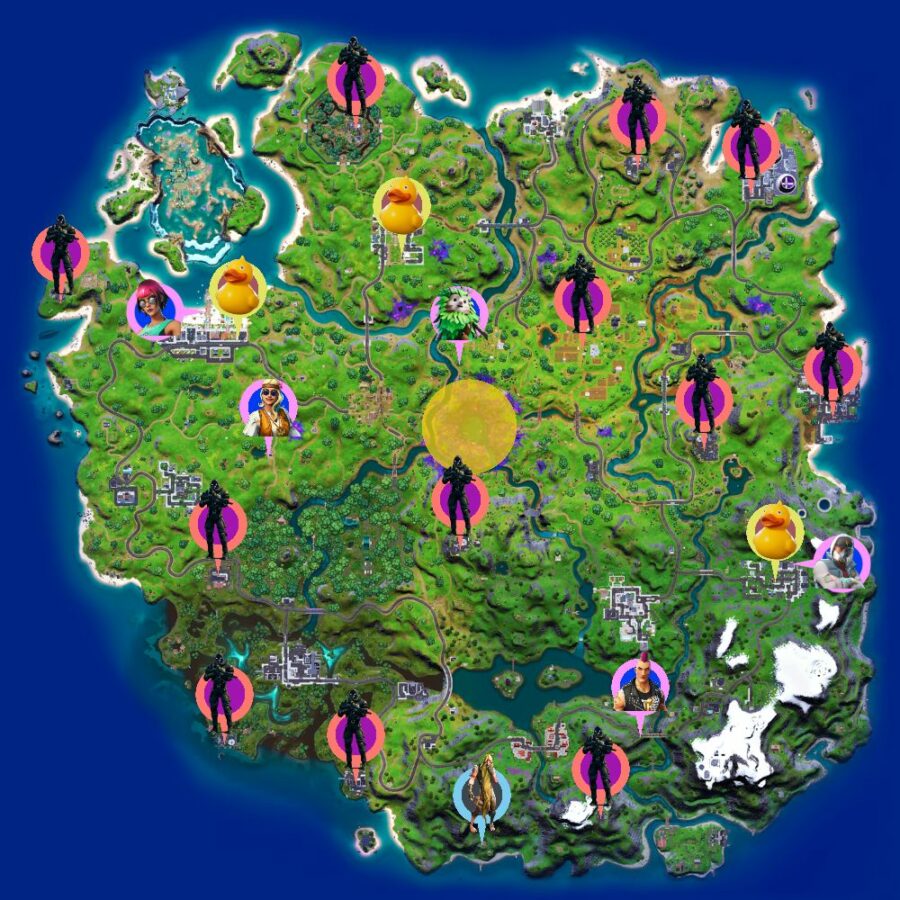 Guides & General Tips
Converse with Sunny, Abstrakt, Dreamflower, Riot, or Bushranger. [3]

This quest only requires you to speak to three of the five NPCs listed. They can be seen in the Pink Markers on the map above. Sunny is at Believer Beach, Dreamflower is at Flopper Pond, Riot is at Yellow Steel Bridge, Abstrakt is at Retail Row, and Bushranger is walking just north of The Aftermath.

Collect Stone from The Aftermath. [100]

The only thing to note for this quest is that you can't harvest stone from the purplish-gray metallic crystals. The yellow circle in the map above shows you where you can harvest Stone for it to count toward this quest.

Collect different IO tech weapons. [3]

IO Tech weapons are dropped by IO Guards when they're eliminated and found in IO Chests. The coral markers in the map above show you the locations of all the IO Guard Posts.

Interact with Bunker Jonesy's conspiracy board. [1]

The blue marker in the map above shows you where you can find Jonesy and his Conspiracy Board. Once you have found the board, simply interact with it to complete the quest.

Place rubber ducks in Retail Row, Pleasant Park, and Believer Beach. [3]

The yellow markers in the map above show you three locations where you can place the Rubber Ducks. When you have found their locations, interact with them to place the ducks. You must do this in three different towns. You cannot use multiple locations in the same town to complete this quest.
That's all the Legendary Quests for Week 1 of Chapter 2 Season 7! Be sure to check our Fortnite Homepage for the latest news, content, and guides for Fortnite!
We have guides for everything in Chapter 2 Season 7! Go to your Complete Guide for Fortnite Chapter 2 Season 7 to help you master this season and get to the highest level possible!