Due to the excitement surrounding Sumeru's release in Version 3.0, leakers have gone above and beyond to gather information. We've compiled everything we know about them from various Reddit, Twitter, and Discord sources.
Note: All of the leaks and speculations below are based on information found on social media channels. Please take them with a grain of salt and know that the final release may be starkly different from what is presented.
Lesser Lord Kusanali / Nahida
The Dendro Archon, Lesser Lord Kusanali, was leaked to be inspired by Honkai Impact 3rd's Theresa Apocalypse. Early rumors suggested that she may be given a new body model, but images of her reveal that she could have the child model instead. Her elf-like ears, similar to Klee's, may hint at more about the long-living race in Sumeru. While child characters are not too popular among the Genshin Impact community, Twitter user @genshinBLANK stated that HoYoverse would pull the emotional card to increase her popularity. Like other Archons, Lesser Lord Kusanali goes by many names, but her real name is rumored to be Nahida.
Alhaitham
Newer leaks across various sources have alleged that the dashing Dendro male who was said to be inspired by Honkai Impact 3rd's Su will be named Alhaitham (possibly spelled Al-Haitham). Twitter user @hxg_diluc confirmed that Alhaitham's character model is accurate, as well as earlier descriptions of his personality. While not much is known about his involvement in the story, the same leaker revealed that Alhaitham and Zhongli are acquaintances and that the latter is someone who "does not give an aura of a human."
Despite this, leakers regard Alhaitham as an important character in the Sumeru story. Additionally, Zhongli wrote a message on the Wangsheng Funeral Parlor's bulletin board (currently in-game) that talks about his encounter with a scholar from Sumeru, who the community believes may be Alhaitham.
Related: Genshin Impact Resonating Visions Event Guide – Free Fischl Skin!
Dori Sangemah Bay
Dori is another character with a child model with pink hair, a crop top, spectacles, and a genie-like appearance. She boasts an interesting playstyle as she rides a mount—a Lamp Spirit that wields a weapon and attacks enemies for her. HoYoverse has officially confirmed Dori's release, which will most likely fall on Version 3.0.
Personality-wise, Dori is a mora-obsessed merchant who can procure all sorts of rare goods from a network of unknown suppliers. Interestingly, in the description of Aloy's Collected Miscellany, the great adventurer Alice (Klee's mom) described herself as the Supplier to the Renowned Lord Sangemah Bay.
Scaramouche / Wanderer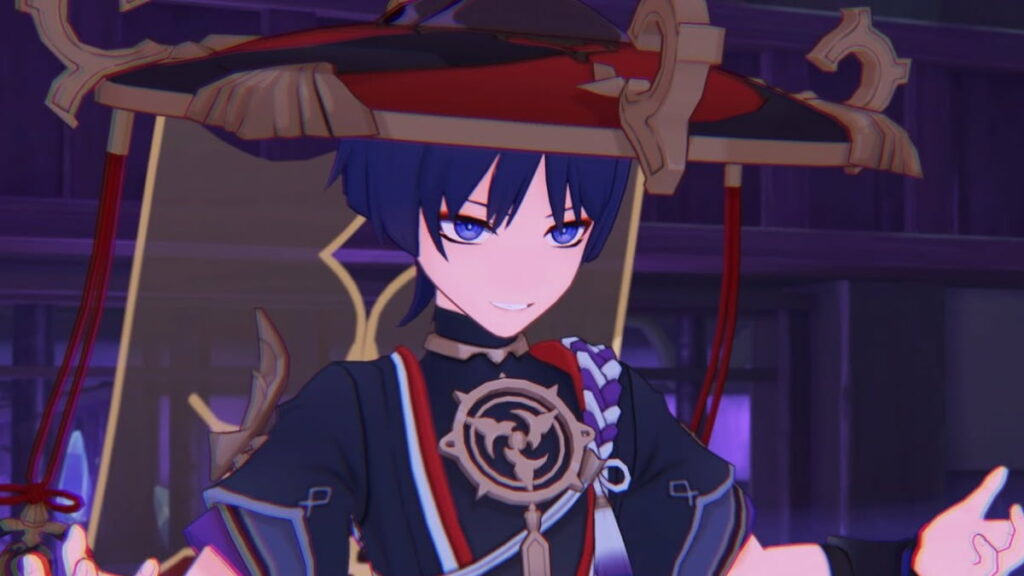 Scaramouche is one of the most anticipated characters in Genshin Impact. Having made his debut in Version 1.1, his iconic outfit brought on a lot of excitement for his rumored Inazuma release—which never came. But newer leaks from as early as April revealed that Scaramouche might be released in the Sumeru update as a Weekly Boss and a five-star Anemo catalyst user.
Leakers allege a Version 3.1 or 3.2 release for both Scaramouche as a Weekly Boss and playable five-star catalyst character. According to Twitter user @hxg_diluc, he may be renamed Wanderer and may undergo a redesign that could remove his iconic veil.
Based on a story leak from Twitter user @Ubatcha1, Scaramouche could have run away with the Raiden Shogun's Gnosis and never returned it to the Tsaritsa. There may be a segment that involves Childe heading to Sumeru to track down the "stolen" Gnosis.
Tighnari
Tighnari is a five-star Dendro bow user whose release (possibly in Version 3.0) has been confirmed by HoYoverse. He's a Forest Watcher of the Avidya Forest whose kit revolves around dealing AoE Dendro Damage. Appearance-wise, he has very long Fennec-fox-like ears, dark hair, and a primarily blue color palette with some hints of green, yellow, and cooler tones.
Collei
ColleiCollei is one of the most highly-anticipated Sumeru characters due to her involvement in the Genshin Impact manga, as well as plenty of early leaks that hinted at her playability. HoYoverse has since confirmed her appearance in the near future as a four-star Dendro bow user. Moreover, a leak by @projectcelestia on Twitter alleges that players may obtain her for free in the Version 3.0 event. Despite having returned to Sumeru, Collei and Amber often communicate via letters, and a leaked image of her home shows just how close the two remained.
Nilou
Nilou is a red-haired female with the teen body model, with Azhdaha-like horns on her head, a veil, and a two-piece crop top and skirt combo with a light blue color palette. According to leaker @Ubatcha1, she's the best dancer from the Zubayr Theater, a faction that players may get to know later in Sumeru's story. Her kit seems to be based on creating Hydro and Dendro Reactions.
Candace
Twitter user @SpendYourPrimos revealed a tall female character who may have dark skin and navy twintails, and an Egyptian-like outfit reminiscent of a stereotypical Cleopatra. The character was nicknamed Cleo due to her Cleopatra-like appearance. But in the same leak of Nilou's gameplay by u/Lemillion_Boy_of_War on r/Genshin_Impact_Leaks, users spotted the name "坎迪斯" in the party member list, which reads "Kan Di Si" or "Candice." This supports the possibility of a new character named Candace, allegedly her real name.
Little is known about Candace, other than how she may live somewhere in a desert and may have no tolerance for people who show malice against her village. While no images of Candace have been leaked, Sumeru leaker @hxg_diluc evaluated fanart from talented artist @PhungErika to be a near-identical match to the official artwork.
Cyno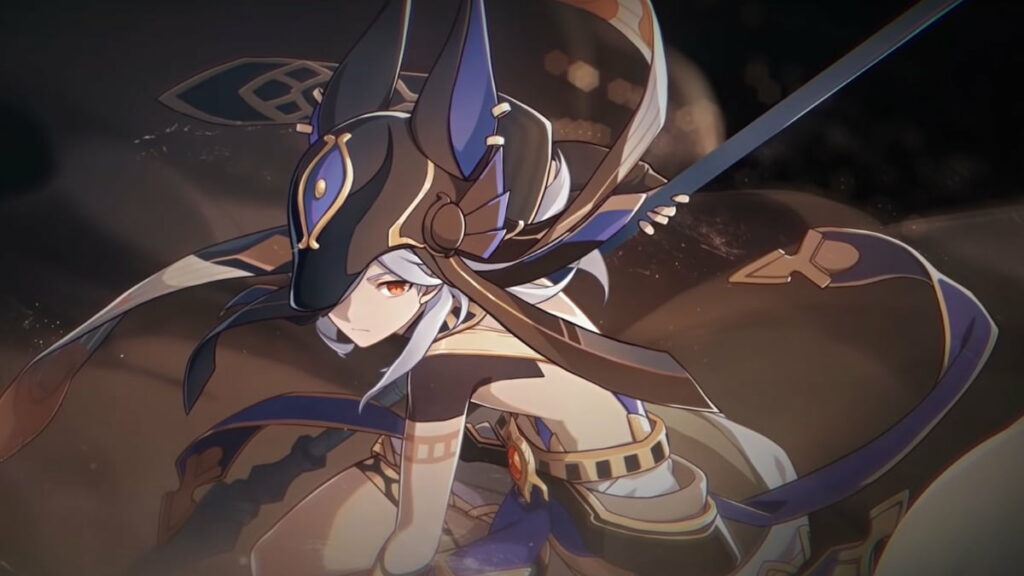 Cyno was first introduced in the Teyvat Chapter Storyline Preview: Travail, and he also made a short appearance in the Genshin Impact manga, where he took Collei back to Sumeru. As a result, Cyno was likely the "anonymous source" in Tighnari's character introduction. While his character model has not yet been leaked, leakers allege that little has changed in his design. He's said to be a huge card game nerd (possibly teasing on a playable Genius Invokation) and is the least-dressed short male character so far.
Additionally, leaker @SaveYourPrimos dropped some bits of Cyno's lore. He seems to hold a government position, earning the respect of those around him. However, this side of him is merely a facade, as he's allegedly a huge dork on the inside, explaining his own jokes to those who don't laugh and getting salty about card games.
Dehya
Dehya is rumored to either be a four-star Pyro claymore user or a five-star character with an assassin-like outfit, gold accessories, and a set of cat-looking ears—though it's unclear if they're real. While her character model has been leaked across multiple platforms, little is known about her personality, lore, and skills as she is believed to still be in development. Based on the third Sumeru teaser, Dehya is believed to originally be an Eremite, but is speculated to have left for unknown reasons.
A fake leak about her being a mix between Bennett and Xingqiu surfaced at one point but was quickly refuted by the community, but loose translations of a newer leak believe that she may be an off-field Pyro DPS. According to leaker @merlin_impact, she may not come until at least Version 3.4.
Kavi
Kavi was first leaked by @genshinBLANK, and is supposedly a character who may appear early into Sumeru's story, but may not become playable until much later. This mysterious character is allegedly the architect behind the Palace of Alcazarzaray, where Dori lives. Most importantly, he is said to be Al-Haitham's roommate, drawing speculation that he may be inspired by Kevin from Honkai Impact 3rd. This is mainly due to leaks that revealed Su, Kevin's close friend, inspired Al-Haitham's design.
Mika (Monstadt character)
Twitter leaker @SpendYourPrimos leaked a new character from Monstadt, who was later revealed to be named Mika by @hxg_diluc. The former's since-deleted tweet was cross-posted on r/Genshin_Impact_Leaks, which reveals a short male (Kazuha, Xiao) cartographer with blonde hair and a noble-like outfit whose hair resembles that of a golden finch. His color palette seems to be similar to Eula's, but it's hard to tell without concrete visual leaks. The leak also speculates that this character could be a Cryo Vision holder, but it's unclear what their basis is for the assumption.
Some rumors have floated around claiming that this mysterious cartographer may come in Version 3.1 (possibly in connection with this year's Ludi Harpastum or Varka's story), but it remains a highly speculative guess in the meantime. Little is known about Mika's lore, but leaker @merlin_impact hinted that he may return to Monstadt as a messenger from Varka's expedition.
Other possible Sumeru characters
These are names of possible characters who have surfaced in leaks but remain unclear:
Arleccino (Fatui Harbinger)
Capitano (Fatui Harbinger)
Baizhu
Djajeet
Dottore
Faruzan
Ikhfa
Layla
Nafs
Pantalone (Fatui Harbinger; allegedly will appear in Version 3.0, but unlikely playable)
Soutine (allegedly will appear in Version 3.0, but unlikely playable)
Yaoyao
For more information about the nation of wisdom, check out Genshin Impact leaks showcase Sumeru map area, size, topography, and more here on Pro Game Guides.