As you travel the Nine Realms in God of War Ragnarök, you will come across many powerful foes, especially during boss fights. Gravel Belly is one of these boss fights, and it can be challenging if you are not prepared. Here are some tips and tricks for defeating Gravel Belly in God of War Ragnarök's.
How to defeat Gravel Belly in The Forbidden Sands in God of War Ragnarök - Alfheim
Grave Belly is a massive drake that takes up most of your screen and fills the combat arena. We recommend staying close to this boss, as you must strike it a lot to take down its large health bar. Here is how to defeat Gravel Belly in God of War Ragnarök.
Gravel Belly has a few unblockable attacks, shown by the red circle. When it uses these, you will need to dodge out of the way or suffer massive damage. This is primarily the bite attack, but we also recommend dodging the stomps as it is easier than blocking them.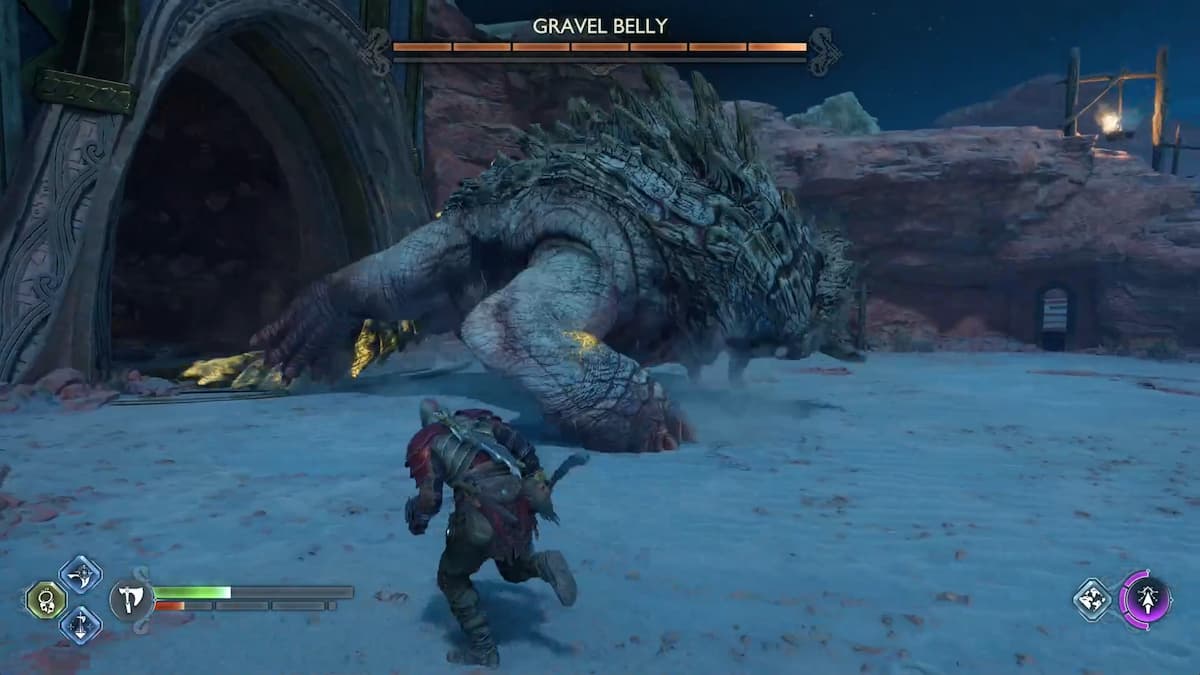 Related: Should you Sell Consul's Journal in God of War Ragnarök?
In addition, Gravel Belly has yellow attacks that you can block or parry. The most important to block or parry is the tail swing, as this does massive damage and will knock you away. This allows Gravel Belly to throw spikes at you, which can be annoying to dodge as you close the distance.
Overall, dodge and block the attacks above and wail on the drake until its health drops to zero. Make use of your Rage to heal yourself, stop damage, or inflict massive damage of your own. Keep at it, and you will eventually defeat Gravel Belly.
Some players have found a way to cheese Gravel Belly and defeat the boss without taking damage or letting it attack. This is done by running from the doors as soon as you open them and dropping them down the cliff. Grapple and climb back up, then shoot Gravel Belly with Freya's arrows. After doing this, drop back down and repeat until Gravel Belly is defeated. This will take a lot of time, but it is a way to defeat the boss easily.
For more information on God of War, check out How to complete The Elven Sanctum Favor in God of War Ragnarök and How to get Rampage of the Furies in God of War Ragnarök on Pro Game Guides.