In Gotham Knights, players will come across various situations in missions where you have to find clues to solve a puzzle. One of these puzzles involves finding Langstrom's Biodecryption Key during The Langstrom Drive mission. As a detective, your job is to read the crime scene thoroughly, find clues that others tend to miss, and piece together the scenario. Here's how to find the Biodecryption Key in Gotham Knights.
What are the clues to Langstrom's Biodecryption Key in Gotham Knights?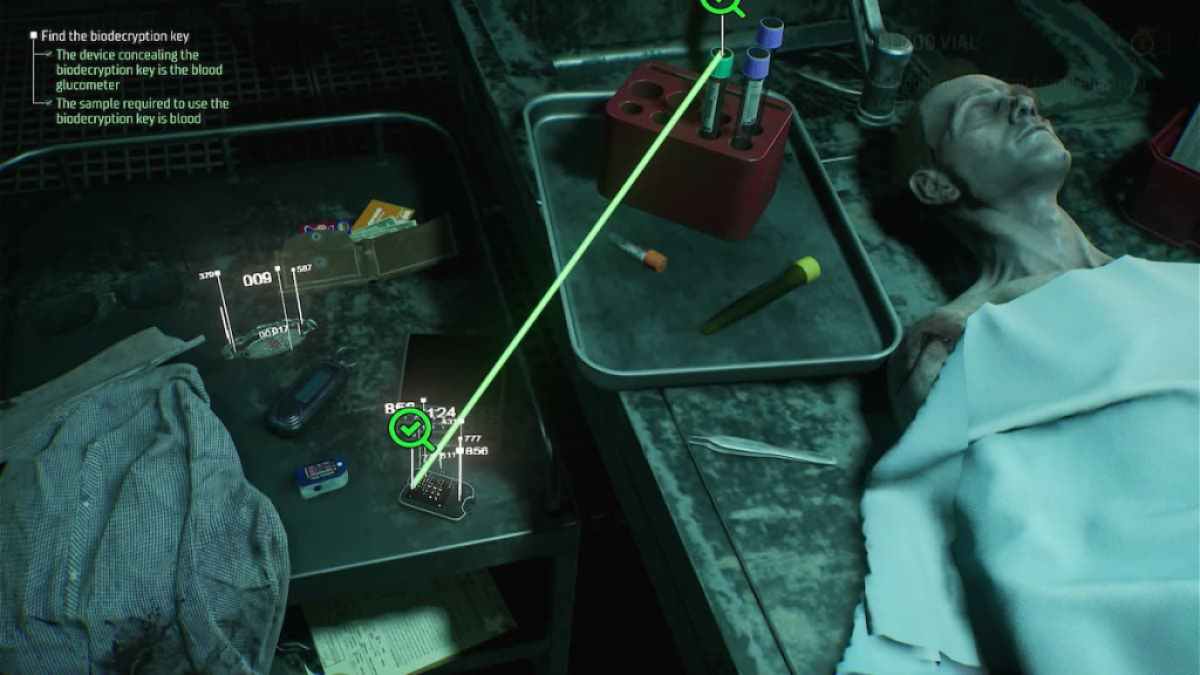 In The Langstrom Drive mission, players need to acquire the Biodecryption Key to unlock the contents of Langstrom's harddrive. After reaching the morgue, players will need to use their Crime Scene AR to find clues and reveal additional information. You will need to find a device that conceals the Biodecryption Key and a sample that's required to use the Key. The device concealing the Biodecryption Key is the Blood Glucometer, and the sample needed is Blood. Check the image above to see how these items look in the game.
You'll find various items near Langstrom's body like Urine Sample, Coroner Tools, Langstrom's Phone, Medical Bracelet, MMO Key Fob, Autopsy Report, Bloody Clothes, Wallet, Reading Glasses, Blood Glucometer and Blood Vial. You can take hints, but we recommend not doing so, as the answer is the Blood Glucometer device and the sample required is Blood. During The Langstrom Drive mission, which is the second case in the game, players need to reach the back entrance of GCPD Headquarters.
You'll need to visit the morgue inside the building to investigate Langstrom's body. However, the entry is not easy, as you need to go in undetected, and the building is swarming with cops. Use the AR ability to scan for the cops. Move silently and undetected to make your way past the Holding Cells and the Bullpen. You'll also need the desk sergeant's key to access the Forensics Wing. A cutscene ensues where you see Talia al Ghul cremating Ra's al Ghul's body. Once the scene is over, you can proceed to the morgue to investigate Langstrom's body.
Wondering how to get new suits? Check out How to get blueprints in Gotham Knights on Pro Game Guides!