The Harry Potter series is generally known for its whimsy and fantasy, but it wasn't without its terrifying parts as well. Its spin-off, Hogwarts Legacy, arguably leans even further into the cryptic edges of the Wizarding World. Its quests can induce fearful reactions from players by throwing them into creepy scenarios or by pitting them against horrific enemies. Here are our picks for the scariest quests in Hogwarts Legacy.
Five scariest quests in Hogwarts Legacy
5. Cursed Tomb Treasure
To start this quest you'll need to dive inside an abandoned manor. You'll find a treasure map leading to the bone-chillingly named Tomb of Treachery. Of course, to obtain that map you'll have to fight a Necromancer, Ailsa Travers, and her deceased partner, The Lord of the Manor.
Next you'll be digging through that aptly named crypt. If you want to get a better picture of why it is named that way, try reading the notes left behind by Photine about her sister, Thana. Apparently while trying to recover the treasure, her sister turned on her and dipped into some Necromancy herself, which would explain all the Inferi hanging about.
4. Niamh's Fitzgerald's Trial
While not entirely terrifying on its own, being suddenly sucked into the pages of a book is certainly a change of pace that will leave players on edge for a hot minute. In Niamh's Fitzgerald's trial, you are suddenly left without any of the trusty spells you spent so much time learning. The only tool you have to help is a familiar invisibility cloak, but, even then, you have no choice but to run from deathly figures found everywhere through the first part of the mission. Your final trial tasks you with fighting in front of a giant depiction of death himself. Maybe the soft, sepia art style of the mission lessens the terror a bit, but typing this out did make us remember how horrifying it should have been, at least.
Related: Best Wand Handles in Hogwarts Legacy and how to get them
3. In the Shadow of Time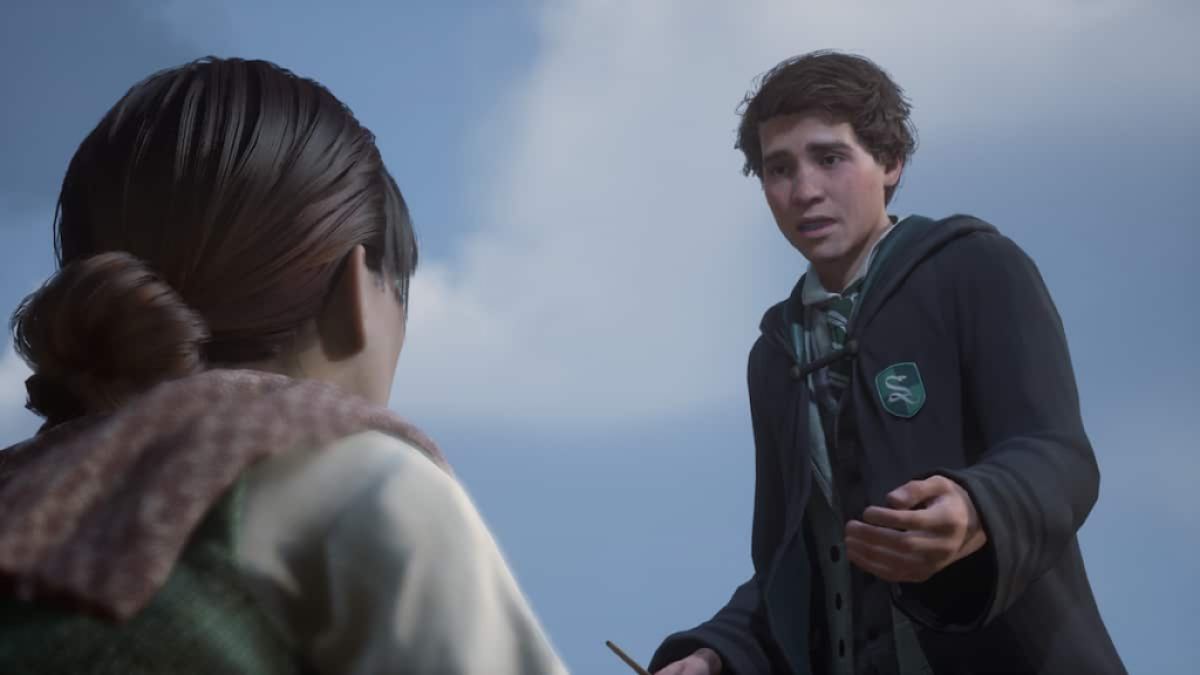 Most of Sebastian Sallow's relationship questline revolves around the Dark Arts, so it's no surprise they also seem a bit more gruesome and ghastly than most. The first time Sebastian takes you through the Feldcroft Catacomb in In the Shadow of Time, you'll be dealing with loads of Inferi, animated corpses. If that wasn't enough, several of the puzzles involve manipulating humans remains to open a door or create a bridge.
The ending cutscene of this particular quest may be worse than all of that, too. Whether you choose to learn Imperio or not, Sebastian will use it to protect his sister from an attacking Goblin. He takes things a bit far, though, as he not only stopped the Goblin from attacking, but then forced the Goblin to kill itself. The scene was shot fairly conservatively, but it still left us as horror-struck as Sebastian's sister Anne, who would have also had to see that up close.
2. Absconder Encounter
Have Arachnophobia? If you do you will certainly want to steer away from this quest. It's a fairly straight forward fetch quest, but it will send you directly into a lair that is crawling with cobwebs and tens of spiders of all sizes. At the end, you'll face the king of spiders, an Acromantula named The Absconder. It's so large you'll easily be able to count each of its bright, red eyes. Oh, and in case you were wondering, no, there is no way to make those spiders disappear, unless you use a mod, that is.
Related: Hogwarts Legacy – Best Brooms List
1. Minding Your Own Business
This quest was truly designed to haunt you for at least a night or two. Minding Your Own Business is a PS5 exclusive quest that will take you through the sale of shop that was probably too good to be true to begin with. It turns out the shop is Haunted by Fastido, a poltergeist that is much more inclined to frightening everyone than Peeves is.
During the mission, doors will slam behind you or disappear entirely. The lights will go out, then Mannequins will surround you as if they were Dr. Who's Weeping Angels. There won't be any handy Floo Flame exits for you, either. Once you start this mission, you're locked in until the end. Hopefully you find it is all worth it for the right to own your own shop.
Need some help deciding what to do at the end of Minding Your own Business in Hogwarts Legacy? Check out Should you free Penny or not in Hogwarts Legacy? (Minding your own Business) here at Pro Game Guides.