Last Cloudia has more than 100+ different playable characters in its universe. Due to this long array of selectable options, many new players cannot unlock most units as they usually either require long grind hours or are behind a payment wall, thus failing to understand the potential behind each character. So, if you are a beginner and do not know which characters are good in the early stages of the game, you can start with something like Roy Mustang, Maja, or Levi due to their well-rounded kit.
Best Character Tier List In Last Cloudia
Note: The units within each tier are not arranged in any particular rank order.
S+ Tier Last Cloudia Characters
| | |
| --- | --- |
| Character | Type |
| Crow | Neutral |
| Joker | Dark |
| Mechanical Murren | Fire |
| Alice | Light |
| Heroic Lord Roland | Light |
| Advocate of God, Mayly | Light |
| Demon Lord Rimuru Tempest | Neutral |
| Levi | Earth |
| Ardine | Neutral |
| Maiden of Binding, Sera | Light |
| Saintly Lilebette | Ice |
| Maja | Rainbow |
| Regnant of Fire, Eliza | Fire |
| 2B | Neutral |
| Roy Mustang | Fire |
| Lougseus, God of Ruin | Dark |
| Gen Asagiri | Neutral |
| V | Dark + Thunder |
| Spirit Maiden Theria | Light |
| Blademaster Beyland | Neutral |
Related: Genshin Impact Character Tier List
S Tier Last Cloudia Characters
| | |
| --- | --- |
| Character | Type |
| Violet | Light |
| Granadas | Earth |
| Dragonoid Milim Nava | Dark |
| Milim Nava | Dark |
| Inventive Queen Meredy | Rainbow |
| Mikasa | Thunder |
| Angela | Rainbow |
| Riesz | Earth + Light |
| Primm | Neutral |
| Regal Bolt Lanceveil | Thunder |
| Shida | Dark |
| Gorm Crystalia | Ice |
| A2 | Light |
| Leona, Princess Punch | Earth |
| Alice Type - S | Ice/Thunder |
| Edward Elric | Earth |
| Goroth the Insatiable | Dark |
| Advocate of God, Baran | Neutral |
| Advocate of God, Rabbala | Earth |
| Sea Rover Maddine | Ice |
| Holy Knight Rutto | Light |
| Knight Lord Kyle | Fire + Light |
| Advocate of God, Degrogue | Dark |
| Chrome | Fire + Thunder |
| Kohaku | Earth |
| Senshu Ishigami | Rainbow |
| Sage Emperor Zekus | Rainbow |
| Nero | Rainbow |
| Swordmagineer Lilebette | Earth |
| Yashamaru | Dark |
| Divine Beast Rei | Thunder |
| Guardian Angel Lukiel | Thunder |
| Nocturne Tinkili | Dark |
| Beyland | Neutral |
| Tinkili the Diva | Light |
A Tier Cloudia Characters
| | |
| --- | --- |
| Character | Type |
| Eren | Light |
| Tsukasa Shishio | Dark |
| Mechanical Meredy | Neutral + Thunder |
| Dante | Fire |
| Cyberslayer Alice | Light |
| Advocates of God, Lily | Light/Dark |
| Rem | Neutral |
| Emilia | Ice |
| Roland | Light |
| Sylvan Sworder Logia | Earth |
| Thunderbolt Sevia | Thunder |
| Zaix | Rainbow |
| Lily | Light + Dark |
| Phantom Thief Robin | Neutral + Dark |
B Tier Cloudia Characters
| | |
| --- | --- |
| Character | Type |
| Rimuru Tempest | Rainbow |
| Randi | Neutral |
| Alphonse Elric | Neutral |
| Zlerog the Heathen | Rainbow |
| Blazeblade Shin | Fire + Dark |
| Lagrobos | Neutral + Rainbow |
| Dilmordo | Fire |
| Leena the Warlock | Earth + Light |
| Master Thief Robin | Neutral |
| Saintly Theria | Light |
| Sea Princess Lilah | Ice |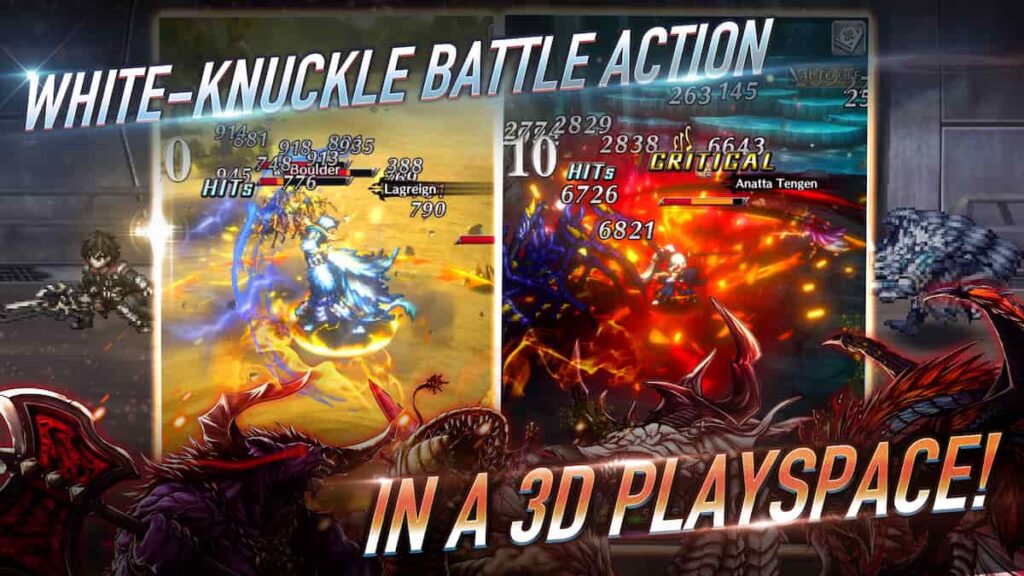 C Tier Cloudia Characters
| | |
| --- | --- |
| Character | Type |
| Barcello | Fire |
| Duran | Neutral + Fire |
| Popoi | Rainbow |
| Carol Number 4 | Fire |
| 9S | Dark |
| Ice Emperor Seilios | Ice |
| Killer Ice Princess Sevia | Neutral + Ice |
| Eliza | Fire |
| Advocate of God, Zouglas | Dark |
D Tier Cloudia Characters
| | |
| --- | --- |
| Character | Type |
| Gallant Flame Vaughn | Fire |
| DXR-MK02 | Neutral + Thunder |
| Gobl | Neutral |
| Ice General Zekus | Ice |
| Lilebette of the Blaze | Neutral |
| Prince Gorm | Neutral |
| Dyne of the Three Sages | Fire + Dark |
| Godhunter Shin | Neutral |
| Doura the Bluebeard | Ice + Neutral |
| Princess Lilah | Light |
| Lanceveil | Thunder |
| Luger King of Destruction | Neutral + Dark |
| Davan | Earth + Neutral |
| Summoner Leena | Rainbow |
| Genius Archer Phal | Thunder |
E Tier Cloudia Characters
| | |
| --- | --- |
| Character | Type |
| Claire and Dahlgion | Earth |
| Dabourne | Earth + Fire |
| Vazard | Neutral + Thunder |
| Sahagin | Ice |
| Phantom | Dark + Fire |
| Skeleton | Dark |
| Pokkle | Earth |
| Hobgobl | Neutral |
| Gaoul | Neutral |
| Kyle the Swordsman | Neutral |
| Magic Beast Rei | Thunder |
| Mysterious Girl Theria | Light |
| Goroth the Giant | Neutral |
| Blood Rose | Neutral |
| Gravein the Sky Hero | Neutral |
| White Knight Melza | Light |
| Lukiel | Light |
| Soul Reaper Melza | Dark |
| Romel the War God | Fire |
| Steel Wall Maddine | Earth |
For more on such Guides, check out Best Decks in Yu-Gi-Oh! Master Duel – Tier List or Diablo Immortal Class Tier List on Pro Game Guides