I'm always looking to deck out my characters with special effects and styles that make them stand out. While Roblox Arsenal codes are a great way to earn free rewards and items faster, what if you could get an exclusive bundle with tons of amazing items as well? You can claim a free Opera GX bundle by following a few simple steps. You won't need to purchase anything, and you'll look more amazing than ever. Take a look below to get started!
How to claim the free Opera GX bundle in Arsenal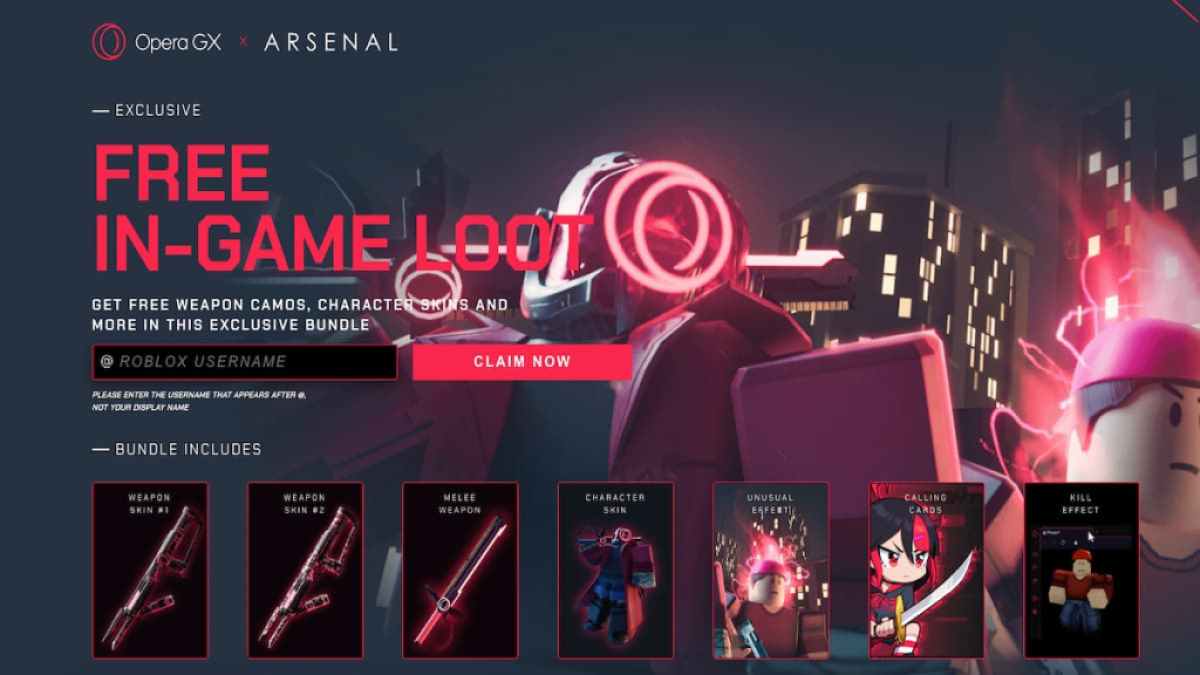 You may have noticed the little announcement on the main menu when joining the game, informing you that you can claim your free bundle. This announcement will lead you to the official Arsenal Discord server, where you'll have more detailed instructions on how you get yours, but you can simply follow these steps below to get it without the extra hassle:
Download the Opera GX browser for free here.
In the Opera GX browser, copy and paste this link: https://www.opera.com/gx/arsenal
Type in your Roblox username into the text box and press Claim Now.
Verify that it is the right account once it pops up on the screen, and press Yes, Claim.
Related: How to get the Arsenal Shooting Challenge (RBB) badge in Arsenal – Roblox
All items in the Opera GX bundle in Arsenal
This bundle comes with some amazing items you can get all completely free by following the steps above. You won't want to miss out on these exclusive cosmetics, kill effects, and animations with a brand-new, unique style. Here's everything included inside:
"Overtone" Character Skin
"R.A.M" Melee
"Tabbed Out" Kill Effect
"Aura Pop" and "Integrated" Weapon Skins
"Challenger" and "Game Night" Calling Cards (with exclusive holo effects)
"GX" Skin Unusual Kits (4 copies)
"GX" Calling Card Holo Kit (4 copies)
This special deal may not last forever. Download the handy Opera GX browser and claim your bundle now before it's gone. Your character will definitely stand out from the crowd with glowing red effects and exclusive features that no one has ever seen before.
Looking for more Pro Game Guides Roblox content? Check out our guides on Best Roblox games like Call of Duty or Free Roblox Items, Clothes, and Accessories | How to get Free Items on Roblox!