The Roblox Egg Hunt event started the same year Roblox launched, way back in 2008. Since then, the Egg Hunt has evolved from single level events to more complex missions spanning across the entire Roblox universe. This year's Egg Hunt will be no different.
When is Roblox Egg Hunt 2021?
As Spring 2021 fast approaches, the Roblox community question is always: When is the Roblox Egg Hunt? While there is no official date at this time of writing, we expect the Roblox Egg Hunt to run anywhere from late March to early May. We'll be sure to update when we know the exact date.
Here's a look at the dates for the past three Egg Hunts:
Egg Hunt 2020: Agents of E.G.G. - April 7, 2020 to April 28, 2020
Egg Hunt 2019: Scrambled in Time - April 18, 2019 to May 13, 2019
Egg Hunt 2018: The Great Yolktales - March 28th, 2018 to April 20th, 2018
As the dates above show, the annual Egg Hunt tends to fall as early as late-March to as late as mid-May. What's certain is that the Egg Hunt will take place around the Easter Holiday. This year, Easter falls on Sunday, April 4.
What is Roblox Egg Hunt 2021 called?
One special name that has floated around Egg Hunt 2021 is Metaverse. News of Egg Hunt 2021 first broke in Dec. 2020 when calls were sent to Roblox developers to submit their games for the event. This confirmed two things:
Egg Hunt 2021 will be a Dev Hunt.
The Metaverse will play a large theme for Egg Hunt 2021.
This isn't the first time the "term" Metaverse has floated around the Roblox community. Dave Baszucki, CEO and co-founder, is vocal about the Metaverse, of transforming Roblox into a shared virtual universe where players can share human experiences in a safe, online environment. The 2021 plan of creating real-time human expression on all Roblox avatars is yet another step toward achieving the Metaverse.
While we don't know what the Roblox Egg Hunt 2021 Metaverse will entail, we expect the Dev Hunt to unite players across multiple games in ways the game has yet to achieve.
---
Related: Roblox Egg Hunt 2020 Guide – Locations, List, & How to Get Eggs!
---
What will I get from Egg Hunt 2021?
Eggs, and lots of 'em! Except these eggs have special designs and are cosmetic items for your characters. One of the greatest appeals of Roblox events are the cosmetic rewards for your Avatar, and the Egg Hunt doesn't disappoint.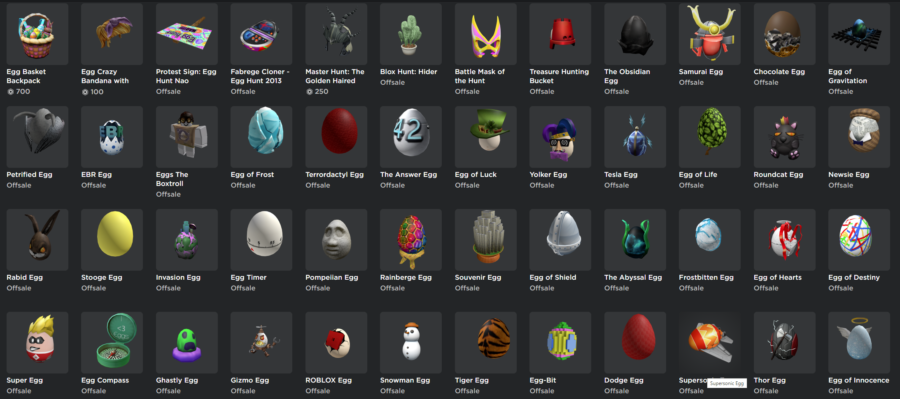 The picture above is just a small example of the type of eggs that have shown up in past Egg Hunt events. It's too early to tell what the new eggs will look like, but chances are you'll be rewarded well.
What is a Dev Hunt?
Dev Hunts are missions made by Roblox developers across a variety of some of the best Roblox experiences that the game offers. Dev Hunts provide Roblox developers with the opportunity to showcase their games to the widest possible Roblox audience, as events are popular among the mass community. Many of the most popular Roblox games show out for the Dev Hunts, but smaller Roblox developers are also welcome to receive some much-deserved recognition, and even create a mission for the event.
---
If you're looking for free rewards in Roblox, we have a ton of codes available in our Roblox Game Codes post! You can also get a bunch of free stuff via our Roblox Promo Codes page.