If you want to summon the third boss Bonemass in Valheim, you will need to get ten withered bones; but where can you get these bones, and where are they located?
Where to find Withered Bones in Valheim
You can get withered bones in valheim by exploring and mining muddy scrap mounds in sunken crypts found in the swamp biome. However, to get inside these crypts, you will need a swamp key, which is a reward drop from killing the second boss in the game, the Eldar.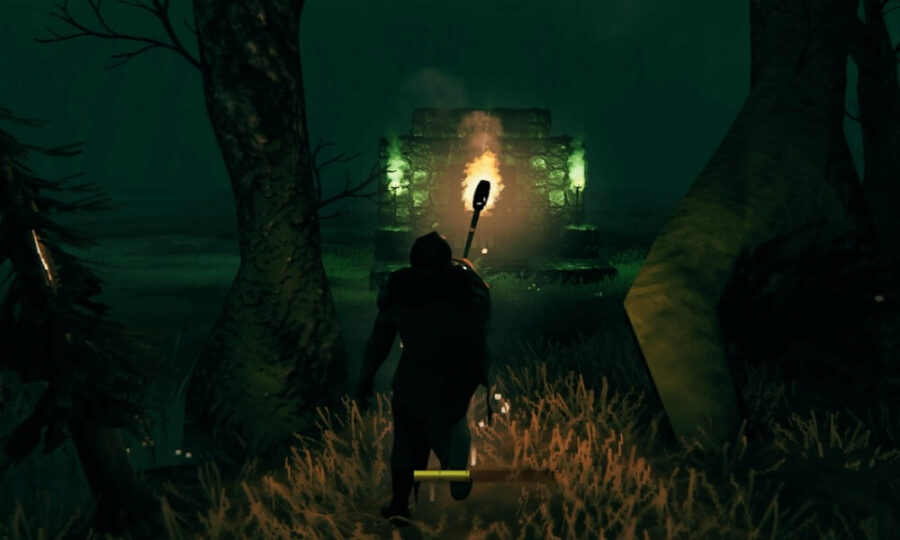 Once you got a key, locate a sunken crypt in the swamp; you will want to look for a large stone structure with glowing green torches at the front, as shown above. When you are inside the crypt, head down and start mining muddy scrap piles, and you will eventually get a withered bone as a resource drop.
Related: How to get Guck in Valheim
You can also find iron scrap, which is needed to make iron armor, so make sure to grab all of that when you can; you will also need a bronze pickaxe or up to mine the muddy scrap piles.
We recommend building a longship or Krave, and parking it outside at a safe distance from the crypt to load all of the resources you get from the sunken crypt. Doing this will allow you to make more than one run and get as much as you can from the sunken crypt; along with this, make sure to explore all rooms as you can sometimes get withered bones, among other things, from chest loot rooms.
For on Valheim, PGG has you covered and more with tons of guides on various parts of the game and more. That said, start getting informed with guides like how to kill Deathsquitos and how to make mead using cauldrons in Valheim today!