In Apex Legends Season 13, players will get to enjoy Ranked Battle Royale matches on the Storm Point map. The developers made several changes to the map, adding new POIs and locations to intensify the matchups across all areas on Storm Point. While engaging in combat early on in Ranked matches may not have the same value as before, players will come across opponent squads while landing at any of the high-tier loot zones on this map.
Best landing spots for Ranked matches on Storm Point in Apex Legends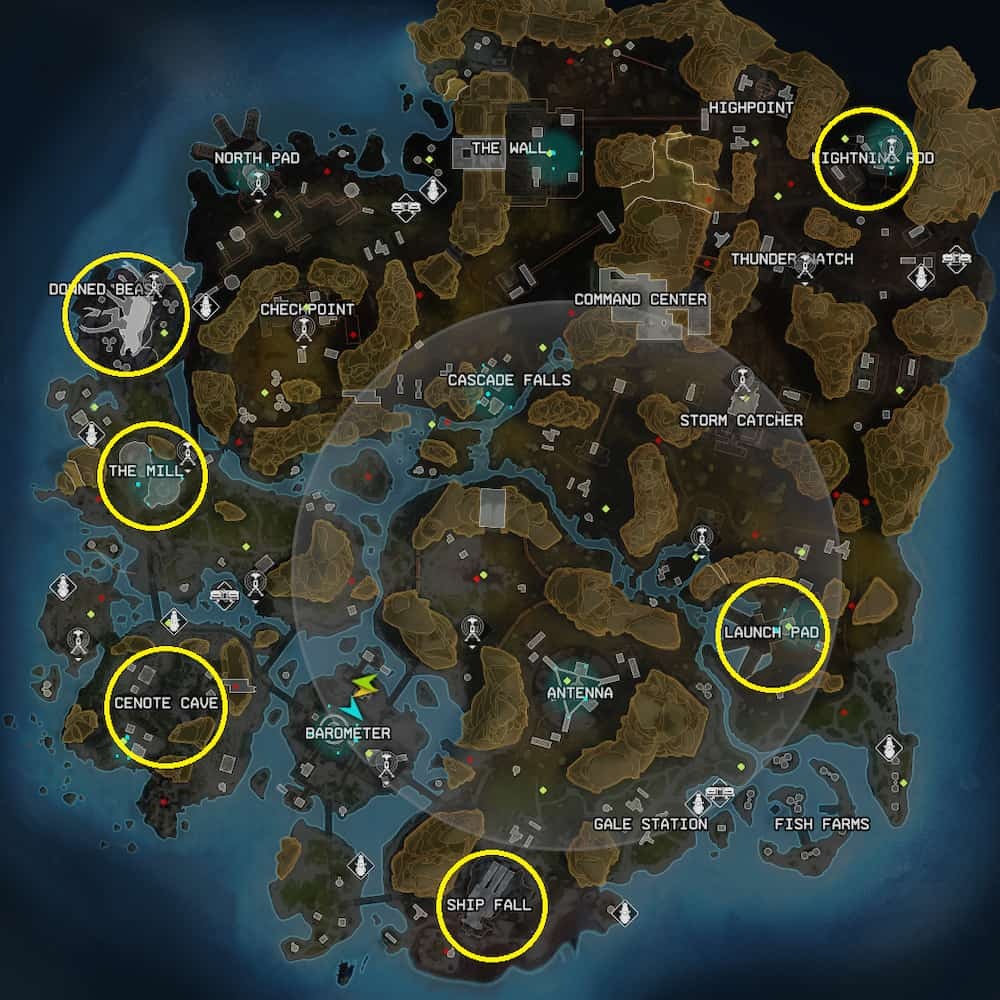 The Ranked grind in Apex Legends Season 13 is tedious, unforgiving, and highly dependent on survival. So far, we have managed to rank up to Platinum in Ranked BR, and highly recommend players select a few POIs that they can drop at and defend easily. The following POIs listed below are high-tier loot zones, which means players can expect other squads to land at these locations. Follow the yellow circles on the map reference above to easily locate these POIs.
Downed Beast
Downed Beast is the new POI added in Apex Legends Season 13. It was featured during the seasonal trailer and the loot at this spot is top-notch. However, the only problem with this area is that it attracts multiple squads, so be ready for a fight as soon as you land. We recommend players start looting inside the cave under the Downed Beast as it's packed with good loot. You will also find multiple Evo Shields inside the cave, and this location is ideal to get a golden weapon with fully-kitted attachments.
The Mill
The Mill has always been a hot-drop location on Storm Point, and players can expect several squads to land here for high-tier loot. The POI is divided between two cone-shaped buildings which are easy to traverse across for Legends with aerial abilities. Legends like Valkyrie, Horizon, Octane, Pathfinder, and Bloodhound thrive at this POI by taking advantage of its structural design. We recommend players land directly on the loot that is kept outside the gates of the two houses at The Mill.
Related: How to trap opponents in IMC Armories in Apex Legends
Cenote Cave
Cenote Cave has become a great place to land with your squad while playing Ranked Battle Royale in Apex Legends Season 13. It's located on the southwestern corner of the map, and the area is naturally fortified with mountains and rocky structures all around. Players can expect other squads to land at this spot, which is why we recommend landing at a cluster of houses with your squad. In case you don't find a weapon or get outnumbered by opponents, take the Gravity Cannon located on the eastern side of Cenote Cave to quickly rotate towards the Barometer POI.
The Launchpad
The Launchpad is located on the southeastern side of Storm Point, and it's packed with high-tier loot. There are three branching areas at this location where teams land to get loot quickly. Instead of landing there, we recommend players land at the main house in this POI. You can also use the zipline to get up on the roof area at The Launchpad. Get yourself a marksman weapon and start cracking Evo Shields from above.
Shipfall
Shipfall is another staple POI on Storm Point known for high-tier loot in Apex Legends. This POI is divided between three houses and a huge ship, and these two areas are connected by ziplines. The houses rarely have Evo Shields, and you can expect to engage in combat with opponents in this area. We recommend players visit the ship directly to get the best loot from the Shipfall POI. Fly directly under the ship, and loot up before approaching the houses. This POI often has Crafting Materials along with a Survey Beacon.
Lightning Rod
Lightning Rod is located on the northeastern corner of the map, and this POI is always full of high-tier loot. Players can expect only a few squads to land at this spot since it's far from the center of the map. However, you will find at least three squads landing here at higher-ranked matches. Lightning Rod has loot scattered all across the POI, and there is a Gravity Cannon close by to initiate rotations quickly. Similarly, there is an IMC Armory located south of this POI, and we recommend players try their best to third-party opponents in the area.
Related: All Legend skin recolors in wave 1 of the Legend Recolor Store for Apex Legends
Apex Legends Season 13 features a whole new Ranked system, and players are having difficulties rising up the tiers. Kill RP and Survival RP have a new calculation system now, and players will find maximum value in surviving to the top 10 squads. The ranked mode has become a tough grind, and we recommend players queue in a three-player squad to have the best chances of winning on Storm Point.
For more on Apex Legends, check out All Legend skins on the Apex Legends Season 13: Saviors Battle Pass on Pro Game Guides!